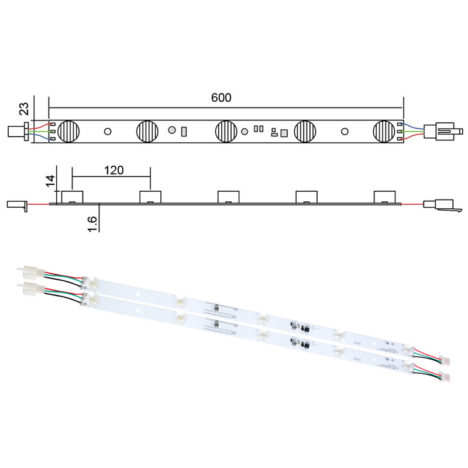 LED Light Boxes Edge Lighting 24″
Equals: 10 Watts T5 Fluorescent Tube Lights

Product Type: Edge lit light box lights

Product Model: Edge-lights-600-Osram

Lighting Source: 5 Osram LEDs

Intput Voltage: 24 V

Power: 15 W

Application:  Advertisement Signs, Signage , cabinet, lightbox display
Contact by Email
This led lighting box edge lights 60cm model, is specially designed expecially for SEG ( Silicone Edge Graphics ) tension frabeic frames .
Edge lit tech can make aluminum light box with sleek and slim in deepth .
24″ led edge lighting can be linked together for whaterever regular sizes or customized side .
600 mm length led edge lit modules can be used for both single-side / double-side light boxes with elegant and fashionable appearance .
Our edge-lit high power strip lights with 5 Osram LEDs can illuminated evenly for poster / photography / signage / fabric printing display .
We can offer whole set of led light boxes with 24 Inch lighting kits, aluminum frame, graphic together – One-Stop-Shopping .
This 2′ led edge lighting strips are widely applied for commercial hall, trade show display, museum , restaurant …
SEG light box frames with our led edge-lit strip lights in perimeter around sides can lighten whole graphic printings evenly and get noticed .
If you choose single-side model, we'll offer one piece of reflective banner which can be inserted into back of SEG frame and get more lighting intensity .
Most of our SEG light boxes which are equipped with our led edge lighting kits can be easily installed and un-installed into small size, fabric printings can be rolled up
and packed into a small carton . Comparing fixed normal lightbox , it can be much convenient for shipping and transporting .
Features :
– Portrait / Landscape Display Compatible ;
– Floor standing / wall mounting indoor lightbox display with our 2 feet edge-lit strip modules ;
– 36″ x 48″ , 48″ x 72″ , 48″ x 96″ , 60″ x 96″ , 72″ x 108″ , 96″ x 120″ …light boxes with led edge lighting bars kits available ;
– Perfectly matched with slim , low-prfile , sturdy aluminum lightbox frame construction ;
– Printing service offer with dye sublimated SEG graphic with frameless appearance technology ;
– Freight cost effective with quick assemble / disassemble package ;
– Ideal lighting solution with our super bright led edge-lit modules ;
LED Edge Lighting Specifications

Power
15 Watts
LED Type & Quantity
5 units high power LED bulbs
Item Number
Edge-lights-600-Osram
LED Chip Brands
Osram
Dimension
600*23*15 mm
IP Rate
IP20
Cuttable
NO
Accessories
screws
Certificates
CE, RoHS
Materials
Aluminum PCB
Warranty
3 years
Packing
100 pcs / Carton
Wire
70- 80 mm cable between two led modules
Application
light boxes display / signage / AD. signs

Parameters

Working Voltage
DC 24V
Beam Angle
13*39 degrees
Lumen Output
1500 LM
Color Temperature
6500 K – 7000 K
CRI
75 Ra up
Connection
5 units – 6 units in series
LED Edge-lit Modules Series for light box display series :
Our 5 Star light boxes edge-lit led modules series as following :
Brief Discription
15 Watts, 1400 – 1500 Lm, 24 V, 5 Osram LED bulbs , high power led light box edge lights 600 mm , Replaces 45 W Fluorescent tube lights
Item Type
LED Light Boxes Display Edge Lighting
Electrical and optical parameter
Model Number:
LED-Light-boxes-Edge-Lighting-60cm
LED QTY:
5 leds/pc
Max Run2
5 fixtures
Mounting
2 mounting holes (5mm diameter)
Mounting screws and brackets included
Power consumption
15 W
Input voltage
24 V
Limited current
620 mA
Luminous flux
1450 Lm
Efficacy(Lm/W)
90 Lm/W
Bean angle(°):
13°×39°
CRI:
75
Dimmable
Yes
Item color:
Cool White
Lighting Temperature(℃):
6500K
Operating temperature(℃):
(-4°~138°F(-20°~50℃))
Ambient Temperature
(-4°~158°F(-20°~70℃))
Application:
Led lighting boxes , cabinet display, billboard …
Warranty
2 years
Packing dimension
Unit Light size(Inch):
24 Inch (L) × 1 Inch (W) × 3/4 Inch (H)
Interior box dimension (Inch):
24 1/4 Inch (L) ×1 1/4 Inch (W) ×1 Inch (H)
New Generation of SEG pop-up display lights , illuminated inside