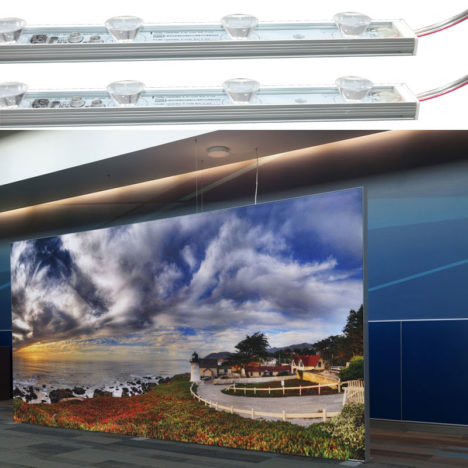 Light Box Fluorescent Tube Replacement

Equals:  IP65 T5 / T8 Fluorescent Tube Lights

Product Type: LED Edge Lighting

Product Model: Waterproof-Edgelit-Module-Strip-Lights-IP65-Outdoor

Lighting Source: Osram

Input Voltage: DC 24 V

Application: AD, display light box, sign / signage Commercial
Contact by Email
Product Description :
This edge side illumination LED bar strip lights is designed for tension fabric lightboxes and signage .
For outdoor application, some of our clients need waterproof feature. This IP65 edgelit module lights work well .
The aluminum profile on the back can help emit heat & lower temperature well , so that guarantee long life span for our edge lights .
Equipped with Osram led bulbs inside which can offer super bright & great performance during 24/7 running .
Several length available for the water proof edge-lit strip lights : 200mm, 300mm, 360mm, 470mm, 600mm … customized .
This edgelit waterproof strip lights from 5 Star Lighting Factory can be used for 60mm depth above single side light box & 100mm depth above double sided lightbox .
Our IP65 outdoor edge modules can be dimming if customer needed . PWM controller compatible .
Features:
– Waterproof for outdoor;
– Low profile aluminum tubes;
– Cool white edge-lit bar in CCT;
– OEM length acceptable;
– Application: poster boxes, SEG lightbox, Wood cabinet display, signs …
– Easy & quick assembling ;
– Light weight, good with heat sink ;
– Dimmable function can be ordered .
Welcome to buy edge-lit led strip modules from 5 Star Lighting Factory !
Brief Description
Edge lit Strip Lights for Outdoor display boxes, cabinets, tension fabric lightbox
Item Type:
LED Edge lighting fixture
Model Number:
Waterproof-Edgelit-Module-Strip-Lights-IP65-Outdoor
Electrical and optical parameter
Replacement :
Fluorescent tube lighting
Power consumption:
9 / 15 / 18/ 27 watts
Bright:
800/ 1500/ 1800 / 2500 lumens
Lighting source:
Osram
Input voltage:
24V
Base Type:
Two pins / Three Pins
Beam angle:
10 ° – 15 °
Color:
White white
Color temperature:
6000-6500K (White);
Materials:
Aluminum, metal
Size:
8″ / 12″ / 14″ / 18.5″ / 24″
Application Area:
Indoor and outdoor
Dimming:
No / Dimmable customized
Working Temperature(℃):
-20 – 60℃
Warranty:
3 years
Life span (based on 4 hrs/day)
20 years
IP65 edge-lit modules for light boxes display, waterproof, outdoor
IP 65 edge-lit strip bar lights for light boxes display, Osram, Waterproof Outdoor
Factory direct IP65 edge-lit bar lighting for light boxes display, Waterproof Outdoor, Osram module lights .
OUTDOOR / IP65 / WATERPROOF edge strip bar module lights for light boxes display, cabinet display case, big signage, letters …
– Suitable for both single / double faces light box ;
– High power 3 Watts / Unit, side emitting led strip bar modules ;
– Elegant design , Stable performance, 24V safety input ;
– Constant currency power driving, long life span gurantee ;
– Easy & quick installation with clips / back-tapes ;
– Whole edge lighting series : 20cm, 30cm, 36cm, 47cm, 60cm …
This IP65 edge-lit bar lights are uniform / even in brightness, very suitable for SEG light box display, ourdoor sign post, aluminum frame lightbox …