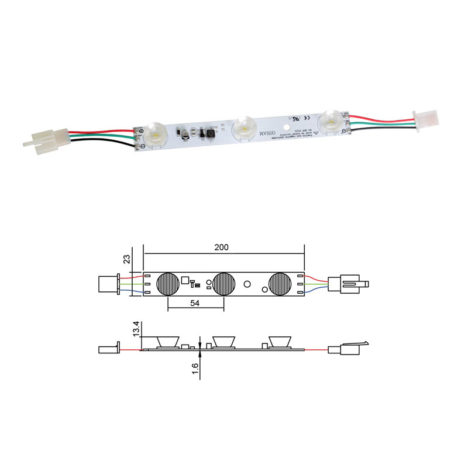 LED Light Boxes Edge Lighting 8″
Product Type: Edge Lit LED Modules
Lighting Source: 3pcs  Osram LEDs
IP grade: IP 20
Power: 9.0W±10%
Luminous flux: 900Lm±10%
Beam angle: 13°×39°
Installation: Mounted with screws / Adhesive tapes on metal frame
Application:  lighting boxes , SEG frames, cabinets
Contact by Email
This 20 cm led light box edge lights can be combined used with our 30 cm / 36 cm model perfectly .
In this way, three led edge lit models can be daisy chained together to make long length according to lightboxes sizes .
Our led edge lighting can illuminate your poster light box cool , powerful, dramatic , living effect .
These edgelit lights can be fixed to aluminum frames whatever for hanging / wall mounted lightboxes .
If aluminum profile is small in size like less 1000 mm X 1000 mm , just using our high power 8″ led edge lights for one long side .
If bigger sizes , we can use our 20 cm edge-lit modules for two long sides .
The thickness is recommended not less than 10 cm and height is not higher than 300 cm for the MAX .
Lighted display box with our led edge lit modules is a great choice for portable application like expo and exhibition show .
They can linked / unlinked in several minutes and pack in small compact bag for transportation .
Great illuminated Ads products for window showcases, airport, pobs, theater, casino with our bright led edge lights .
This 4/5′ led edge lighting utilized Osram brand LED (Light Emitting Diode) , can bring around 300 luments in brightness but only 9 Watts in power consumption .
Generally it can save 60% – 70% energy up and 4 – 6 times life span longer comparing traditional fluorescent tubes .
Edge-lit lighting boxes usually is cost effective than backlit light box display in lighting cost . It can be applied for more low profile light box models .
Features :
– Draw serious attention, eye-catching ;
– Fits for sleek & slim aluminum profile light boxes;
– Can be used Large size frames ;
– Regular stock , fast delivery ;
– led light box edge lights 200 mm can be applied for single-sided / double-sided ;
– Edge-lit Osram high power LED strip bars with optimized acrylic lens ;
– Can be used for slim light boxes over 10 cm deepth ;
– 24 Voltage input , make sure LED bulbs work in stable current , high effeciency , long life span ;
Applications :
This Osram led light box edge lights can be used for wide advertising area
like convenience stores, exhibit diplay, entertainment , banks, museums, art display signs …
Note :
(1) Do not reverse Positive "+" and Negative "-" andoes when connecting strip lights ;
(2) Dimmable strips available , please specify "DIM" when place order .
Our dimming method is PWM (Pulse-Width Modulation) .
(3) Standard installation is clips on two screw holes on each edge-lit module strip ,
Adhesive tape on back can be optional .
Brief Discription
9 Watts, 800 – 900 Lm, 24 V, 3 Osram LED bulbs , high power led light box edge lights 200 mm , Replaces 30W Fluorescent tube
Item Type
LED Light Boxes Edge Lighting
Electrical and optical parameter
Model Number:
LED-Lightbox-Edge-Lighting-20cm
LED QTY:
3 leds/pc
Max Run2
6 fixtures
Mounting
2 mounting holes(5mm diameter)
Mounting screws and brackets included
Power consumption
9 W
Input voltage
24 V
Limited current
370 mA
Luminous flux
850 – 900 Lm
Efficacy(Lm/W)
90 Lm/W
Bean angle(°):
13°×39°
CRI:
75
Dimmable
Yes
Item color:
Cool White
Lighting Temperature(℃):
6500K
Operating temperature(℃):
(-4°~138°F(-20°~50℃))
Ambient Temperature
(-4°~158°F(-20°~70℃))
Application:
lighting boxes display , cabinet , bill board …
Warranty
2 years
Packing dimension
Unit Light size(Inch):
8 Inch (L) × 1 Inch (W) × 3/4 Inch (H)
Interior box dimension (Inch):
8 1/4 Inch (L) ×1 1/4 Inch (W) ×1 Inch (H)
LED Edge Lighting Kits installation for 2 Pin, 200mm model
Easy & Quick installation for this 2 pin 200mm strip edge lights
Can our light box edge lights can be 2 wire connecting ?
Customized cable connectors for high power light box edge lights -200mm model.,
5557 plug light box led strip lights, customized connector for light box strip lights, customized cable for light boxes strip lights
How to illuminate your TENSION FABRIC LIGHT BOXES ?
5 STAR LIGHTING FACTORY release whole series of LED strip lights for fabric light boxes display .
We have several regular edge light sizes for flexible connecting such as : 8″ , 12″ , 14″ , 18.5″ … other customized sizes also
are available base on project requirements .
Features of fabric light box LED strip bar lights :
– Super brightness / energy-efficiency / lower consumption;
– Quick & easy for installing and uninstalling ;
– 30, 000 hrs up lifespan ;
– built-in / outer power strip for choosing;
– 110 / 220 V power input .
– Can be used for ultra-slim aluminum frames with virtually frameless vision ;
Best replacements for traditional / bulkier fluorescent tube lightboxes .