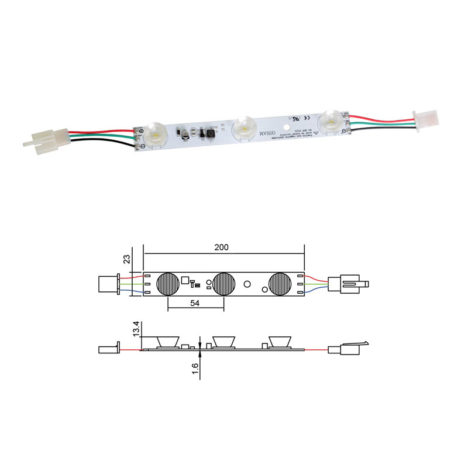 LED Light Boxes Edge Lighting 8″
Product Type: Edge Lit LED Modules
Lighting Source: 3pcs  Osram LEDs
IP grade: IP 20
Power: 9.0W±10%
Luminous flux: 900Lm±10%
Beam angle: 13°×39°
Installation: Mounted with screws / Adhesive tapes on metal frame
Application:  lighting boxes , SEG frames, cabinets
Contact by Email
This 20 cm led light box edge lights can be combined used with our 30 cm / 36 cm model perfectly .
In this way, three led edge lit models can be daisy chained together to make long length according to lightboxes sizes .
Our led edge lighting can illuminate your poster light box cool , powerful, dramatic , living effect .
These edgelit lights can be fixed to aluminum frames whatever for hanging / wall mounted lightboxes .
If aluminum profile is small in size like less 1000 mm X 1000 mm , just using our high power 8″ led edge lights for one long side .
If bigger sizes , we can use our 20 cm edge-lit modules for two long sides .
The thickness is recommended not less than 10 cm and height is not higher than 300 cm for the MAX .
Lighted display box with our led edge lit modules is a great choice for portable application like expo and exhibition show .
They can linked / unlinked in several minutes and pack in small compact bag for transportation .
Great illuminated Ads products for window showcases, airport, pobs, theater, casino with our bright led edge lights .
This 4/5′ led edge lighting utilized Osram brand LED (Light Emitting Diode) , can bring around 300 luments in brightness but only 9 Watts in power consumption .
Generally it can save 60% – 70% energy up and 4 – 6 times life span longer comparing traditional fluorescent tubes .
Edge-lit lighting boxes usually is cost effective than backlit light box display in lighting cost . It can be applied for more low profile light box models .
Features :
– Draw serious attention, eye-catching ;
– Fits for sleek & slim aluminum profile light boxes;
– Can be used Large size frames ;
– Regular stock , fast delivery ;
– led light box edge lights 200 mm can be applied for single-sided / double-sided ;
– Edge-lit Osram high power LED strip bars with optimized acrylic lens ;
– Can be used for slim light boxes over 10 cm deepth ;
– 24 Voltage input , make sure LED bulbs work in stable current , high effeciency , long life span ;
Applications :
This Osram led light box edge lights can be used for wide advertising area
like convenience stores, exhibit diplay, entertainment , banks, museums, art display signs …
Note :
(1) Do not reverse Positive "+" and Negative "-" andoes when connecting strip lights ;
(2) Dimmable strips available , please specify "DIM" when place order .
Our dimming method is PWM (Pulse-Width Modulation) .
(3) Standard installation is clips on two screw holes on each edge-lit module strip ,
Adhesive tape on back can be optional .
Brief Discription
9 Watts, 800 – 900 Lm, 24 V, 3 Osram LED bulbs , high power led light box edge lights 200 mm , Replaces 30W Fluorescent tube
Item Type
LED Light Boxes Edge Lighting
Electrical and optical parameter
Model Number:
LED-Lightbox-Edge-Lighting-20cm
LED QTY:
3 leds/pc
Max Run2
6 fixtures
Mounting
2 mounting holes(5mm diameter)
Mounting screws and brackets included
Power consumption
9 W
Input voltage
24 V
Limited current
370 mA
Luminous flux
850 – 900 Lm
Efficacy(Lm/W)
90 Lm/W
Bean angle(°):
13°×39°
CRI:
75
Dimmable
Yes
Item color:
Cool White
Lighting Temperature(℃):
6500K
Operating temperature(℃):
(-4°~138°F(-20°~50℃))
Ambient Temperature
(-4°~158°F(-20°~70℃))
Application:
lighting boxes display , cabinet , bill board …
Warranty
2 years
Packing dimension
Unit Light size(Inch):
8 Inch (L) × 1 Inch (W) × 3/4 Inch (H)
Interior box dimension (Inch):
8 1/4 Inch (L) ×1 1/4 Inch (W) ×1 Inch (H)
LED Edge Lighting Kits installation for 2 Pin, 200mm model
Easy & Quick installation for this 2 pin 200mm strip edge lights
Can our light box edge lights can be 2 wire connecting ?
Customized cable connectors for high power light box edge lights -200mm model.,
5557 plug light box led strip lights, customized connector for light box strip lights, customized cable for light boxes strip lights