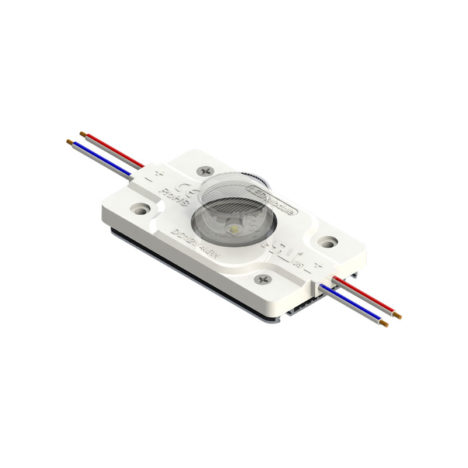 4 W LED Edge lit Modules

Equals: 10 Watts T5 Fluorescent Tube Lights

Product Type: LED Edge Lighting

Product Model: Edgelit-led-module-4w

Lighting Source: SMD LED ( 15 pcs)

Intput Voltage: 12 V

Power: 4 W

Application: AD cabinet box, Shopping signage, light box display …
Contact by Email
4 Watts SMD3535 Genesis LEDs from Taiwan , super bright with beam angle 45 x 15 degrees , can be used for both single / double sided signages .
15 modules per string, totally 3150 mm in length , 200 mm distance between two bulbs .
Can be cut in size for each one unit for different dimension signs, connect with PWM (Pulse width modulation) controller for dimmable function , parallel with several
strings if exceed Max 15 bulbs for each .
Suitable for lighting box , letter channel, open signs , show case display … and more edgelit lighting illuminating projects .
Best deepth over 15 cm in frames for our led edge-lit module (4W) application .
This four watts led edge lighting brings Uniform / even / no spot and shadow lighting effect for graphics .
This 4W edge-lit module can bring out around 300 Lm , super bright . The aluminum heat sink can keep LED bulbs working in low temperature and pro-long life span
for led modules with 30, 000 hours up .
Features :
– Compatible for double-sided / single-sided light boxes display ;
– Dimmable support ;
– Waterproof design for indoor / outdoor use (IP 65);
– Good heat dissipation with aluminum plate on back ;
– 15 pces MAX in a serial connecting ;
– Optimized PMMA acrylic lens 15 degree by 45 degree for light box display ;
– Constant current drive, cut off one module each ;
– Optical lens with 15*45 degrees beam angle , meet requirements for slim light boxes edgelit illuminating;
– Each one unit cut-table for different sign box dimension ;
4 Watts LED Edge lit Module Specifications

Power
4 W
LED Type & Quantity
One pcs high power LED
Item Number
Edgelit-led-module-4w
LED Chip Brands
Genesis (Tai Wan)
Dimension
70*37*19.9mm
IP Rate
IP 65
Cuttable
Every one unit
Install
Screws / Adhesive Tape
Certificates
CE, RoHS, FCC
Materials
Aluminum PCB, ABS housing
Warranty
3 years
Packing
15pcs / string
Wire
315 mm length distance between two modules
Application
light box display / signs edge lit illuminating
Working Voltage
DC 12V
Beam Angle
15*45 degrees
Lumen Output
300-320 LM
Color Temperature
6000-8000K
CRI
75-85 Ra
Connection
15 pcs Max in series
light box edge led module series from 5 Star Lighting Factory :
Brief Discription
4 Watts, 300 – 320 Lm,  12 V, Genesis LED bulb , high power led light box edge lights , Replaces 25 Watts Incandescent bulbs
Item Type
LED Edge Lighting
Electrical and optical parameter
Model Number:
led-module-edge-lit-4w
LED QTY:
1 leds/pc
Max Run2
15 fixtures
Mounting Method
3 M tape / 2 hole screws
Power consumption
4 W
Input voltage
12 V
Limited current
330 mA
Luminous flux
300 – 320 Lm
Efficacy(Lm/W)
78 Lm/W
Bean angle(°):
15°×45°
CRI:
> 70
Dimmable
Yes
Item color:
Cool White
Lighting Temperature(℃):
6500K
Operating temperature(℃):
(-4°~138°F(-20°~50℃))
Ambient Temperature
(-4°~158°F(-20°~70℃))
Application:
light boxes , cabinet , billboard, signage …
Warranty
2 years
Packing dimension
Unit Light size(Inch):
2 3/4 Inch (L) × 1 1/2 Inch (W) × 3/4 Inch (H)