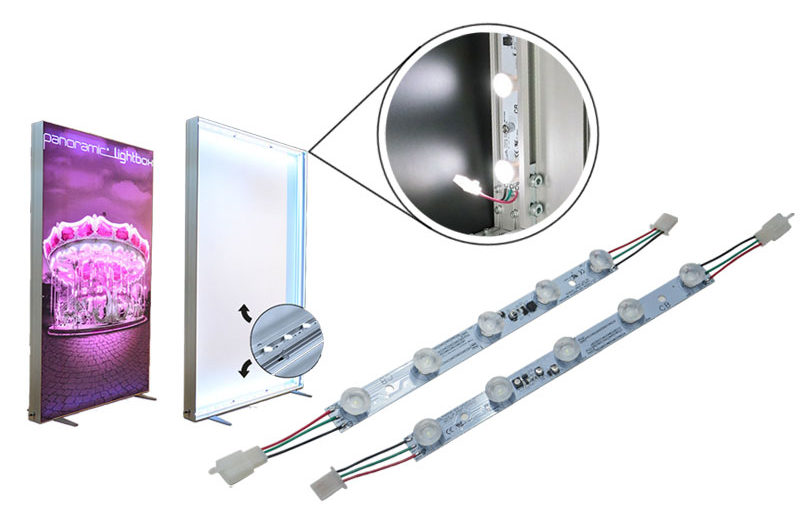 5PCS Edge Lit LED Modules – 360mm
Product Type: Light Boxes Edge Lighting
Lighting Source: 5pcs LEDs
IP grade: IP65
Power: 15.0W±10%
Luminous flux: 1500Lm±10%
Beam angle: 13°×39°
Installation: Mounted on metal frame of lighting boxes edge.
Application: Specially used in lighting box edge lit decoration.
Contact by Email
Features:
a): Factory direct sale edge lit led modules 360mm adopts superior quality aluminum material, featured with only 23mm width, ideal for super slim light box decoration, such as 50mm light boxes edge lit, it will brings pretty excellent illuminating effects, Suitable for illumination of light box, both single side & double sided;
b): This light box edge lights 360mm using new technology design lens, lighting emitted from the edges of light boxes with wide beam angle that affects much more efficient light transmittance than normal type, fashionable shape make this led edge lit enjoy great popularity in light boxes edge lighting applications;
c): Great quality led edge lighting 360mm is energy saving with lower power consumption than other normal lighting boxes lighting, generate the same luminance only with 6% power consumption as traditional lamps, and make it can last a long life span;
d): Excellent performance light box edge lights is completely low heat design with low operating voltage, the requirement for heat-resistant is not high, actually energy saving and environment-friendly, suitable for edge-lit illuminated light box and signs;
e): Our high power LED edge lighting affects lower cost against high performance, good color uniformity, also has no requirement for reflector, less depth of lamps, and concentrated beam, easy to control, which makes the graphic or information of light box more obvious and attractive;
f): Easy installation of our light box edge lights 360mm with screws hole on the lights, screws and other accessories come with LED edge lighting, easy installation by mounting on metal frame of lighting boxes edge side, this high power led edge lighting modules lit without delay, fast response, and have strong anti-vibration capability.
Applications:
Wholesale The edge lit led modules 360mm can emitting with high purity, without lamp filter, New lens design LED module as a 5pcs high power led edge lighting, Fashionable appearance and excellent technology make this LED edge lighting widely used in edge-lit illuminated lighting box and signs.
Attach components:
(1): Screws;
(2): 3 kinds of connect wire optional;
Great quality edge lit led modules 360mm from 5 Star Lighting Factory!
Our 5 Star light boxes edge-lit led modules series as following :
Brief Descriptions:
Edge lit led modules 360mm, 5pcs, High power light boxes led edge lighting, and perfect for advertising light boxes edge lit usage.
Item type
Light Boxes Edge Lighting
Electrical and optical parameter
Model number:
Edge-lit-led-modules-13-39-360mm
Item color:
White
Materials:
Aluminum materials
LED quantity:
5 pcs LEDs
LED compound mode:
1 cascade
Lamp bead (center) spacing:
80mm
Power consumption:
15.0W±10%
Luminous flux:
1500Lm±10%
Limited voltage:
DC24V±0.5V
LED current:
625mA±10%
Working environment:
-20-50℃ 30%-70%
Storage condition:
-20-70℃ 30%-70%
Beam angle:
13°×39°
IP grade:
IP 65
Light appearance(CCT):
2800-3000K (warm white)
6300-7000K (white)
Warranty:
2 years
Applications:
Specially used in lighting box decoration.
Installation:
Mounted on metal frame of lighting boxes edge.
Packing Dimensions : 2pcs in one box
Unit light size(Inch):
14.17 Inch (L) x 0.91 Inch (W) x 0.46 Inch (H)
360 (mm) x 23 (mm) x 11.7 (mm)
Interior box dimension (Inch):
17.72 Inch (L) x 1.06 Inch (W) x 1.26 Inch (H)
450 (mm) x 27 (mm) x 32 (mm)
LED Light Boxes display installation with slim power adapter 120 Watts
Edge-lit light box project for SF restaurant wall display
Edge lit dimmable light boxes display project – Osram Led inside, dimming function
Can our new model high power strip lights be dimmable ?
Yes, we can add dimmable function for our Osram strip bar lights with matched PMW dimmer
Introduction for Osram edge lit led modules for light boxes - 14" ( 360 mm )
Specification / Parameter / Spectrum Chart data for Osram edge lighting – 14 inch length
New Features of Edge-lit Lightbox Lights with narrow lens
Looking for qualified edge lighting for your light boxes?
Trade show light bar array method for A.D light boxes ?
Totally there are 3 array methods for light boxes display lighting:

Our LED edge light bar is ideal for interior display light box,
(1) Usually you only need install top and bottom sides with our lighting bars .
(2) If your light cabinet is  less than 24″ in Width, you can just using our led edge light bar  for Left and right side;
(3) If your light boxes are very large in size, in order bring enough lights, you can considering installation for four sides.
Generally our led light bars are simple, fast installation .
Spectrum Test Report for Edge-lit strip lights 360mm
Light boxes Strip Lights Spectrum Report for Osram version 360mm in length, 5 LED bulbs
Spectrum Test Report
Spectrum 1.2
1.0
1.0=50.177mW/nm
CIE1931 EVERFINE
x = 0.3177 y = 0.3291
Tc = 6239K
0.8
0.6
0.4
0.2
0.0
380           480           580           680           780
Wavelength(nm)
Color Parameters:
Chromaticity Coordinate:x=0.3177  y=0.3291/u'=0.2013 v'=0.4691 Tc=6239K(Duv=0.0007) Dominant WL:Ld =488.1nm Purity=5.6%
Red Ratio:R=14.1%  Peak WL:Lp=445.8nm
HWL:Lhd=22.7nm
Render Index:Ra=74.0
R1 =74    R2 =76    R3 =77    R4 =76
R5 =75    R6 =69
R7 =80
R8 =64    R9 =0     R10=43    R11=76
R12=50    R13=73
R14=87    R15=69
Photo Parameters:
Flux  = 1490 lm   Eff. : 97.18 lm/W  Fe  = 4.741 W
Electrical parameters:
V = 24.00 V     I = 0.6388 A    P = 15.33 W PF = 1.000
LEVEL:OUT        WHITE:ANSI_6500K
Status:  Integral T = 31 ms  Ip = 51499 (79%)
Model:5L-24V-1W23-OS-360 Number:
Tester:GE                          Date:2018-07-25
Temperature:25.3Deg               Humidity:65.0%
Manufactory: 5 Star Lighting Factory            Remarks:
This slim led power driver is narrow and slim in body , it's designed to fit in ultra thin light boxes display .
Silicon Edge Light boxes are more and more popular for adverstiement in malls, airports, trade show exhibitions , conventions… .
5 Star lighting release one ultra thin power drivers, specially for edge-lit light module bars .
Slim led power supply 120 watts for SEG light boxes display, factory direct can ofter stable , strong power for super bright signages .
Our Edge Lit LED Modules series can be used for both single / double sided lightboxes .
No skilled man needed for connecting these strip bar lights, safe and easy for installation .
Our new edge lights can brighten up much large light boxes with best result optimized acrylic lens .
Features:
–
CE / UL approved;
– Compact sizes for small spaces ;
– 200mm , 300mm , 360mm, 470mm , 600mm series led light bars length ;
– low voltage 24V DC power running ;
– New generation of PMMA optical lens ;
Installation Instructions:
(1) Set up whole aluminum frames ;
(2) Fix light bars in the middle of light boxes frames, two long sides;
These edge lights can be mounted with our clips / 3 M tapes .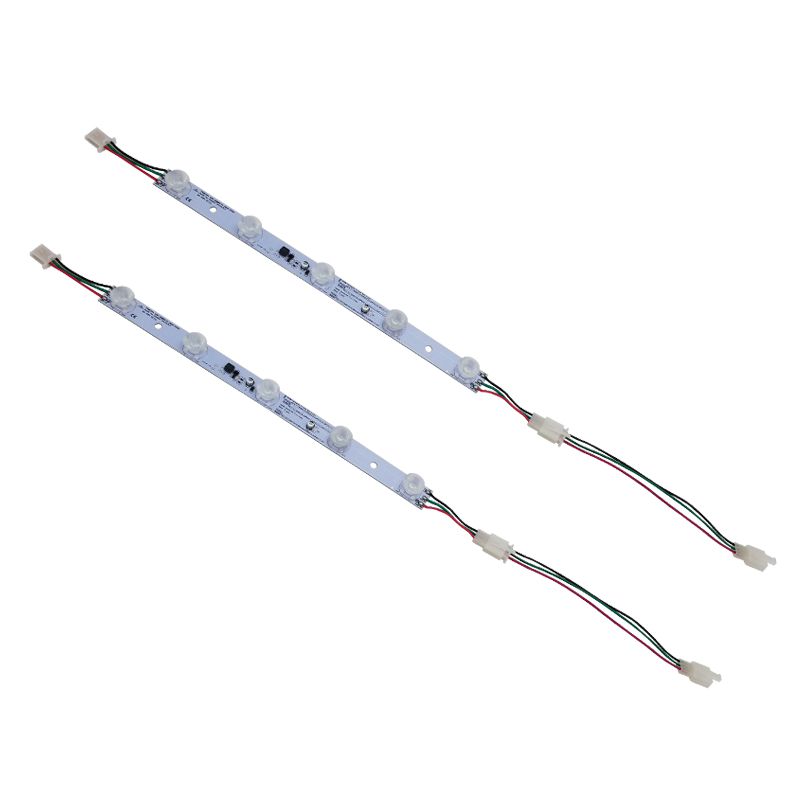 (3) Connect edge-lit bar lights to slim 24V power supply .
This standard narrow slim led driver is 120 Watts max , 5 A currency input .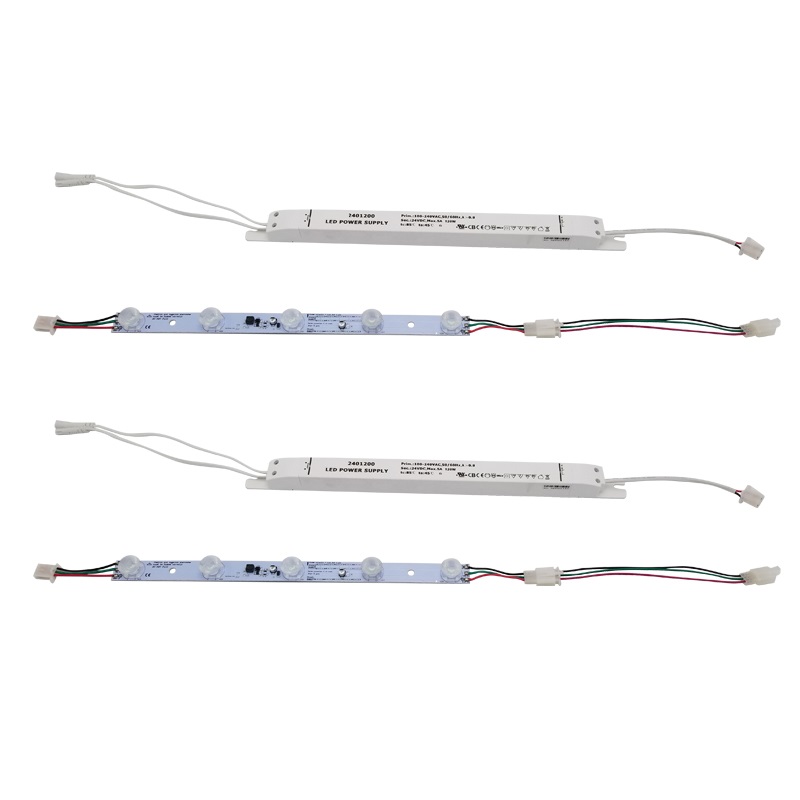 Can parallel connection with standard cables .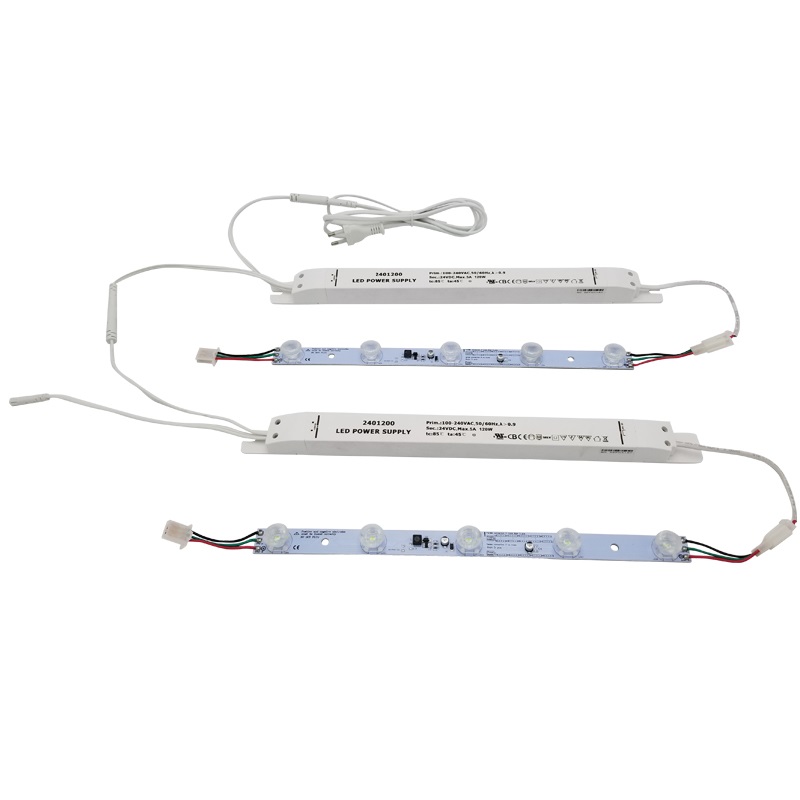 (4) Inster stretchable fabric graphic printings into aluminum frame grooves four sides .
(5) Mounting whole light box display fixture on wall , ceiling hanging , on floor as project requirements ;
(6) Power on led edge lights , super bright , even , high contrast light box display help catching more customers' attentions .
One gorgeous, vivid and eye catching light box display are well done with our lighting kits .
Welcome to get more information of this edge-lit display lighting wity slim led power supply installation from www.5Lighting.com