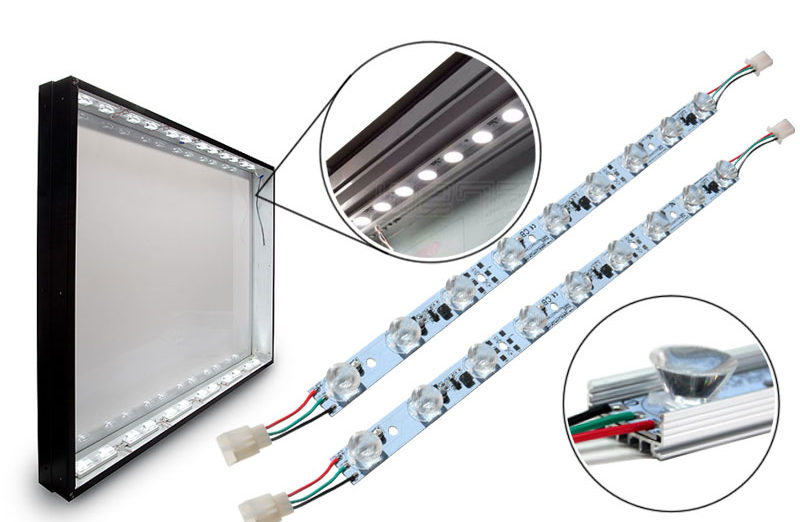 9PCS Edge Lit LED Modules – 470mm
Product Type: Light Boxes Edge Lighting
Lighting Source: 9pcs LEDs
IP grade: IP65
Power: 27W±10%
Luminous flux: 2700Lm±10%
Beam angle: 13°×39°
Installation: Mounted on metal frame of lighting boxes edge.
Application: Specially used in lighting box edge lit decoration.
Contact by Email
Features:
a): Wholesale New series LED strips of edge lit led modules 470mm can be spliced, they are very easy and convenient to install, suitable for indoor and outdoor LED lighting and decoration, and the assembly of slim light boxes;
b): This light box edge lights 470mm using high quality aluminum which featured with only 23mm width, ideal for super slim light box decoration, such as 50mm light boxes edge lit, it will brings pretty excellent illuminating effects, Suitable for illumination of light box, both single side & double sided;
c): Excellent performance led edge lighting 470mm adopts new technology design lens, lighting emitted from the edges of light boxes with wide beam angle that affects much more efficient light transmittance than normal type, fashionable shape make this led edge lit enjoy great popularity in light boxes edge lighting applications;
d): Great quality light box edge lights is completely low heat design with low operating voltage, the requirement for heat-resistant is not high, actually energy saving and environment-friendly, perfect for edge-lit illuminated light box and signs;
e): Our high power LED edge lighting affects lower cost against high performance, good color uniformity, also has no requirement for reflector, less depth of lamps, and concentrated beam, easy to control, which makes the graphic or information of light box more obvious and attractive;
f): Energy saving edge lit led modules 470mm with lower power consumption than other traditional lighting boxes lighting, generate the same luminance only with 6% power consumption as traditional lamps, and make it can last a long life span;
g): Easy installation of our light box edge lights 470mm with screws hole on the lights, screws and other accessories come with LED edge lighting, easy installation by mounting on metal frame of lighting boxes edge side, this high power led edge lighting modules lit without delay, fast response, and have strong anti-vibration capability;
Application:
Factory direct sale the edge lit led modules 470mm can emitting with high purity, without lamp filter, New lens design LED module as a 9pcs high power led edge lighting, Fashionable appearance and excellent technology make this LED edge lighting widely used in edge-lit illuminated lighting box and signs.
Attach components:
(1): Screws;
(2): 3 kinds of connect wire optional;
Great quality edge lit led modules 470mm from 5 Star Lighting Factory!
This led lighting box edge lights 60cm model, is specially designed expecially for SEG ( Silicone Edge Graphics ) tension frabeic frames .Portrait / Landscape Display Compatible ;
Factory direct led edge lit strip modules: 80, 200, 300, 360, 470, 600 mm in length, 1/ 3/ 5 / 9 bulbs per strip, CW / WW / RGB , Dim / Non-Dim,
perfect replaces fluorescent tube lighting in old light boxes .
Brief Descriptions:
Edge lit led modules 470mm, 9pcs, High power light boxes led edge lighting, and perfect for advertising light boxes edge lit usage.
Item type
Light Boxes Edge Lighting
Electrical and optical parameter
Model number:
Edge-lit-led-modules-13-39-470mm
Item color:
White
Materials:
Aluminum materials
LED quantity:
9pcs LEDs Osram
LED compound mode:
3 cascade 3 paraller
Minimum truncation size:
156.6mm
Lamp bead (center) spacing:
53.5mm
Power consumption:
27W±10%
Luminous flux:
2700Lm±10%
Limited voltage:
DC24V±0.5V
LED current:
1250mA±10%
Working environment:
-20-50℃ 30%-70%
Storage condition:
-20-70℃ 30%-70%
Beam angle:
13°×39°
IP grade:
IP 65
Light appearance(CCT):
2800-3000K (warm white)
6300-7000K (white)
Warranty:
2 years
Applications:
Specially used in lighting box edge lit decoration.
Installation:
Mounted on metal frame of lighting boxes edge.
Packing Dimensions : 2pcs in one box
Unit light size(Inch):
18.50 Inch (L) x 0.91 Inch (W) x 0.46 Inch (H)
470 (mm) x 23 (mm) x 11.7 (mm)
Interior box dimension (Inch):
22.24 Inch (L) x 1.5 Inch (W) x 1.18 Inch (H)
565 (mm) x 38 (mm) x 30 (mm)
light box Edge lights with built-in adapter
470mm strip edge lights with slim built-in power supply kit can be well used for fabric light boxes display .
LED Edge Lighting Kits installation for 2 Pin, 470mm model
Easy & Quick installation for this 2 pin 470mm strip edge lights
Osram rigid strip lights for SEG light boxes illumination
Osram led bar strip lights series for SEG aluminum light boxes ,
several sizes for optional, linkable , dimmable with good performance .
Can our light box edge-lit strip lights can customized ?
Customized cable connectors for high power light box strip lights .,
5557-2P and 5559-2P connectors,
Factory direct light boxes edge-lit strip lights wholesale with 5557-2P male plug cable connector and 5559-2P female connectors .
PWM 5V Signal edge-lit lighting Dimmer for light boxes
Our whole edge-light lightboxes lights can have dimmable function with our matched PMW dimmer
Cost efficient LED Edge-lit lighting bar for fabric lightbox
Looking for qualified edge lighting for your light boxes?
Introduction of Epistar led chip encapsulation for our edge lit led light box strip lights
We use Epistar led bulbs from Taiwan for our edge lighting bars .
The profile details of Epistar bulbs are as following :
1. substrate;
2. copper;
3. soldering;
4. pin;
5. led substrate;
6. conductive;
7. fluorescent power;
8. chip;
9. resinous filler;
10. lens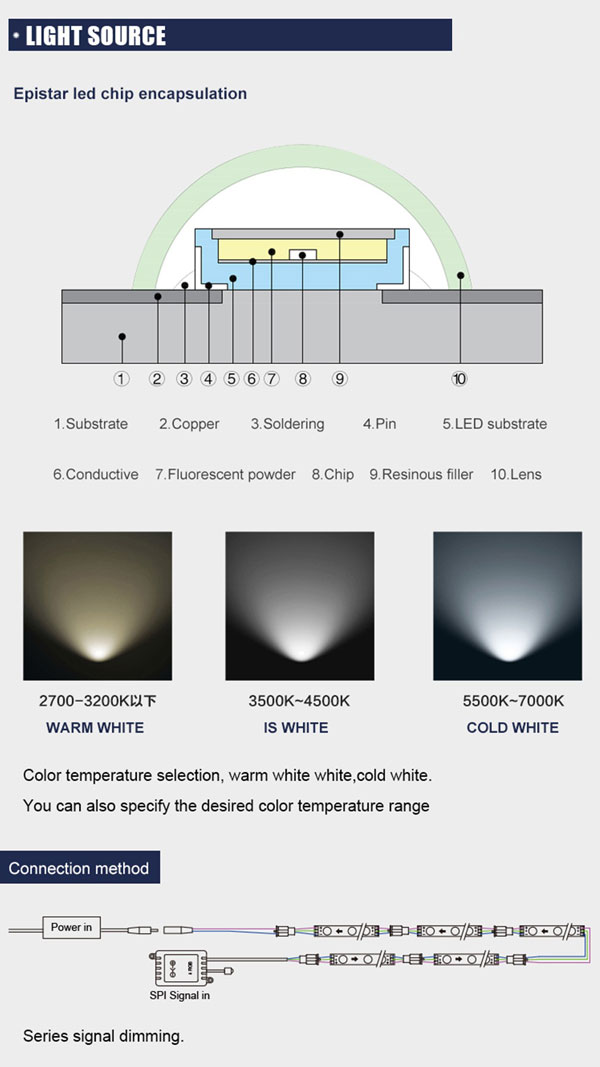 The standard color temperature selection : warm white, white, cold white .
You can also specify the desired color temperature range .
Cree & Osram led bulbs can be optional if customer specify .