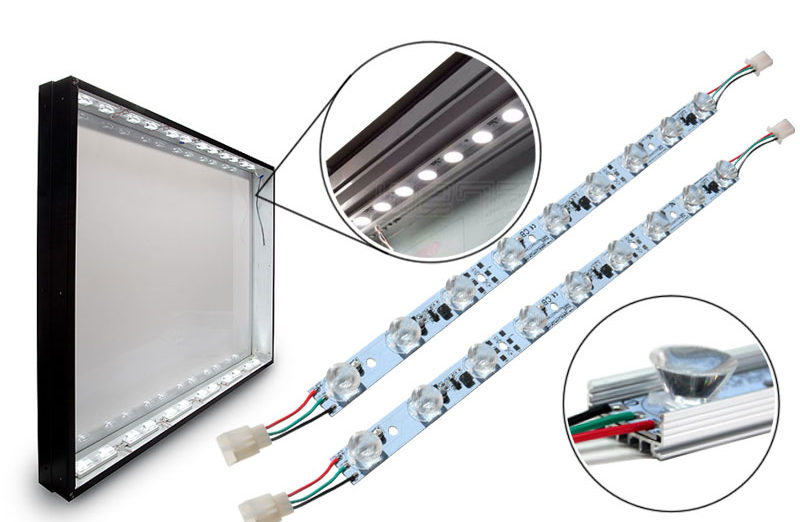 9PCS Edge Lit LED Modules – 470mm
Product Type: Light Boxes Edge Lighting
Lighting Source: 9pcs LEDs
IP grade: IP65
Power: 27W±10%
Luminous flux: 2700Lm±10%
Beam angle: 13°×39°
Installation: Mounted on metal frame of lighting boxes edge.
Application: Specially used in lighting box edge lit decoration.
Contact by Email
Features:
a): Wholesale New series LED strips of edge lit led modules 470mm can be spliced, they are very easy and convenient to install, suitable for indoor and outdoor LED lighting and decoration, and the assembly of slim light boxes;
b): This light box edge lights 470mm using high quality aluminum which featured with only 23mm width, ideal for super slim light box decoration, such as 50mm light boxes edge lit, it will brings pretty excellent illuminating effects, Suitable for illumination of light box, both single side & double sided;
c): Excellent performance led edge lighting 470mm adopts new technology design lens, lighting emitted from the edges of light boxes with wide beam angle that affects much more efficient light transmittance than normal type, fashionable shape make this led edge lit enjoy great popularity in light boxes edge lighting applications;
d): Great quality light box edge lights is completely low heat design with low operating voltage, the requirement for heat-resistant is not high, actually energy saving and environment-friendly, perfect for edge-lit illuminated light box and signs;
e): Our high power LED edge lighting affects lower cost against high performance, good color uniformity, also has no requirement for reflector, less depth of lamps, and concentrated beam, easy to control, which makes the graphic or information of light box more obvious and attractive;
f): Energy saving edge lit led modules 470mm with lower power consumption than other traditional lighting boxes lighting, generate the same luminance only with 6% power consumption as traditional lamps, and make it can last a long life span;
g): Easy installation of our light box edge lights 470mm with screws hole on the lights, screws and other accessories come with LED edge lighting, easy installation by mounting on metal frame of lighting boxes edge side, this high power led edge lighting modules lit without delay, fast response, and have strong anti-vibration capability;
Application:
Factory direct sale the edge lit led modules 470mm can emitting with high purity, without lamp filter, New lens design LED module as a 9pcs high power led edge lighting, Fashionable appearance and excellent technology make this LED edge lighting widely used in edge-lit illuminated lighting box and signs.
Attach components:
(1): Screws;
(2): 3 kinds of connect wire optional;
Great quality edge lit led modules 470mm from 5 Star Lighting Factory!
This led lighting box edge lights 60cm model, is specially designed expecially for SEG ( Silicone Edge Graphics ) tension frabeic frames .Portrait / Landscape Display Compatible ;
Factory direct led edge lit strip modules: 80, 200, 300, 360, 470, 600 mm in length, 1/ 3/ 5 / 9 bulbs per strip, CW / WW / RGB , Dim / Non-Dim,
perfect replaces fluorescent tube lighting in old light boxes .
Brief Descriptions:
Edge lit led modules 470mm, 9pcs, High power light boxes led edge lighting, and perfect for advertising light boxes edge lit usage.
Item type
Light Boxes Edge Lighting
Electrical and optical parameter
Model number:
Edge-lit-led-modules-13-39-470mm
Item color:
White
Materials:
Aluminum materials
LED quantity:
9pcs LEDs Osram
LED compound mode:
3 cascade 3 paraller
Minimum truncation size:
156.6mm
Lamp bead (center) spacing:
53.5mm
Power consumption:
27W±10%
Luminous flux:
2700Lm±10%
Limited voltage:
DC24V±0.5V
LED current:
1250mA±10%
Working environment:
-20-50℃ 30%-70%
Storage condition:
-20-70℃ 30%-70%
Beam angle:
13°×39°
IP grade:
IP 65
Light appearance(CCT):
2800-3000K (warm white)
6300-7000K (white)
Warranty:
2 years
Applications:
Specially used in lighting box edge lit decoration.
Installation:
Mounted on metal frame of lighting boxes edge.
Packing Dimensions : 2pcs in one box
Unit light size(Inch):
18.50 Inch (L) x 0.91 Inch (W) x 0.46 Inch (H)
470 (mm) x 23 (mm) x 11.7 (mm)
Interior box dimension (Inch):
22.24 Inch (L) x 1.5 Inch (W) x 1.18 Inch (H)
565 (mm) x 38 (mm) x 30 (mm)
Lighting solution for 60" wide x 177" tall fabric light box display
Customized lighting design for tension fabric light boxes display
Fabric light box display is a kind of new generation AD lightboxes .
5 Star Lighting Factory produce uniformity and good effect LED lights for aluminum fabric light boxes .
Our edge-lit led strip lights are fixed to aluminum slots with matched screws & bolts or 3M tape .
Aluminum frames can keep edge lights working under low temperture which guaratee long life span (3 years'
warranty) .
Features of tension fabric light box lights :
– bulit-in design;
– even and super bright ;
– zero maintenance with 30,000 hours up lifespan ;
– compatible for both single-sided / double-sided light box frames ;
– well performance for slim light box 4″ (100mm) deep above ;
Factory direct led strip lights for aluminum fabric light boxes, unlimited sizes , edge lights wholesale .
Recently we got a inquiry about these light box display lights as following :
"
Hello,
I am looking to order some edge lit LEDS.
What I need :
18 – Edge Lit LED Modules – 600mm
4 – Edge Lit LED Modules – 200mm
Also I need some connector/extenders or pig tails to be able to extend the wires. I could not find them on the
website.
What do I need to do to in order to put an order together?
Also what do you expect the time frame if can get an order in today?
That is correct for the 600mm and the 200mm we already have transformers but we will need:
10- extension connector between strip lights( how long are these?)
We are making a back lit light box that is 60" wide x 177" tall with a fabric graphic mounted to the face. The
box will be lit up with edge lights on the inside perimeter of the box. Do you think that there will be any dark
spot in the center of the graphic?
All looks good but we need to light up the sides of the box as well so we may need one more 9 pack for the
470mm
Totals:
(1) 27 pcs 470 strip lights
(2) 10- extension connector between strip lights,
Please let me know the new total and I will get my PayPal payment together thanks for all your help .
Thanks,
Patrick Welsh
Estimator
"
Can our light boxes be Large format ?
Yes,
Equipped with our Osram edge strip lights.
Large size format light boxes with thin depth type come true .
Not like traditional fluorescent tube illuminated lightbox display, they must be backlit which lighten from back side of light boxes .
The depth of light box frame should be 30cm (12″) depth above .
Or there will be no even but spots on graphic printings .
Our Osram edge module lights with 300 lumens per each bulb unit .
Dye sublimated fabric graphics are more and more popular for display industry, our large format light box frames are designed for them .
Each led strip lighting module contains 3 / 5 / 9 led lights, we have several length 20cm / 30cm / 36cm / 47cm for options.They can flexibly connect together to fit any sizes of aluminum frames .
Our large sizes led light boxes with advantages :
– Silicon Edge Graphic (SEG) system type : beautiful & quick display ;
– Durable / light weight / portable …
– Perfect for retail stores , restaurant , airport, trade show , exhibition , art gallery ….
– Silver / black / customized frame color available ;
Factory direct large format LED light boxes display, SEG, edgelit LED
Welcome to buy large sizes led light boxes from 5 Star Lighting Factory Directly !
FREE LIGHTING DESIGN for your light boxes / signage ...
Five Star Lighting Factory can offer one whole illumination for your light boxes displays .
Custom design service available like below :
As per size : 8′ X 4′ ,Our whole lighting kits  includes :
(1) 10 units of 470 Osram led modules ;
(2) two build-in power supplies ;
(3) US plug cable, connection cables .
Edge module lights can emit super bright lights from aluminum frame around ,
greatly save cost comparing backlit LGP solutions .
Our edge led modules are widely used for signage, graphic lightbox, box display, advertising, billboards …
Our edgelit led lighting kits for light box display with features below :
– With optimized optical lens can fit for slim light box profile ;
– Durable , dimmable , stable performance with Osram bulbs inside;
– No spots, even, uniformity for light box displays ;
– Suitable for both single sided / double-sided light boxes from 4″ – 12″ deep ;
– Input voltage: DC 24 Voltage ;
– Equipped with narrow beam angle for ultra thin fabric light boxes ;
Usually our edge module lights are installed for two long side of light box, they also can be used four sides if
need much more lights .
Super Bright OPTIMIZED Fabric SEG light box display lights
New Generation of LED lights for FABRIC LIGHT BOX FRAMES
OPTIMIZED new series of Tension Fabric Light Box Display Lighting Series released !
Our LED module strip lights can bring 250 – 300 luments for each OSRAM bulbs, increasing visual impact of your fabric aluminum light boxes .
Our optical LENs is sepcial designed for slim aluminum extrusion which can be 3″ – 4″ thickness for frames only whatever single-sided or double-sided poster frames .
We fixed our optinized lens with special glue on PCB boards, durable, elegent , ZERO maintenance .
Our LED lightbox strip module lights with features :
– OSRAM led bulbs inside ;
– Special designed for silicone edge graphic aluminum light box frames ;
– Our new generation of optic LEDs are made for aesthetical / even lighting diffusion ;
– Fits for extremely slim but huge light box frame ;
– Light in weight, packed in bag, easy transporation for your trade show / event / business party …
– All made aluminum / PC in material , durable, flat packed for reassembling ;
– Seamless super brightness effects ;
– Built-in LED lighting kits for fabric light box signs ;
Our led lighting illuminations can be connected with different sizes from 6″ / 8″ / 12″ / 16″ / 18″ …. We also accept customized sizes well .
Usually two sides up and bottom can meet your graphic illumination well even big size like : 48"w x 94.7"h x 4"d /
1222mm(w) x 2405mm(h) x 100mm(d) .
All necessary hardwares are included or can be optional like : screw kits, power adapter, cable connectors , dimmer …
Factory direct LED strip module series , Optimized LENs design for SEG fabric light boxes display , OSRAM led modules , NEW Generationi .
Welcome to choose 5 STAR LED edge-lit lighting solution for your SEG fabric light boxes : evenly disffused, eco-friendly, energy saving …
light box Edge lights with built-in adapter
470mm strip edge lights with slim built-in power supply kit can be well used for fabric light boxes display .
LED Edge Lighting Kits installation for 2 Pin, 470mm model
Easy & Quick installation for this 2 pin 470mm strip edge lights
Osram rigid strip lights for SEG light boxes illumination
Osram led bar strip lights series for SEG aluminum light boxes ,
several sizes for optional, linkable , dimmable with good performance .
Can our light box edge-lit strip lights can customized ?
Customized cable connectors for high power light box strip lights .,
5557-2P and 5559-2P connectors,
Factory direct light boxes edge-lit strip lights wholesale with 5557-2P male plug cable connector and 5559-2P female connectors .
PWM 5V Signal edge-lit lighting Dimmer for light boxes
Our whole edge-light lightboxes lights can have dimmable function with our matched PMW dimmer
Cost efficient LED Edge-lit lighting bar for fabric lightbox
Looking for qualified edge lighting for your light boxes?
Introduction of Epistar led chip encapsulation for our edge lit led light box strip lights
We use Epistar led bulbs from Taiwan for our edge lighting bars .
The profile details of Epistar bulbs are as following :
1. substrate;
2. copper;
3. soldering;
4. pin;
5. led substrate;
6. conductive;
7. fluorescent power;
8. chip;
9. resinous filler;
10. lens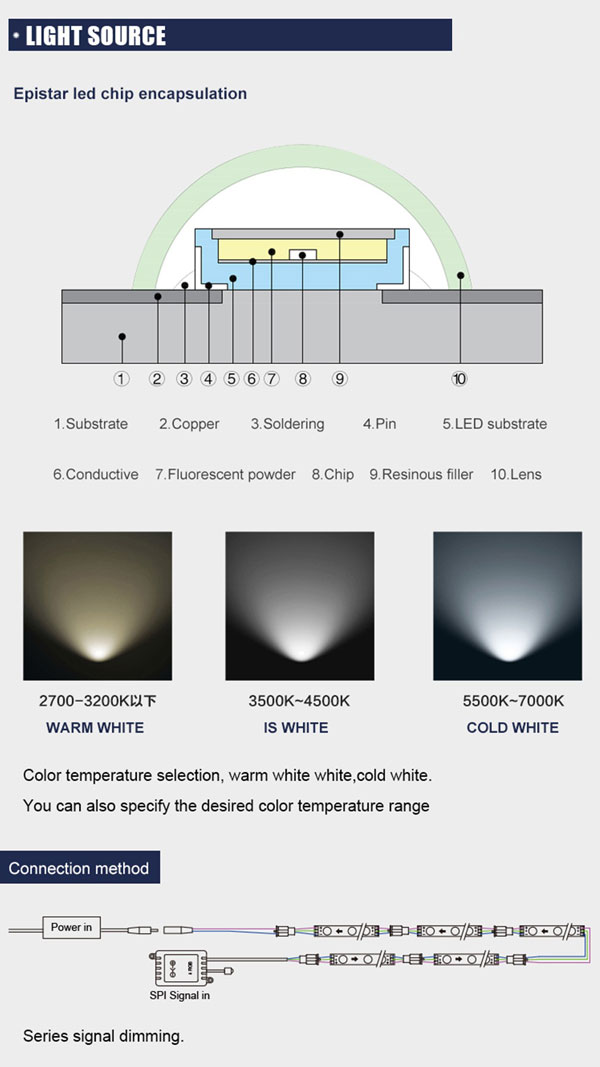 The standard color temperature selection : warm white, white, cold white .
You can also specify the desired color temperature range .
Cree & Osram led bulbs can be optional if customer specify .