Ever thinking of illuminated SEG pop-up display stands from inside ?
SEG pop up display system is a new generation of portable advertisement series .
Because of it's quick and toolless set up in 2 – 3 steps and seamless tension fabric vivid graphics on the faces .
SEG is abbreviation of words – Silicone Edge Graphic , the key feature is :
Silicone strips are The sewed to four adges of textile printings, then they are instered into grooves of aluminum frames .
Comparing traditonal magnific / Hook & Loop installation methods , SEG is more convenient and elegant in seamless appearance .
As a general consensus, Good lighting illumination can bring more attention and attracts more visiters to look at art works .
Comparing old halogen arm lights which have extended stems from top of pop up display stands ,
5 Star Lighting Factory plan to bring a innovative lighting solution which is lighten from inside SEG display frames .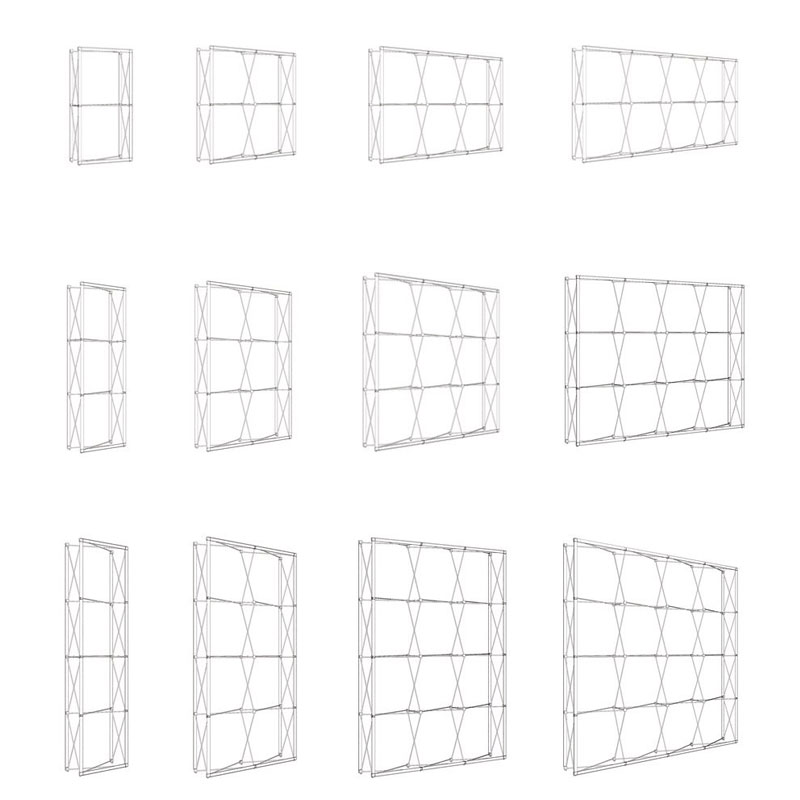 With our SEG display lighting kits, make the whole SEG pop-up system are noble, high-grade but easy for make up .
There are several standard types for SEG pop up displays : tabletops , wall stands, curved shape, "U" / "L" islands …
Our SEG backlighting can fits all of them and bring great performance .
As per most module sizes for SEG pop up stands :
Each grid is around 75cmx75cm,
3W x 3H, 4W x 3H, 3W x 4H, 4W x 4H, 1W x 3H, 2W x 3H, 1W x 4H, 2W x 4H, 3W x 1H, 3W x 2H, 4W x 1H, 4W x 2H …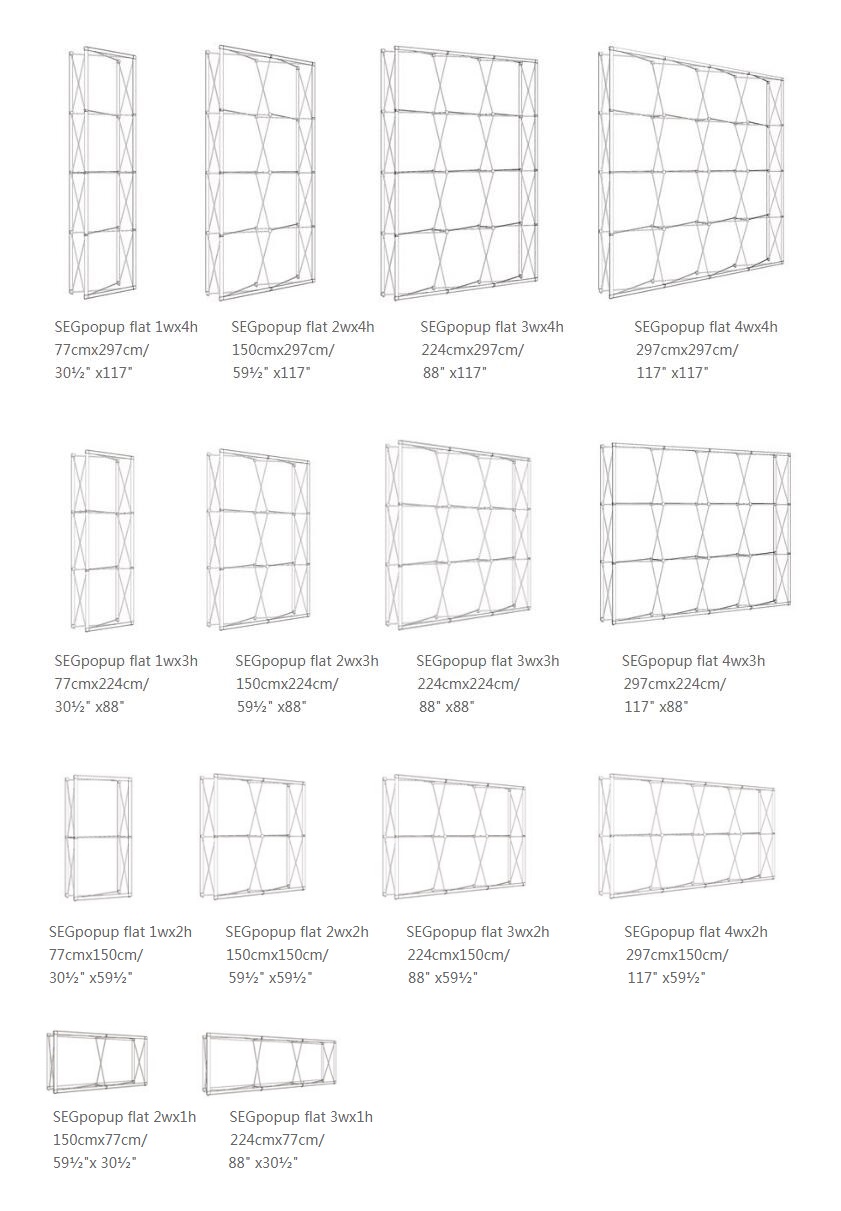 We invent one SEG aluminum cross rod clip as following :
Our customized LED strip module lights with length 60cm in PCB with 10 cm wire connectors at the two ends.
This backlights is specially designed for Each SEG display frame grid well.
The SEG clip fixes high power strip modules by sliding from the edge of each lighting modules .
Then SEG clip will clamp on each crossing rods .
Our SEG display strip lights can be linked together which is no more than 5 pieces ,
Each two sting lights can be paralleled connected to our UL approved desktop power supply, then just one pulg to power sockets with our
extension cords .
As our engineer design each SEG grid just need two pieces of our high power Osram strip lighing modules on each vertical sides .
i.e. for 3×3 grid SED pop up display frame ,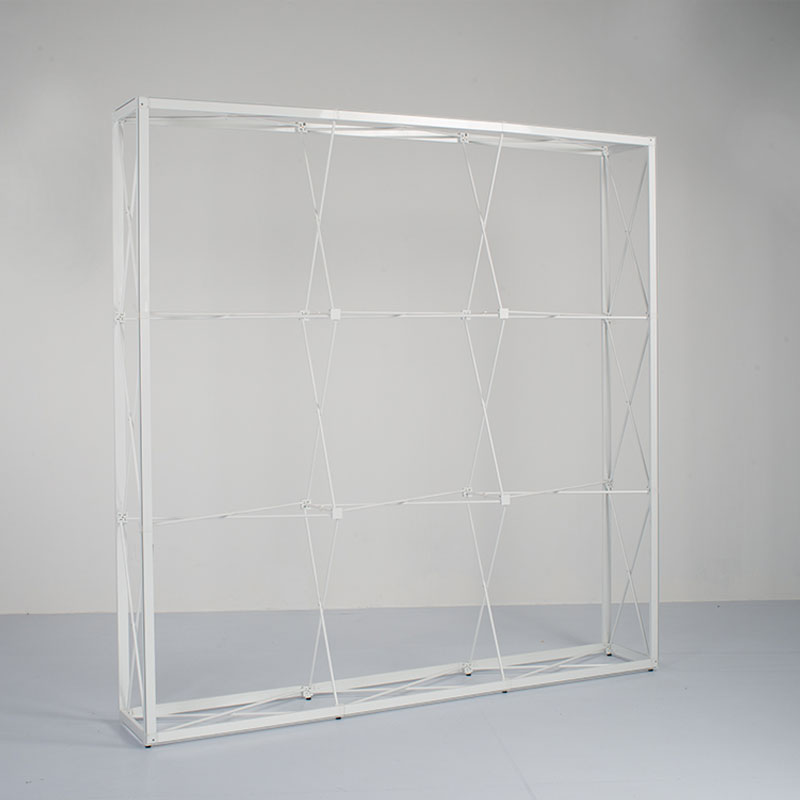 totally it would need
(1)12 pcs of led strip display lights with our customized clips;
(2) four pieces of our extend wire cable ;
(3) 2 pieces of 1 to 2 splitter cable ;
(4) 2 UL approved power adapters ;
(5) 2 units of 3 prong power cables .
The BOM list as following :
LED Power Strip Backlighting for SEG System
No.
Model
Specifications
LED Chips /Bar
Max Run2
Power/w
Lumen      /lm
Dimension
1
5L-600mm-5LEDs-OSRAM-with-Spring-Kit
Input Voltage:DC 24V Constant Voltage Lens Beam Angle: 13°*39°                               Ambient Temperature:(-4°~158°F(-20°~70℃))                                                             Operating Temerature: (-4°~158°F(-20°~70℃))                                                              Color: CW(6500K)                                                   CRI: 75                                                Efficacy(Lm/W): 100
5
4 fixtures
15W/750mA
1500
24*1*0.4in. (L*W*H)
2
Connector-1 (connector between  bars and splitter)

DC5.5*2.5(Female) + 2D8-Teminator(Male)
600mm

3
Connector-2(1 to 2 way splitter)
Splitter : 1 way DC5.5*2.5(Female) + 2 way  DC5.5*2.5(male)
4
Power Supply-150W
 Power Supply  (24V,150Watts  (MAX))
This new version of this display lights is cost-effective comparing ladder backlighing solution in the market,
Our backlit led display lighting are required if you like brilliant effect for your SEG display stands .
Welcome to contact 5 Star Lighting to get more information for this Osram SEG backlighing series .