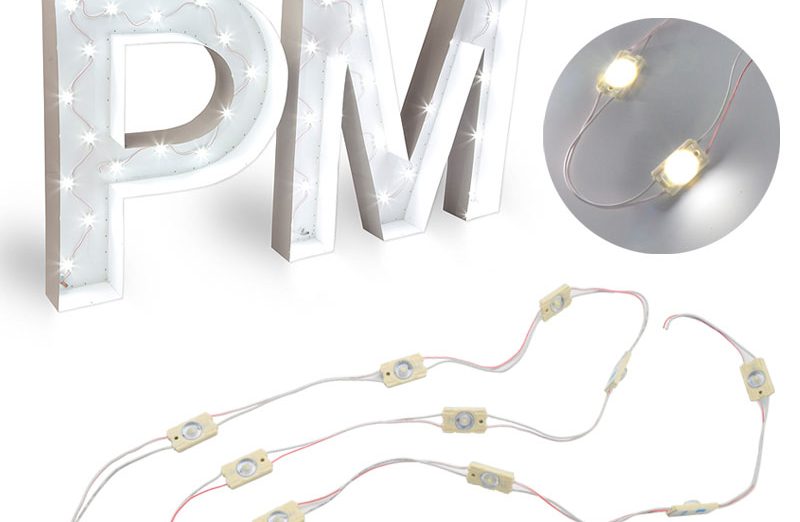 SMD 3030 LED modules

Product type: Light Boxes Back-lighting
Product model: 5L-BLA-6401
Lighting source: 3030 LED chips
Voltage: DC12V
Power: 1.4W
Lighting color: Warm white / Cool white / White
Application: Suitable for light box back-lit such as: Advertising light boxes, Outdoor sign boxes etc.
Contact by Email
Features:
a): Factory direct sale great quality led module smd 3030 using super bright SMD 3030 LED chips as lighting source that emits white / cool white / warm white lighting color available for options etc.
b): Unique design smd led module 3030 is featured with IP65 grade design, water-resistant that has been widely adopted in different kinds of exterior advertising lighting boxes illuminating application;
c): The injection SMD LED module with low power consumption, energy saving and high efficiency, excellent performance and high light efficiency, make the smd 3030 module affects a long life span up to 50,000 hours, and its stability and reliability will be the best option to fix for light boxes backlighting usage;
d): Great quality smd led module adopts anti-static ABS plastic as shell's material, smd 3030 module with strong ability of UV-resistant, flame-retardant, resistance to terrible weather, completely meet outdoor light box backlit necessary;
e): Our led module backlit using with 160 degrees wide beam angle, that emit pure and gentle lighting effects, with gentle and comfortable vision, without harmful to eyes, make light boxes much easier to catch people's attention and focus on your advertising display cases and then achieve a great illuminating effects;
f): Popular item smd led module 3030 with DC12V constant voltage drive, safe and normal to use at real condition;
g): Creative design injection SMD LED module with retrofitted holes and 3M tape, our smd 3030 led module provides two installation choices available for options.
Applications:
Wholesale led module smd 3030 adopts high quality 1pcs 3030 LED chips as lighting source, featured with IP65 grade water-resistant that perfectly fits for kinds of interior and exterior advertising lighting boxes backlit illuminating.
[1]: General backlighting usage: Advertising light boxes, Channel letters, Signal & Symbol Indicators, Stereo shine word, blister word, marking, Medium and large poster light boxes, Sign board, LCD backlighting, Commercial signage and other indoor or outdoor sign cabinets ect;
[2]: Special usage: Landscape layout lighting, Architecture lighting, Automobile interior lighting, Conforence rooms lighting, Shopping mall decoration lighting, Stage adornment lighting, Illuminating ceiling panels in elevator, Amusement machines, and other decorative display lighting projects.
Great quality led module smd 3030 from 5 star lighting factory.
Brief Descriptions
SMD 3030 LED Module, 1.4W, DC12V, Injection 3030 SMD LED module light boxes backlit. For Light Boxes Backlighting.
Item Type
Light Boxes Backlighting
Electrical and optical parameter
Model Number:
5L-BLA-6401
LED QTY:
1pcs (20pcs group per string)
Lighting souces:
Epistar SMD 3030 LED Chip
Item color:
White
Materials:
Aluminum PCB
Power consumption
1.4W
Input voltage:
DC12V
Luminous flux
100-120Lm
View angle(°):
160°
Ingress protection
IP65
Lighting Temperature(CCT):
CCT: Warm white / Cool white / White
Working temperature:
-40-60°C
Certifications:
CE & RoHS
Lifespan(hrs):
50,000 hours
Application:
Suitable for light box backlighting such as: Advertising light boxes, Outdoor sign boxes ect.
Packing Dimensions
Unit Light size(Inch):
36mm (L) × 20mm (W) × 11.6mm (H)
1.42 Inch (L) × 0.79 Inch (W) × 0.46 Inch (H)