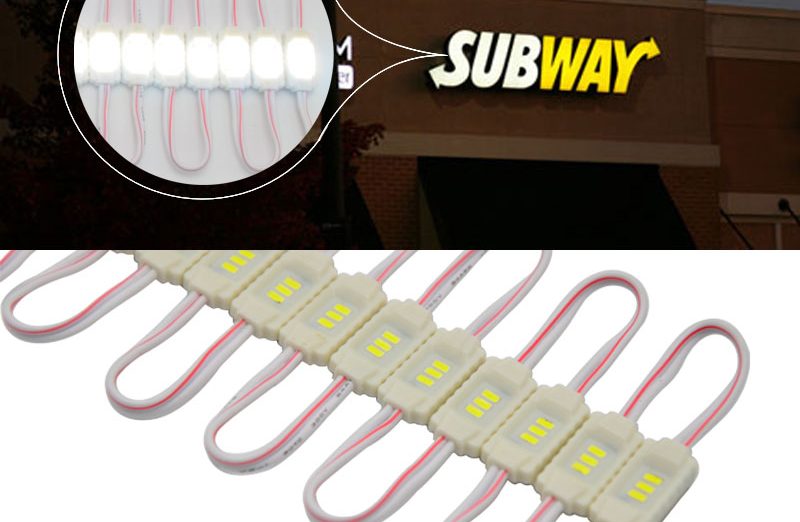 Mini SMD 3014 LED modules 3PCS Product type: Light Boxes Backlighting
Product model: 5L-BLC-5801
Lighting source: 3pcs 3014 LED chips
Voltage: DC12V
Power: 0.3W
Lighting color: Warm white / Neutral white / Cool white
Application: Suitable for light box back lighting such as: Advertising light boxes, Outdoor sign boxes etc.
Contact by Email
Features:
a): Factory direct sale mini smd 3014 led module is mini shape design that perfect for slim light boxes backlighting, likes: channel letter, signage, ultra thin lighting box etc.
b): Our smd 3 led module 3014 adopts 3014 smd led chips as lighting source, 3pcs in one group, and 20 groups per string, injection SMD LED module perfectly meet necessary of how many modules suitable for different types of advertising light boxes;
c); This mini 3 smd led module offer Warm white / Cool white / White these three lighting colors for options, and there are Red / Green / Blue / Yellow these four colors available for customized, completely meet customers' necessary;
d): Great quality mini 3 smd led module featured with IP65 protection grade that water-resistant for different kinds of exterior advertising lighting boxes illuminating application;
e): Easy installation of this smd 3 led module 3014 with 3M adhesive tape behind, pretty simple to operate;
f): New item mini led module affects pure and gentle lighting effects, because of 120 degree wide beam angle, to some extent, this injection SMD LED module will help you light boxes get much more attention it deserves.
Applications:
Wholesale mini smd 3014 led module using high quality 3pcs 3014 LED chips as lighting source, featured with 120 degree view angle which affects pure lighting and gentle vision, perfectly fits for kinds of channel letter, advertising lighting boxes back lighting usage and others.
[1]: General back lighting usage: Advertising light boxes, Channel letters, Signal & Symbol Indicators, Stereo shine word, blister word, marking, Medium and large poster light boxes, Sign board, LCD backlighting, Commercial signage and other indoor or outdoor sign cabinets ect;
[2]: Special usage: Landscape layout lighting, Architecture lighting, Automobile interior lighting, Conference rooms lighting, Shopping mall decoration lighting, Stage adornment lighting, Illuminating ceiling panels in elevator, Amusement machines, and other decorative display lighting projects.
Great quality mini smd 3014 led module from 5 star lighting factory.
Brief Descriptions
Mini smd 3014 led module 3pcs, 0.3W, DC12V, Injection 3014 smd 3 led module light for channel letter….
Item Type
Light Boxes Backlighting
Electrical and optical parameter
Model Number:
5L-BLC-5801
LED QTY:
3pcs ( 3 pcs one group, 20 groups per string.)
Lighting souces:
Epistar SMD 3014 LED Chip
Item color:
White
Materials:
Aluminum PCB
Power consumption
0.3W
Input voltage:
DC12V
Luminous flux
30Lm
View angle(°):
120°
Ingress protection
IP65
Lighting Temperature(CCT):
CCT: White / Warm white / Cool white, R/G/B/Y optional
Working temperature:
-40-60°C
Certifications:
CE & RoHS
Lifespan(hrs):
50,000 hours
Application:
Suitable for channel letter backlit, also can be used in kinds of advertising light boxes, outdoor sign boxes etc.
Packing Dimensions
Unit Light size(Inch):
18mm (L) × 8mm (W) × 3mm (H)
0.71 Inch (L) × 0.31 Inch (W) × 0.12 Inch (H)