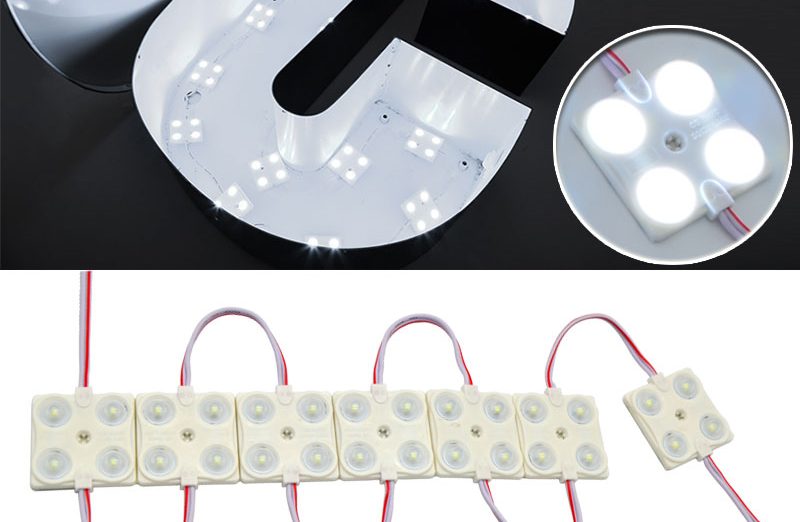 Waterproof SMD 5050 LED Modules 4pcs

Product type: Light Boxes Backlighting
Product model: 5L-FO5050-5533-4P-Z
Lighting source: 4pcs SMD 5050 LED chips
Beam angle: 120°
Voltage: DC12V
Power: 1.2W
Ingress protection: IP68
Application: For light box back lighting such as: Advertising light.
Contact by Email
Features:
a): Wholesale great quality 5050 smd 4 led module adopts durable quality materials as case cover, anti-static, anti-UV flame retardant plastic casing, weather resistance, much more stable performance than traditional strip modules;
b): Our ip68 led modules 5050 featured with IP68 grade waterproof, that has been widely adopted in several different kinds of advertising light boxes, especially for exterior light boxes back-lit applications;
c): Humanized design 4 led module smd 5050 using high brightness SMD 5050 LED chips as lighting source, which with wide viewing angle and good uniformity, low light decay, and excellent performance and high light efficiency will make this module back-lit affects a long life span up to 50,000 hours;
d): Great quality injection SMD LED module 4 pcs with low power consumption, energy saving but with pure and bright lighting, excellent in low heat generation, its stability and reliability will be the ideal choice for light boxes back lighting usage;
e): Our injection SMD LED module using with 120 degrees wide beam angle, that emit pure and gentle lighting effects, with gentle and comfortable vision, without harmful to eyes, make light boxes much easier to catch people's attention and focus on your advertising display cases and then achieve a great illuminating effects;
f): Popular item waterproof smd led module with DC12V constant voltage drive, safe and stable for daily use;
g): This smd led module emits pure white / cool white / warm white lighting color, and other lighting colors optional, like: Red / Blue / Green / Yellow colors available for customized etc.
h): Waterproof led module with retrofitted holes and 3M tape, our smd 5050 led module provides two installation choices available for options, completely meet customers' requirements.
Applications:
Factory direct sale 5050 smd 4 led module adopts high quality 4pcs 5050 LED chips as lighting source, featured with 120 degree wide view angle which affects pure lighting and gentle vision, perfectly fits for kinds of advertising lighting boxes backlighting usage and others.
[1]: Advertising light boxes;
[2]: Channel letters;
[3]: Signal & Symbol Indicators;
[4]: Stereo shine word;
[5]: Blister word;
[6]: Marking;
[7]: Medium and large poster light boxes;
[8]: Sign board, LCD back lighting;
[9]: Commercial signage and other interior or exterior sign cabinets etc.
Great quality smd 5050 led module 4 pcs from 5 star lighting factory.
Brief Descriptions
SMD 5050 LED Module 4pcs, 1.2W, DC12V, IP68 Waterproof 4 LEDs SMD LED Module Injection, For Light Boxes Backlighting.
Item Type
Light Boxes Backlighting
Electrical and optical parameter
Model Number:
5L-FO5050-5533-4P-Z
LED QTY:
4pcs, 4pcs in one group
20pcs group per string.
Lighting souces:
SMD 5050 LED Chip
Item color:
White / Black / Red
Cases materials:
Anti static ABS + Anti-UV
Power consumption
1.2W
Input voltage:
DC12V, constant voltage
Luminous flux
Red: 24
Green: 54
Blue: 16
Yellow: 24
Pure white: 76
Warm white: 68
Cool white: 76
Lighting Temperature(CCT):
Red: 620-635
Green: 520-535
Blue: 465-475
Yellow: 588-594
Pure white: 6000-7000
Warm white: 2800-4000
Cool white: 8000-12000
Viewing angle(°):
120°
Ingress protection:
IP68
Operating environment:
Temperature -20°~+60°C; Humidity 10%~90%
Installation environment:
Ventilation and no corrosion gas in the air
Lifespan(hrs):
50,000 hours
Application:
Suitable for light box backlighting such as: Advertising light boxes, Outdoor sign boxes ect.
Packing Dimensions
Unit Light size:
54.8mm(L) × 33.2mm(W) × 6mm(H)
2.16 Inch (L) × 1.31 Inch (W) × 0.23 Inch (H)
Back adhesive:
(3M Double-sided adhesive)
30mm(L) × 37mm(W) × 1.0mm(D)
1.18 Inch (L) × 1.46 Inch (W) × 0.04 Inch (D)
IP68 LED Backlit modules ONLINE!
TO learn more > Water-resistant design for exterior advertising light boxes backlighting usage…