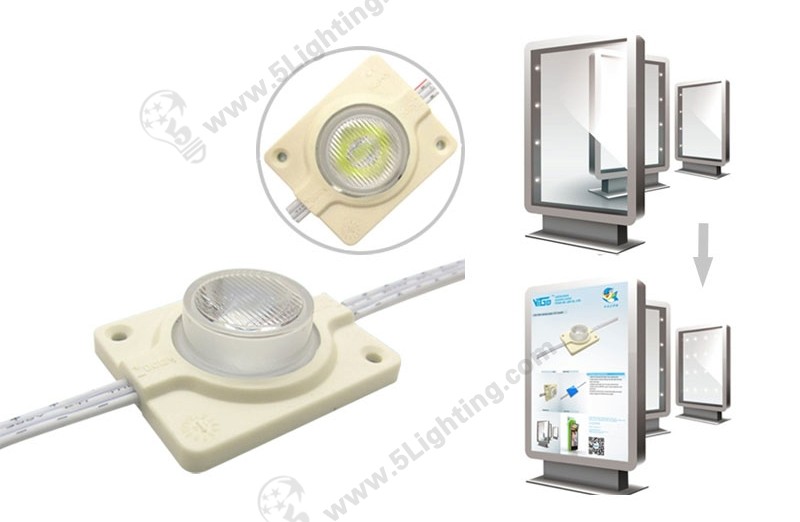 LED Edge Lighting Module SMD 3535 – 2.4W
Product Type: Light Boxes Edge Lighting
Lighting Source: 1pc high power LED
Waterproof: IP65
Power: 2.4W
Luminous flux: 200Lm
Application: Suitable for edge-lit light box or sign boxes

Contact by Email
Features:
a): Our led module light adopts 2.4W high power SMD 3535 LED, and 15°×45° wide beam angle lens, means that the lighten distance is very long make it perfectly suitable for edge-lit illuminated light box and signs;
b): Wholesale this edge lit LED module is IP65 waterproof, flexible and humanized design make it suitable for indoor lighting boxes, also can be used in outdoor advertisement sign boxes usage;
c): Instant start, no flickering and no humming, it has wide angle of deflection with uniform light distribution, and have excellent anti-vibration capability;
d): This edge lit led module emits lighting with hight purity, widely applied in various range of advertising in order to achieve superior effect of publicity, with up to 200Lm high brightness enough to catch people's attention;
e): Cool white 6000K-6500K lighting temperature, other requirements of lighting color customized also avalible;
f): The led module light smd 3535 is cuttable in every 3 pieces, and have scissor marks on wires (as pictures shows), and it has 3M adhesive tape on back of each module for installation, also have screw hole, convenient to use and install;
g): Factory direct sale edge led modules kits smd 3535 with excellent performance, and which affects a long time working life more than 50,000hrs.
Application:
Factory direct sale this edge lit led module using SMD 3535 high quality optical lens, enjoys durable and stable performance, IP65 waterproof, will be a great option for indoor and outdoor advertising lighting box, such as:
(1) Thin light boxes;
(2) Advertising signage;
(3) Single-side signboard;
(4) Internally lighted billboards;
(5) Indoor or outdoor sign cabinets;
(6) Medium and Large poster light boxes;
(7) Medium and Large advertising light boxes;
(8) Outdoor display decorative lighting projects.
Good quality edge lit led module SMD 3535 from 5 star lighting factory.
Our whole edge led modules series as following :
Brief Discription
2.4W, 200Lm, DC2.8-3.5V, 1PCS, SMD3535 LED Chips, IP65 Waterproof, Edge Lit LED Module, For Lighting Boxes.
Item Type
Light Boxes Edge Lighting
Electrical and optical parameter
Model Number:
LED Edge Lighting Module SMD 3535 – 2.4W
LED QTY:
1pc high power LED
Lighting souces:
SMD 3535 LED Chip
Item color:
White
Materials:
ABS injection
Power consumption
2.4W
Input voltage:
2.8V-3.5V
Operating Current
700mA
Luminous flux
200Lm
CRI
75-85 Ra
Bean angle(°):
15°×45°
Waterproof:
IP65
Lighting Temperature(CCT):
6000K-6500K
Working temperature:
-20 – 70°C
Certifications:
RoHs
Lifespan(hrs):
50,000 hours
Application:
Suitable for edge-lit light box or sign boxes
Packing dimension
Unit Light size(Inch):
1 1/4 Inch (L) × 1 1/4 Inch (W) × 2/4 Inch (H)
led edge light module V.S. back lit modules
Choose right led modules for backlit or edgelit light boxes display,
Can our led edge light chip can used for outdoor application ?
This super bright edge lights is IP 65 class , 12 V low voltage input .
It's very safe for outdoor light box application, good replaces for traditional fluorescent tube lights .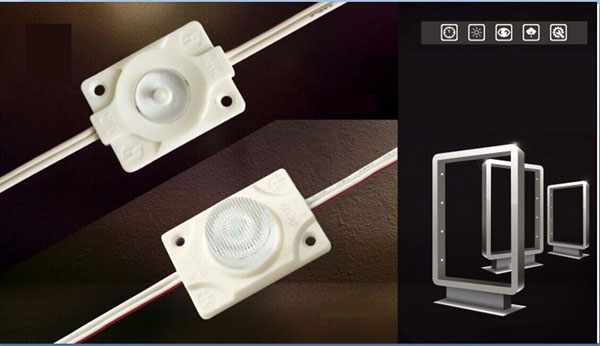 Each light unit emits enough brightness for around 300 lumens , two light bulbs can be customized in distance .
Each edge lighting unit is 2.5 W – 3 W , 300 Lm .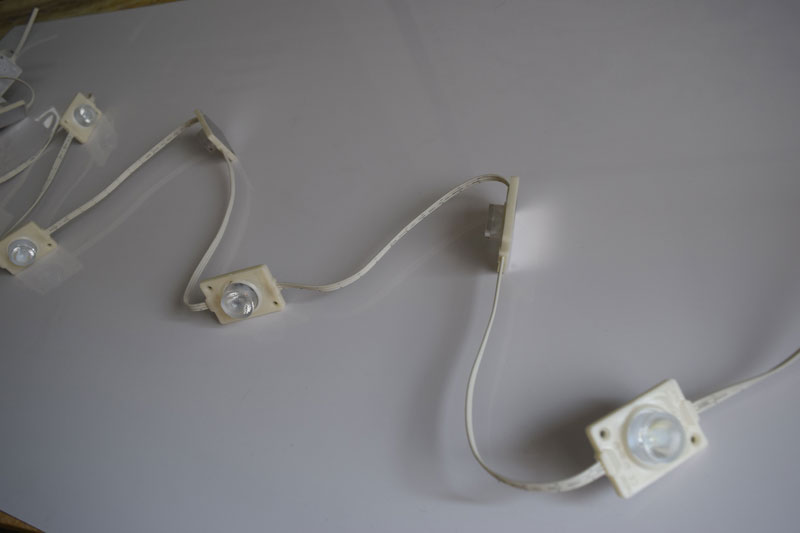 Welcome to purchase high power waterproof edge lit module for outdoor light box from 5 Star Lighting Factory !