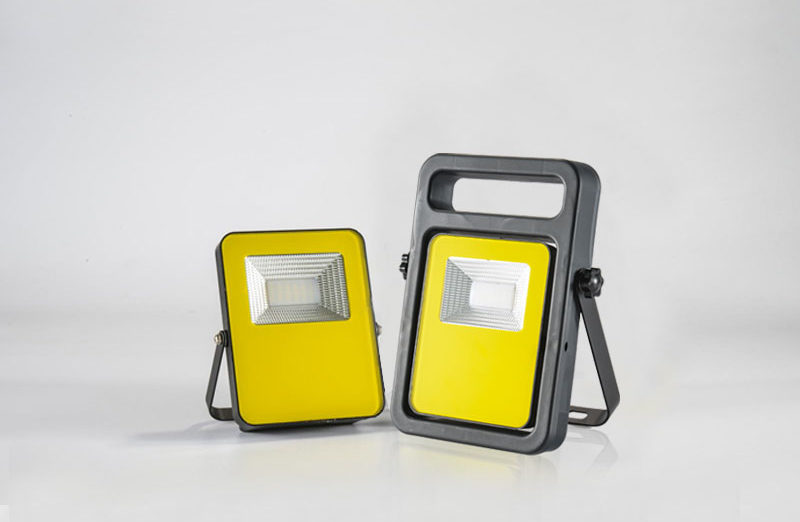 Rechargeable Emergency lighting 10W

Product Type: LED Flood Lights
Product Model: 5L-R-F-L-E2-N10 (Without frame)
5L-R-F-L-E2-K10 (With frame)
Lighting source: COB LED Chip
Power: 10W
Voltage: DC12V
Light appearance(CCT): 6500K
Application: Work lighting, maintenance lighting, Camping and different kinds of emergency lighting scenes etc.
Contact by Email
Features:
a): Wholesale rechargeable led flood light 10W adopts micro USB charging, which is featured with long continuous lighting time reaches 8 hours under 50% brightness, perfectly suitable to carry it outside, for doing some exterior activities usage, like: camping.
b): Creative item portable led flood lights 10W with fashionable shape design that with lightweight and portable, and this portable flood lamps' frame is optional, it's portable to carry it everywhere with frame, and much more lightweight without frame, It's an almighty lamp that the best solutions for Deck lighting, pathway and garden lighting etc.
c): Humanized design portable rechargeable flood light 10W using superior brightness COB LED lighting source, and the key point is this chargeable flood light with lighting adjustable function that 50% and 100% brightness optional, completely convenient for user to change lighting brightness according to real condition, and even at 50% brightness also bright enough for camping, hiking, fishing, barbecue, party, car fixing, exploration and more outdoor activities.
d): Durable lighting portable led flood lights 10W using high quality aluminum material that affects excellent heat dissipation than other traditional lighting, to some extent that make this led work lamp with long life span time;
e): Our almighty lamp portable rechargeable flood light 10W with built in high quality Lithium Battery with standard USB port charges mobile or other devices conveniently, which also can be trick as a power bank, which provides emergency charger function, it is a epoch-making lighting product;
f): Great quality portable rechargeable led flood lights offer 10W/20W power consumption for optional.
Applications:
Factory direct sale new item rechargeable led flood light 10W with long working time which up to 8 hours, and provides frame optional, and rechargeable function make led rechargeable flood light very easy to carry or put onto the ground with the stand or hanging, easy use in Basement, Garage or Home Garden at night, even if the back-up when it's POWER OUTAGE, has been widely apply in different outdoor lighting scenes, such as:
[1]: Emergency lighting;
[2]: Work lighting;
[3]: Maintenance lighting;
[4]: Camping lighting;
[5]: Climbing lighting;
[6]: Hiking lighting;
[7]: Garden lighting;
[8]: Landscape lighting;
[9]: Square lighting;
[10]: Courtyard lighting;
[11]: Gate lighting;
[12]: Other indoor and outdoor lighting etc.
Great quality rechargeable led flood light 10W from 5 Star Lighting Factory!
Brief Descriptions:
Rechargeable led flood lights, 10W, 12V, Fashionable design portable LED flood lighting fixtures. For outdoor lighting scenes.
Item type
LED Flood Lights
Electrical and optical parameter
Model number:
5L-R-F-L-E2-N10 (Without frame)
5L-R-F-L-E2-K10 (With frame)
Materials:
Aluminum + plastic
Finishing:
Painting
Lighting source:
COB
Power consumption:
10W
Luminous flux:
260Lm under 50% brightness,
500LM under100% brightness
Input voltage:
12V
CRI:
>70
Beam angle:
100°
IP grade:
IP 44
Light appearance(CCT):
6500K
Warranty:
2 years
Continuous Lighting Time:
50% brightness: > 8 hours
100% brightness: > 3.5 hours
Charging Time:
6-8 hours
Battery Capacity:
2200mAh each,4400mAh in total
(2*18650 Li-ion Battery)
Applications:
Work lighting, maintenance lighting, Camping and different kinds of emergency lighting scenes etc.
Packing Dimensions
Unit light size(Inch):
5.75 Inch (L) x 4.84 Inch (W) x 1.50 Inch (H)
146 mm *123 mm *38mm (Without frame)
8.78 Inch (L) x 6.69 Inch (W) x 1.50 Inch (H)
223 mm *170 mm *38mm (With frame)
Fashionable shape design Rechargeable LED Flood Lights, 10W / 20W Wattage optional