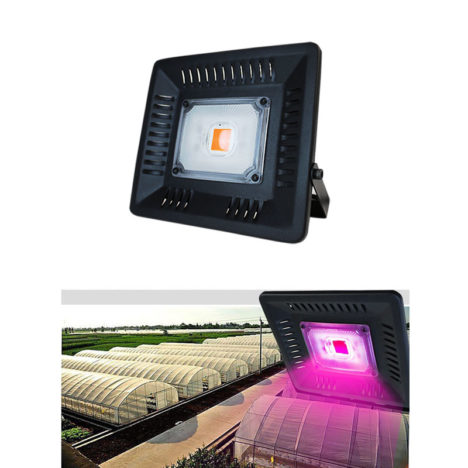 125 W HPS / HID Plant Lights Replacement

Equals: 125 Watts HPS Grow Lights

Product Type: LED Plant Lighting

Product Model: LED-Flood-Grow-Plant-Lights-50W

Lighting Source: COB

Intput Voltage: 110 V / 220 V

Power: 50 W

Application: plants, herb, Cannabis, hydroponics,vegetables …
Contact by Email
Product Description :
LED grow lamp 50W is efficient, easy for operation, new updated choice for plants comparing traditional HID / fluorescent types .
LED grow flood lights – 50 Watts moderate 3/4 more power than traditional plant lighting lamps .
Since cannabis growing is legal in some states of USA and some countries, our led growing lamps 50W model can be good and necessary equipment for greenhouse cannabis planting .
This flood grow lights are not heavy, they can be mounted on plants with our hanging kits with compact and good appearance .
As science test, blue lights can make vegetative stage grow faster and red light can help blooming stage better .
This LED plant lights 50W is full spectrum wavelength, 400 – 520 nm (blue) and 600 – 720 nm (Red) cover can greatly give plants grow fast .
Features of this LED growing lamp & bulb – 50 Watts :
– Creating substantially lights with high density COB bulbs inside ;
– No cooler, less power consumption, fireproofing, anti-flame ;
– No extra ventilation required with this LED grow bulb 50W;
– Light in weight, sturdy structure, suitable for expressing / transporting ;
– Less half power equivalent comparing HID / HPS lights, but grow faster ;
– Lessening in CO2 emanations, environment friendly;
– No mercury contains for this 50W led plant flood lamp;
Scientifically proven this 50 Watts LED (Light Emitting Diodes) flood lights with wide wavelength hues can help cultivating plants from growing , blooming to fruition .
Brief Description
50 Watts LED Flood Grow Lights , Replaces 125 Watts HPS Plant Lights
Item Type:
LED Growing Lamps
Model Number:
LED-Flood-Grow-Plant-Lights-50W
Electrical and optical parameter
Replacement :
HID / HPS grow lighting
Power consumption:
50 W
Color:
Full Spectrum
LED Wavelength :
380-830nm
Flux Brightness:
900 Lm
Lighting source:
COB
Input voltage:
110V / 220V
Base Type:
Plug
Beam angle:
120 °
Application Area:
Farm, greenhouse, lab, garden etc.
Materials:
Metal + Steel
Size:
210 x 190 x 30mm /8.26×7.48 x 1.18inch
Weight:
400g/PCS
Packing size
85 x 52 x 32.5CM
Dimming:
NO
Working Temperature(℃):
-20 – 60℃
Warranty:
2 years
Life span :
20 years