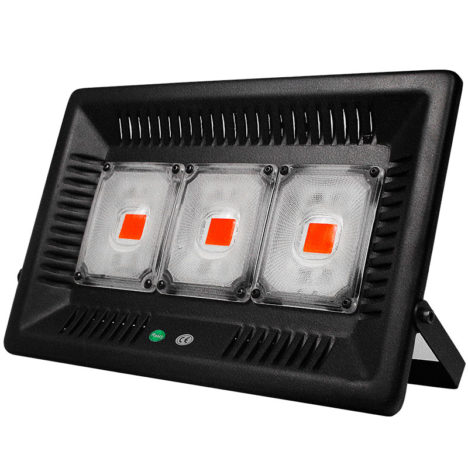 375 W HPS / HID Plant Lights Replacement

Equals: 375 Watts HPS Grow Lights

Product Type: LED Plant Lighting

Product Model: LED-Flood-Grow-Plant-Lights-150W

Lighting Source: COB

Intput Voltage: 110 V / 220 V

Power: 150 W

Application: plants, herb, Cannabis, hydroponics,vegetables …
Contact by Email
Product Description :
This LED grow flood lights is 150 watts in power which emits high lumens lighting for plants, medical flowers, hydroponics, green-house vegetables …
Grow flood lights also called plant light lamps can accelerate plant grow / bloom much faster .
Our 150 Watts flood grow lights is full spectrum which stimulate natural day lights well .
As a high efficient supplemental lights, this 150W LED grow flood lights can enhance effective lighting which plants required at dawn , night, dusk …
This growing lamps is full spectrum, LED Wavelength range from 380-830nm . It can used for seed germinates, root and bulb grows and flower blooms .
IP65 waterproof class make sure our led cob flood lights can be used for growing area in moist circumstances . Optimized LED technology create best similar sun light with long lifespan and good wave elements for plants .
Feature of LED flood grow lights – 150 W :
– Suitable for replacing sunlight and promoting growth of plants in greenhouse and labs ;
– Good design for heating emits, noise-free;
– Professional effecttual spectrum formula by botanist engineer ;
– Full spectrum plant flood lights for seeding, breeding, flower …
– Best replacement for HPS / HID grow lamps ;
– COB LED inside, no mercury, lead and other harmful chemicals;
– Anti-corrosive, water resistance ;
– Good performance for PAR and Lux value ;
Welcome to get more info from 5 Star Lighting Factory about our full spectrum 150W LED plant grow flood lights for medical plants, vegetables, flowers …
Brief Description
150 Watts LED Flood Grow Lights , Replaces 375 Watts HPS Plant Lights
Item Type:
LED Growing Lamps
Model Number:
LED-Flood-Grow-Plant-Lights-150W
Electrical and optical parameter
Replacement :
HID / HPS grow lighting
Power consumption:
150 W
Color:
Full Spectrum
LED Wavelength :
380-830nm
Flux Brightness:
2700 Lm
Lighting source:
COB
Input voltage:
110V / 220V
Base Type:
Plug
Beam angle:
120 °
Application Area:
Farm, greenhouse, lab, garden etc.
Materials:
Metal + Steel
Size:
370 x 240 x 30mm /14.724×9.64 x 1.37inch
Weight:
1500g/PCS
Packing size
45.8 x 32.5 x 8.1CM
Dimming:
NO
Working Temperature(℃):
-20 – 60℃
Warranty:
2 years
Life span :
20 years