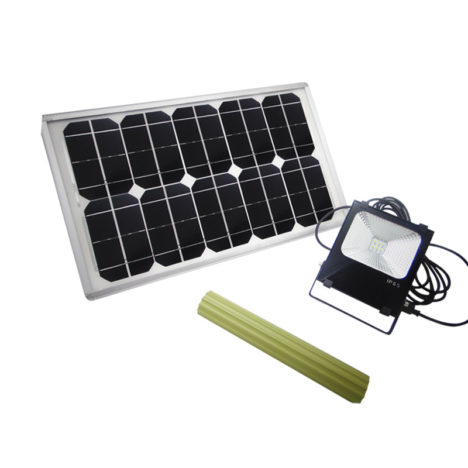 20 Watts Solar LED Flood Light Kit

Product type: Solar LED Flood Light Kit
Product model: Solar-LED-Flood-Light-kit-20-Watts
Beam angle:120°
IP grade: IP65
Power: 20W
Input voltage: DC12V/24V
Light appearance(CCT): Warm white / Pure white
Application: outdoor
Contact by Email
Features:
Solar led flood light 20 W is the perfect solution for large billboard lighting. It superior lighting can attract customers. It uses lithium iron phosphate battery, is long life span that can ensure the whole products of useful life.
Our excellent waterproof led flood light 20 W adopts the newest in LED lighting technology for long life span, over 50 thousand hrs, and is durable and weatherproof. The breakthrough in the technology of floodlights and the performance of Li-ion batteries make it an ideal choice for a large area with solar lighting.
Outdoor Flood Lighting Kits 20 Watts is more energy saving than the CFL and the incandescent lamp up to 50%. And it is high efficiency, high safety factor, multiple angles, mobile radiation, paint process, with no discoloration.
Solar led flood light 20W charges the lightweight lithium battery, in the case of fully charged it can last up to 12 hrs and need a direct line when charging.
The entire package, safe and convenient in delivery, waterproof led flood light 20 W is used to store electricity in a lithium battery, and by night it will be automatically turn on during the day.
Other matched components: a car charger and adapter, adapter's standard can be customized in UK / US / AU / EU standard.
Application:
Solar led flood lights 20w are designed to achieve the perfect solution for your commercial or high demand flood light needs.
Operation:
Turn on the switch, Solar Flood Lights connect solar panel to automatic lighting controller condition.
Brief Discription
20W, DC12V/24V, 3600LM, 120° Beam angle, IP65 Waterproof, Solar LED Flood Lights
Item Type
Solar LED Flood Lights
Electrical and optical parameter
Model number:
Solar LED Flood Lights-20W
Materials:
Aluminum & Iron
Lighting source:
Japanese Nichia LED SMD
Power consumption:
20W
Luminous flux:
3600Lm, about 70-80Lm/W Lamp efficiency
Input voltage:
Lighting: DC12V/24V, adapter: AC100V-240V
Battery capacity:
3.2V 50Ah
Lipo cells:
2 cells
Humidity:
0-90%
Beam angle:
120°
Color rendering index:
Ra>70
IP grade:
IP65 waterproof
Boutique tripod:
Customized, 1.7 meter
Specially bag:
Customized
Charging time(hrs):
4 hours
Working time(hrs):
12 hours
LED life time:
50,000 hours
Battery life span:
8-12 years
Operating temperature:
-75°C
Charging temperature:
0-40°C
Light appearance(CCT):
Warm white / Pure white
Warranty:
5 years
Packing dimension
Unit Net Weight(lb)/[g]:
Lighting: 2.54(lb) / 1150[g]
Solar panel: 1.34(lb) / 610[g]
Unit Light size(Inch):
Lighting: 6 Inch (L) x 5 3/4 Inch (W) x9 3/4 Inch (H)
Solar panel: 11 1/4 Inch (L) x 7 1/4 Inch (W) x 3/4 Inch (H)
Unit Gross Weight(lb)/[g]:
4.41(lb) / 2000[g]
Interior box dimension (Inch):
12 3/4 Inch (L) x 7 3/4 Inch (W) x10 3/4 Inch (H)