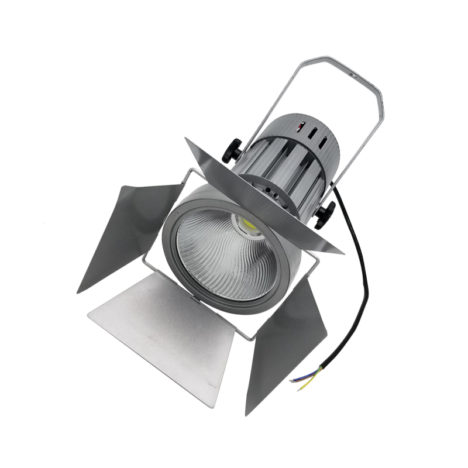 150W Halide Lamps Replacement

Equals: 150 Watts high pressure metal halide lights

Product Type: LED Track / Flood / Stage / Spot Lighting

Product Model: LED-Spotlights-Track-Stage-Flood-Light-With-Barn-Door-80W

Lighting Source: COB LED

Intput Voltage: 110 V / 220 V

Power: 80 W

Application: Stage, Exhibition, Event Commercial
Contact by Email
Product Description :
This 80 Watts LED spot lights are designed for traditional HPSL( high pressure sodium lamp) , high voltage sodium lamp, high pressure metal
halide lamps …
The barn door which installed on top of lamp shape can control beam angle from 120 degree to much more narrow degrees .
Equipped with super bright COB led bulbs inside which can bring more than 7,000 lumens for products display .
Our Color Render Index (CRI) we chosen is up 90 , this is very suitable for commercial application such as clothes , art work , pictures …
This LED Par Can lights is non-dimmable in default, but we can add dimmable function with our dimming driver inside and matched dimmer
offered .
Several mounting clips can be choosed for different installing places . Standard steel bracket with naked three wires come out from our LED
barn door lights . It can be quickly install on tracks by our rain adapter . It can be mounting on truss system with our truss hook . It can be
installed on ceiling by our bolt and nut kit .
Four leaf barn doors can be tilted up and down according to beam angle requirements .
No like most of small power barn door flood lights , the lighting source is incandescent bulbs , Par30 led butls , CFL bulbs … We used
integrated 80 Watts COB led inside , which can be much powerful and bring enough lights for installing height above 3 meters above .
We use good heat emitting aluminum sink and large sizes , eliminating cooling fans comparing some models in the market .
It will bring noiseless and long life span above 30,000 hours .
This 80 Watts COB Barn door spot lighting fixture can be used for fasion shops, home decor, exhibition booth , trade show kiosk, stage
illumination …
Features:
–
Best replace for 150 Watts halide flood lighting fixtures;
– Can
install barn doors or uninstall barn doors flexibly;
– Clean, Strong, Powerful 6000K -6500K cool white effection;
– High CRI ≥ 90 , super bright output ;
– 110 V / 220V global voltage compatible ;
– Dimmable choice for optional ;
– Several mounting components for mounting;
– Perfect for retrofitting and new installation ;
– No fans inside, all aluminum heat radiating;
– Sturdy and lightweight metal barndoors, 4-leaf design ;
– Application: exhibit stall, wedding stage, event hall, art gallery, show room ….
Welcome to purchase this Barn Door LED flood / track / spot lighting from www.5Lighting.com for your old incandescent / mercury vapor /
halogen / halide lamps replacements .
Brief Description
80 Watts LED Spot lights with Barn Door, Replaces 150 Watts Halide flood lights
Item Type:
LED Spotlight / track lights / flood lights
Model Number:
LED-Spotlight-80W-Barn-Door
Electrical and optical parameter
Replacement :
High Pressure Metal Halide
Power consumption:
80 W
Bright:
7200 Lumens
Lighting source:
COB
Input voltage:
110V / 220V
CRI:
≥ 90
Base Type:
Integrated
Beam angle:
120 °
Color:
Grey / Silvery
Color temperature:
6000-6500K (White);  3000-3200K( warm white)
Materials:
Aluminum / Metal / Steel
Size:
160mm X 275 mm X 200 mm
Application Area:
Indoor , Trade Show / Exhibition / Fashion Store
Dimming:
NO / Dimmable can be customized
Working Temperature(℃):
-20 – 60℃
Warranty:
2 years
Life span (based on 4 hrs/day)
20 years
Can 80 Watts barn door led spotlights can be warm white ?
Sure, Our 80W track lights with barn doors have high quality LED chip inside .
Standard CCT is 6000 – 6500K , we can simulate warm white 2700-3500K or customized other color temperature as required .
What's more our CRI is 90 up which is higher than most barn door flood lights in the market , this is very suitable for gallery, art display, museum …