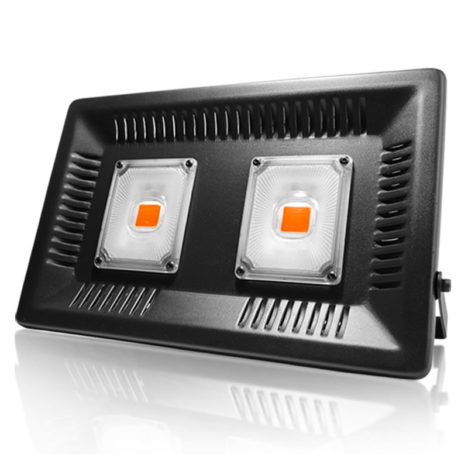 250 W HPS / HID Plant Lights Replacement

Equals: 250 Watts HPS Grow Lights

Product Type: LED Plant Lighting

Product Model: LED-Flood-Grow-Plant-Lights-100W

Lighting Source: COB

Intput Voltage: 110 V / 220 V

Power: 100 W

Application: plants, herb, Cannabis, hydroponics,vegetables …
Contact by Email
Product Description :
This LED plant flood lights is 100 watts in power consumption, it's full spectrum for most of plants, medical herbs, cannabis …
Our grow flood lights is equipped with high quality LED bulbs inside, energy star saving but yield your plants, vegetable … well .
Comparing last version of LEDs with purely Red & Blue diodes mixing array, we use new COB full spectrum instead .
Special lenses covering on the COB chips can focus on plants and increase lighting density for bigger yield resulting for this 100W flood growing light .
Our COB plant canopy has dozens of small diodes integrated in to LED chips which can help penetrate plants and get better growing effects .
Advantages for this LED plant flood light 100W:
– One plant lights for all from seeds to harvest with full spectrum waves;
– Cutting-edge tech V.S. HPS grow lights, modern and clean ;
– Quickly hang over cannabis , plants, herbs, vegetables …
– No exhaust & ducting system needed, neat and compact, maintenance free ;
– Indoor & outdoor, IP65 grow lighting type with swivel adjusable bracket ;
– Scientifically light wave ingredient help grow faster from nurseries to blooming;
Our engineers simulate sunlight with optimized colour spectrum output to guarantee ideal plant growth .
The COB LEDs inside are high lumens and intensity but energy effective .
Good choice with our LED plant flood lights 100W for growers .
Brief Description
100 Watts LED Flood Grow Lights , Replaces 250 Watts HPS Plant Lights
Item Type:
LED Growing Lamps
Model Number:
LED-Flood-Grow-Plant-Lights-100W
Electrical and optical parameter
Replacement :
HID / HPS grow lighting
Power consumption:
100 W
Color:
Full Spectrum
LED Wavelength :
380-830nm
Flux Brightness:
1800 Lm
Lighting source:
COB
Input voltage:
110V / 220V
Base Type:
Plug
Beam angle:
120 °
Application Area:
Farm, greenhouse, lab, garden etc.
Materials:
Metal + Steel
Size:
370 x 240 x 30mm /14.56×9.45 x 1.18inch
Weight:
1400g/PCS
Packing size
45.8 x 32.5 x 8.1CM
Dimming:
NO
Working Temperature(℃):
-20 – 60℃
Warranty:
2 years
Life span :
20 years