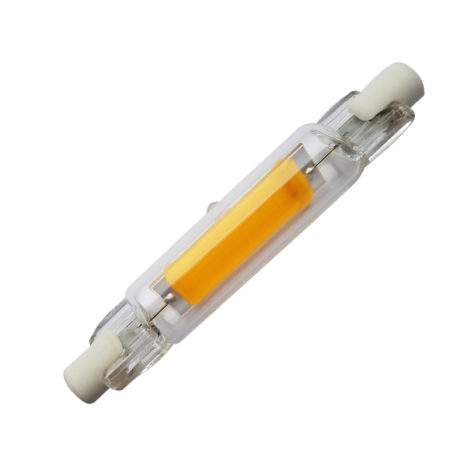 75 W Halogen R7S Bulb  Replacement

Equals: 75 Watts R7S base Halogen Lights

Product Type: LED Lighting

Product Model: R7S-J-Type-LED-Bulbs-78mm

Lighting Source: COB LED

Intput Voltage: 110 V / 220 V

Power: 6 W

Application: Bathroom, garage, outdoor floodlights …
Contact by Email
Product Description :
This R7S Bulbs is 78 mm in length with updated LED sources in side,
it's perfect replace traditional J type 3.12″ (78 mm) halogen bulbs .
The key feature is the slim diameter T2 / T3 is exactly same as old halogen lights ,
don't worry about new LED bulb could not fit into old lamp shade .
Double end (R7S) lamp base is very popular in bathroom illumination / outdoor flood lights .
We manufacture our super slim led R7S bulb by using traditonal glass tungsten iodine lamp technology,
sucessully change quarz-halogen with COB led . We can meet IP 65 waterproof class .
Our whole series of J type R7S LED bulb series can have warm white and cool white color tempeture for options .
Average life can be 30, 000 hours up , this is around 20 times longer than halogen t3 bulbs in the market .
J type light bulbs is a kind of double-ended lighting which is only 3/8 inch (T3) recessed in RSC contact bulb base .
It's commonly used in halogen lighting sources before LED new source come out .
The length can be 78 mm , 118 mm , 156 mm, 189 mm …
As global advocating for energy saving and emission reduction , our 78 mm LED R7S bulbs can be best replacement choice for old halogen ones .
Advantages :
– Slim size only 9.5 mm (T3 , 3/8″) in diameter ;
– Perfect replace 75 watts quartz iodine bulb ;
– Water resistance IP65 ;
– CCT : 2800 /4000 / 6500K ;
– 10 Years up ( Base on 8 Hours per Day ) ;
– Application : desk lamps, torchier, bathroom lights, wall sconce, work lights, security lighting, accent lights …
– Fits double end base housing for residential or commercial area ;
– 3.12″ x 0.37″ x 0.37″ in standard size ;
– Clear Finish ;
Installation Instructions:
Easy installation for  R7S  led bulb replacement 78 mm, only three steps:
Turn off the power;
Put the bulb in the R7S bracket ;
Turn on the power.
J Type R7S LED Bulbs Series
Model NO
Size & Feature
Voltage
Power
Chips
CCT
Lumen
R7S-J-Type-LED-Bulbs-78mm
LED R7S Glass COB
ɸ13×H78mm
AC 220V-240V / AC 110V
6 Watts
COB
2900K-3200K 4000-4500K  6000-6500K
500-550
R7S-J-Type-LED-Bulbs-118mm
LED R7S Glass COB
ɸ13×H118mm
AC 220V-240V / AC 110V
10 Watts
COB
2900K-3200K 4000-4500K  6000-6500K
1000-1100
J Type R7S LED Bulbs series factory direct , 6 watts Φ13 mm × 78 mm, 10 watts Φ13 mm×118mm optional , 110 V / 220 V, 360 Degree wholesale .
Brief Discription
6 Watts J Type R7S LED Bulb 78 mm , Replaces 75 Watts Halogen J Type r7s lights 78 mm
Item Type:
R7S LED bulb
Model Number:
R7S-J-Type-LED-Bulbs-78mm
Electrical and optical parameter
Replacement :
Halogen R7S J Type base bulb
Power consumption:
6 W
Bright:
600 Lm
Lighting source:
COB
Input voltage:
110V / 220V
Base Type:
J Type
Beam angle:
360 °
Color:
Transparent
Color temperature:
6000-6500K (White);  3000-3200K( warm white)
Lighting Angle :
360 °
Materials:
Glass
Size:
78 mm
Application Area:
Indoor and outdoor
Dimming:
NO
Working Temperature(℃):
-20 – 60℃
Warranty:
2 years
Life span (based on 4 hrs/day)
20 years
How much models for this LED R7S lighting sereis ?
We have two optionss : LED R7S Bulbs , J Type, 360° , ɸ13×H78mm, and ɸ 13 mm×118 mm