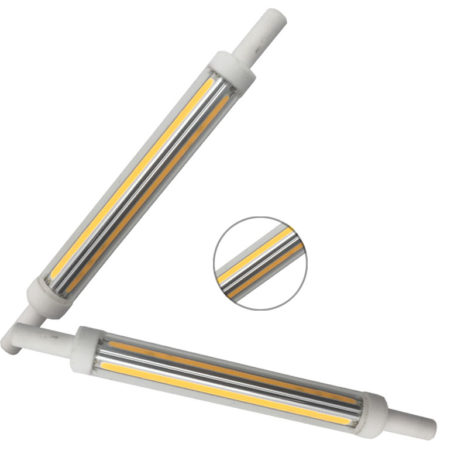 150 W Halogen R7S  118 mm Lights Replaces

Equals: 150 Watts Halogen R7S  118 MM Lights

Product Type: LED  R7S Lighting

Product Model: led-r7s-bulbs-118mm

Lighting Source: LED

Input Voltage: 110 V / 220 V

Power: 10 W

Application:  halogen flood lights and other halogen R7S light bulbs replacement.
Contact by Email
Feature:
a, R7s led bulb for 118 mm adopt COB as lighting source, can emit ultra bright with 1200lm, and it's lighting angle of 180-degree.
b, COB led R7S bulb has a long service life which is ensuring the normal use of above 30,000 hrs.
c,118 mm R7s COB led bulb is conducive to recycling with energy-saving, which is low heat dissipation and no UV or no harmful materials.
d,R7s led bulb for 118mm can use in shop, kitchen, bar, tradeshow,school, super market, KTV, office,dining room or any light occasions.
e,COB led R7s bulb is full of brighter power which is perfect to replace the old halogen R7s bulb.It's made of aluminum alloy, lighter weight and best heat dissipation, and no UV or other harmful radiation.
f,118mm R7s COB led bulb has unmatched project with round shape, which can increase heat dissipation area for better heat sink, reducing LED lighting decay and extending LED lifespan.
attention:
Ensure to cut the power off before beginning installation to avoid danger of personal injury!
Models for this 360 degree R7S led bulbs :
D12 360° R7S Series
Model No.
Specification
5L-R7S7W-78
Power: 7W
CRI(Ra):>80
LED: AC LED
Beam Angle:360º
Voltage:AC220-240V/AC110-120V
CCT: 2700-6000K
Lumen:700-900lm
Lifespan: 35000 Hrs
IP Rating: IP44
Base:R7S
Frequency: 50-60Hz
Work  Temperature: -20℃~+50℃
Certificate:CE,ROHS
Warranty: 3years
Size(mm): ø12*78mm
Material: Ceramics+Glass
5L-R7S10W-118
Power: 10W
CRI(Ra):>80
LED: AC LED
Beam Angle:360º
Voltage:AC220-240V/AC110-120V
CCT: 2700-6000K
Lumen:1000-1200lm
Lifespan: 35000 Hrs
IP Rating: IP44
Base:R7S
Frequency: 50-60Hz
Work  Temperature: -20℃~+50℃
Certificate:CE,ROHS
Warranty: 3years
Size(mm): ø12*118mm
Material: Ceramics+Glass
Brief Discription
10W LED R7S Bulbs 118 mm , Replaces 150 Watts Halogen r7s lights 118 mm
Item Type:
LED R7S bulb
Model Number:
LED-R7S-Bulbs-118mm
Electrical and optical parameter
Replacement :
Halogen R7S bulb
Power consumption:
10W
Bright:
1200 Lumens
Lighting source:
COB
Input voltage:
110V / 220V
Base Type:
R7S
Beam angle:
360°
Color:
White and warm white
Color temperature:
6000-6500K (White);  3000-3200K( warm white)
Volatge:
AC85-265V 50/60Hz
Lighting Angle :
360 Degree
Materials:
Aluminum
Size:
118mm
Application Area:
Indoor and outdoor
Dimming:
NO
Working Temperature(℃):
-20 – 60℃
Warranty:
2 years
Life span (based on 4 hrs/day)
20 years
Features of R7S LED Bulbs Dimmable Slim Size Series
R7S LED Bulbs ,Dimmable, 360° ,