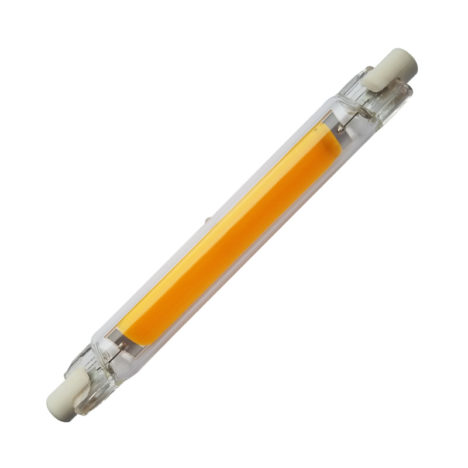 100 W Halogen R7S Bulb  Replacement

Equals: 100 Watts J type Halogen Lights

Product Type: LED Bulbs

Product Model: R7S-J-Type-LED-Bulbs-118mm

Lighting Source: COB LED

Intput Voltage: 110 V / 220 V

Power: 8 W

Application: Bathroom, garage, warehouse, outdoor floodlights …
Contact by Email
Product Description :
This J-type socket R7S led bulbs is 118 mm in length and specially design for traditional halogen 100 Watts replacement .
The diameter of this led R7S bulb is T3 (0.32″) , exact same as traditional glass halogen bulbs which can fit most of lamp
shade well .
Our 118 mm R7S LED bulbs is 10 times life span longer comparing ordinary double-end halogen ones , it's widly used for
security , home, office , museum, barns …
Compact size design for this J type R7S led bulbs beats most of led models in the market .
Water proof advantage can let this t3 led lights used in moisture outdoor places .
We adopt linear COB LED for this J type R7S 118mm bulbs , great alternative for conventional lamps .
Exact same size for R7S double-end slot compatible , zero maintenance , low power consumption for this 118 mm T3 J type
bulbs .
No spin your electric meter , no hyperthermal !
Features:
– 8 Watts J118 led bulbs ;
– 90% energy saving up than halogen bulbs ;
– 100 watts J type / T3 / R7S base equivalent with around 1000 lumens output ;
– Best replaces for 118mm iodine tungsten linear lamp ;
– 15, 000 hours service life ;
– Exact same T3 (9 mm) size for flood lighting casing, just remove & plug-in ;
– Eco friendly and electric cost effective by using this J type led bulbs 118 mm ;
– Warm White / Natural White / Cool White ;
Installation Instructions:
Easy installation for  R7S  led bulb replacement 118 mm, only three steps:
Turn off the power;
Put the bulb in the R7S base ;
Turn on the power.
J Type R7S LED Bulbs Series
Model NO
Size & Feature
Voltage
Power
Chips
CCT
Lumen
R7S-J-Type-LED-Bulbs-78mm
LED R7S Glass COB
ɸ13×H78mm
AC 220V-240V / AC 110V
6 Watts
COB
2900K-3200K 4000-4500K  6000-6500K
500-550
R7S-J-Type-LED-Bulbs-118mm
LED R7S Glass COB
ɸ13×H118mm
AC 220V-240V / AC 110V
10 Watts
COB
2900K-3200K 4000-4500K  6000-6500K
1000-1100
J Type R7S LED Bulbs series factory direct , 6 watts Φ13 mm × 78 mm, 10 watts Φ13 mm×118mm optional , 110 V / 220 V, 360 Degree wholesale .
Brief Discription
8 W LED J Type R7S Bulbs 118 mm , Replaces 100 Watts J Type Halogen r7s lights 118 mm
Item Type:
LED R7S J Type Bulb
Model Number:
R7S-J-Type-LED-Bulbs-118mm
Electrical and optical parameter
Replacement :
Halogen J Type R7S bulb
Power consumption:
8 W
Bright:
800 Lumens
Lighting source:
COB
Input voltage:
110V / 220V
Base Type:
J Type
Beam angle:
360°
Color:
Transparent
Color temperature:
6000-6500K (White);  3000-3200K( warm white)
Volatge:
110V / 220V
Lighting Angle :
360 Degree
Materials:
Glass
Size:
118mm
Application Area:
Indoo
Dimming:
NO
Working Temperature(℃):
-20 – 60℃
Warranty:
2 years
Life span (based on 4 hrs/day)
20 years
How much models for this LED R7S lights ?
We have two choices : LED R7S Bulbs , J Type, 360° , ɸ13×H78mm, ɸ 13 mm×118 mm