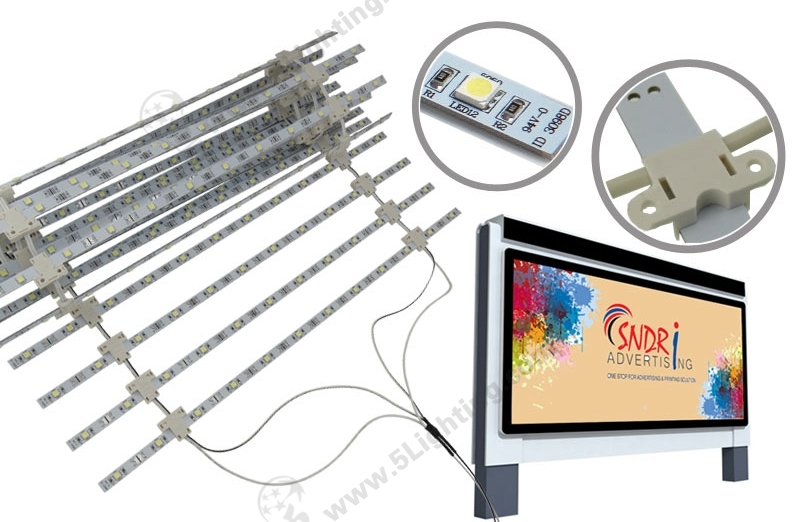 LED Lattice Backlight – SMD 5050 – Single – side – 500mm

Product Type: Light Boxes Backlighting
Product Model: LED Lattice Backlight-SMD 5050-Single-side-500mm
Lighting Source: 12pcs LED Chips
Voltage: DC12V
Application: Dedicated direct type single side advertising signboards and various single face light boxes applications.
Contact by Email
Features:
a): This LED lattice backlight 5050 using high efficiency led chips with front lens allow minimum depths, emit uniform Light, without spots be seen on sign surface, the most powerful and practical fluorescent replacement illuminated solution;
b): LED backlighting for light boxes uses single –side strip lights module, It is a perfect lighting solution for illuminated sign cabinets, advertising board, display panel and several kinds of general single sided backlighting applications;
c): 5050 lattice backlit modules with excellent brightness of about 300-325Lm, at 2.8W low power consumption, Ideal for backlit walls or single face light boxes backlighting;
d): LED lattice backlight 5050 with innovative design of lattice system comes in lightweight, Easy Labor-saving Installation;
e): The LED' space between strip to strip are available for options: 1 3/4, 2, 3 1/4, 4 Inch, customers can choose LED backlighting for light boxes according to thickness of light boxes;
f): LED backlighting for light boxes with new and improved version of the original lattice, with reliable and predictable lighting results, added reliability, longevity, and constant current technology, our LED lattice backlights specially for one face backlighting display light boxes;
g): LED lattice backlight 5050 is perfectly suitable for advertising light box' thickness in the range of 6cm-20cm, according to light box's thickness, clients can customized different module space;
h): Cool white 8000K-10000K lighting temperature, other requirements of lighting color customized also available;
i): Our 5050 lattice backlit modules is specially designed for solving installtion enquirements problems, such as: in a 1250×1000mm large light box, if you only use two 500mm(19 3/4Inch) backlight, the rest will be largely left, so we also offer 250mm(9 3/4Inch) backlit available for free combination, you can use this to work out a perfect illuminating effect.
Applications:
Our LED lattice backlight 5050 uses single –side strip lights module, it can be an ideal lighting solution for illuminated sign cabinets and general single-side backlighting applications, Such as:
(1) Thick light boxes;
(2) Indoor or outdoor sign cabinets;
(3) Large advertising light boxes;
(4) Large poster light boxes;
(5) Internally lighted billboards;
(6) Single-side signboard;
(7) Single face light boxes;
(8) Other signage display areas.
Good quality LED lattice backlight 5050 from 5 Star Lighting Factory!
Brief Discription
2.8W, 300-325Lm, DC12V, 12PCS SMD5050 LED Chips, Single-side, 500mm, LED Lattice Backlight for one face / single face Light Boxes Backlighting
Item Type
Light Boxes Backlighting
Electrical and optical parameter
Model Number:
LED Lattice Backlight-SMD5050-Single-side-500mm
Material:
Aluminum+Retardant ABS
Item color:
White
LED QTY
12PCS LED chips
LED chips space:
2 Inch
Module space options:
43mm(1 3/4 Inch) / 60mm(2 Inch) / 80mm(3 1/4 Inch) / 100mm(4 Inch)
Distance to the face-plate:
>60mm(2 Inch)
Waterproof:
No
Power consumption:
2.8W
DC output voltage:
DC12V
Luminous flux:
300-325Lm
LED luminous efficiency:
80W/m2 min, 200W/m2 max
Unit electric current:
18-22mA
Bean angle(°):
120°
Color rendering index (CRI):
Ra>85
Light appearance(CCT):
8000K-10000K, other color temperature can be customized
Applicable environment:
Dry and Damp Location
Application:
Dedicated direct type single side advertising signboards and various single face light boxes.
Working temperature:
-30℃~60℃
Lifespan:
50,000hrs
Certification:
CE, RoHS
Packing dimension
Unit Light size(Inch):
19 3/4 Inch (L) x 2/4 Inch (W) x 1/4 Inch (H)
Installation instrutions in lighting Boxes: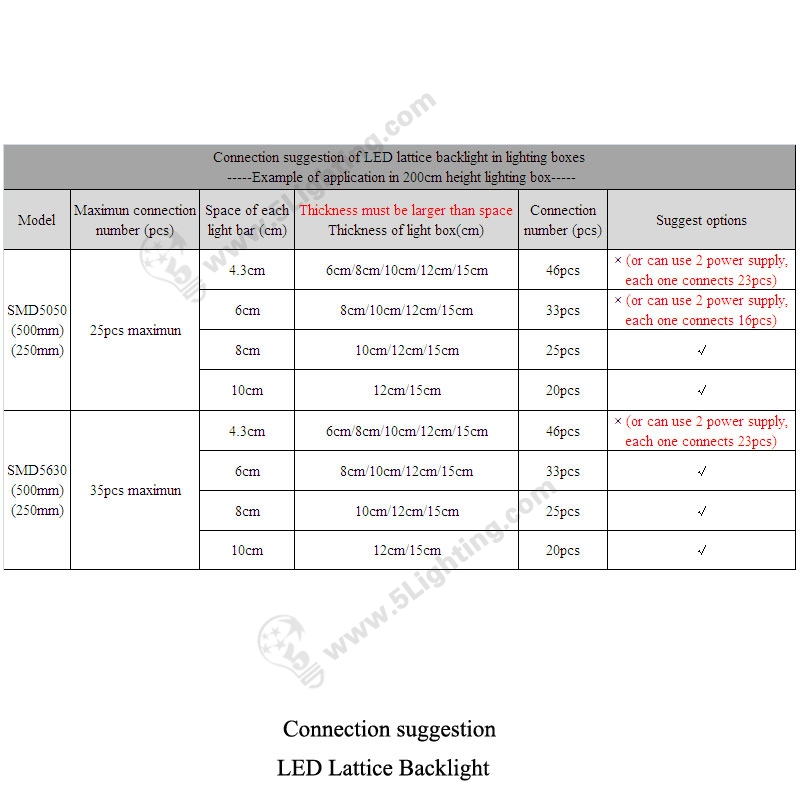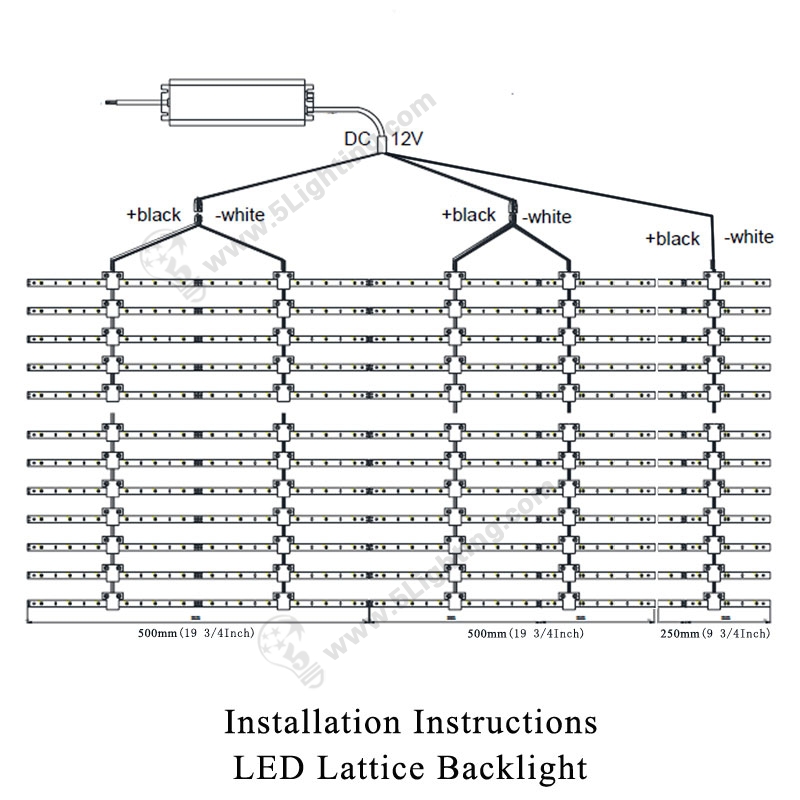 Project case for Curtain LED lattice back lit lights
led backlit lattice strip lights are  great choice for back-lit display project, lightboxes …
Following is one project application, more details kindly check >>>
KINDLY RECOMMENDED!!! LED Lattice Back-lit available for customized…
Soft Lighting effects makes your light boxes much more attractive…
SMD 5050 / SMD 5630, Single-sided / Double-sided for free choice >>> Click to view
How to install curtain back lights 500 mm for light boxes ?
curtain back lights installation for light boxes