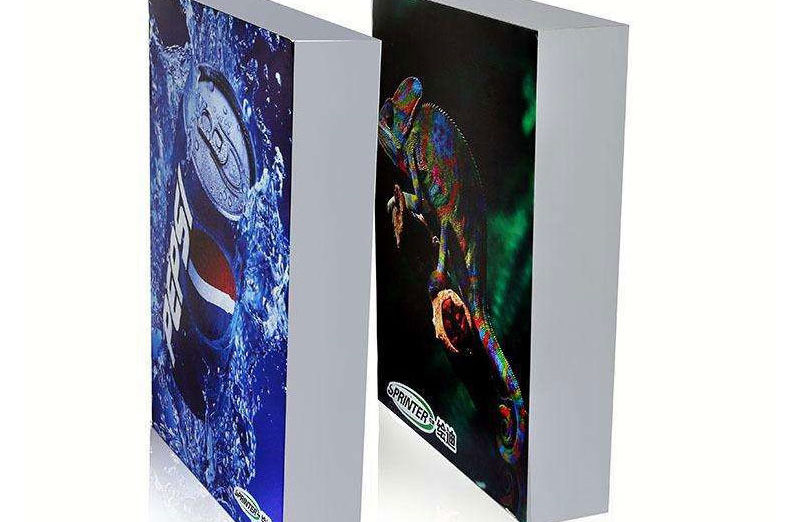 Fabric Light Box Display Double-sided
Product Type: Light Boxes
Lighting Source: High power LED strips
Thickness (mm): 85mm
Materials: Aluminous frame
Input voltage: 12V / 24V
Application: Widely fixed for various of display field, such as advertising light boxes at exhibition, shopping mall, bus station ect
Contact by Email
Features:
a): Our fabric light box display double-sided using high power LED strips as lighting source, high effeciency and energy saving over 60% comparing with traditional light boxes, lasts a long life span up to above 50,000hours;
b): Wholesale fabric light box frame large size has 85mm thickness, with double-sided visible surface, widely fixed for various of display field, such as advertising light boxes at exhibition, shopping mall, bus station ect.
c): This fabric led light box double sides adopts great quality aluminous material as frame, and with a heat sink inside, affects a good heat dissipation and excellent performance;
d): Factory direct hot demand fabric LED light boxes has transformed line lighting source to flat light source, make it emits more gentle light from double sides, creates comfortable and soft vision, easy to catch people's attention;
e): New guided light technology of double-sides fabric LED lighting box, its excellent efficiency to be on a par with LCD screens;
f): Easy installation with this large size fabric LED light boxes, only need to install high power LED strips into light box, and insert that graphic you want to display into gap of light boxes then completes installation;
g): Frame color of our fabric light box double-sided is oxidated aluminum alloy, and other colors are available for customized;
h): That frame size of light boxes are available for customized;
Applications:
Wholesale fabric light box display double-sided has 85mm thickness, with double-sided visible surface, it adopts high power LED strips as lighting source, perfectly fixed for large size advertising lighting boxes display requirement;
[1]: Exhibition / Trade fair / Trade show display place;
[2]: Gallery;
[3]: Museum;
[4]: Concert promotion;
[5]: Shopping mall;
[6]: Hotel;
[7]: Airport;
[8]: Bus / Subway / Metro station;
[9]: Other places need to use advertising light boxes to display;
Notice:
1. Make sure to use right voltage;
2. Pay more attention that slim light box not to be crashed;
3. While transporting or working, keep sharp edge or instrument away from slim light box;
4. Use soft and wet textile to clean front board to avoid being scratched;
5. Specifications and design subject to possible modifications without notice, due to improvements;
6. DO NOT overload wall outlets and extension cords, it will result in fire or electric shock;
7. This product is not waterproof, to prevent a fire or shock hazard, do not place any cont with liquid near this equipment or expose it to dripping, splashing, rain or moisture environment.
Good quality fabric light box display double-sided from 5 star lighting factory !
Brief Discription
Double-sided fabric type, 12W-120W, LED 12V/24V, 85mm, Aluminous frame, Fabric LED light box, Fabric light boxes diplay
Item Type
Light Boxes
Electrical and optical parameter
Model Number:
Fabric Light Boxes – Double sides
Item color:
Oxidated aluminum alloy, other colors can be customized by painting, spraying and electrophoresis;
Open type:
Just need to pull out that canvas of light box;
Structure:
Aluminous frame, high power LED strips;
Materials:
Aluminous frame
Visible surface:
Double sides
Thickness (mm):
85mm
Suitable size:
Large size
Power range (W):
12W – 120W
Input voltage:
12V / 24V
Current unit:
70mA
Power/m:
12V: 1.68W;
24V: 1.68W
Matched accessories:
Operating instruction x 1Power supply (AC100-240V) x 1
Plug options:
CE, UL, SAA, etc.
Life span:
Above 50,000 hours
Is customized:
Yes
Packing dimension
Package:
Bubble bag, cartons, adding plywood frame for shipping.
Unit Gross Weight(lb)/[g]
9.92(lb) / 4500(g)
Unit Light size(Inch):
23 3/4 Inch (L) × 17 Inch (W) × 3 1/4 Inch (H)
Interior box dimension (Inch):
28 3/4 Inch (L) × 22 2/4 Inch (W) × 3 2/4 Inch (H)
Installation details of graphic replacement:
1. Turn off power;
2. Pull out the canvas;
3. Insert the canvas into that gap of light box.
Can Double-sided SEG LED lightboxes stand on floor ?
Yes, with our straight bracket / triangle feet . It can become standing type double sides Light boxes well .
Can Double-sides Fabric LED Light Boxes be Colorful ?
Yes, by using our REG edge lighting kits , fabric light boxes can be colorful and vivid
SEG LED Fabric Light Box, Frameless, Edge lit, Double Sided
LED Light Boxes project for trade show / expo / exhibition industry
Double side light boxes for trade show / exhibition / expo project ,
Logo printing service included
Humanized Design LED Light Boxes Series Online !
Features of fabric led light box display