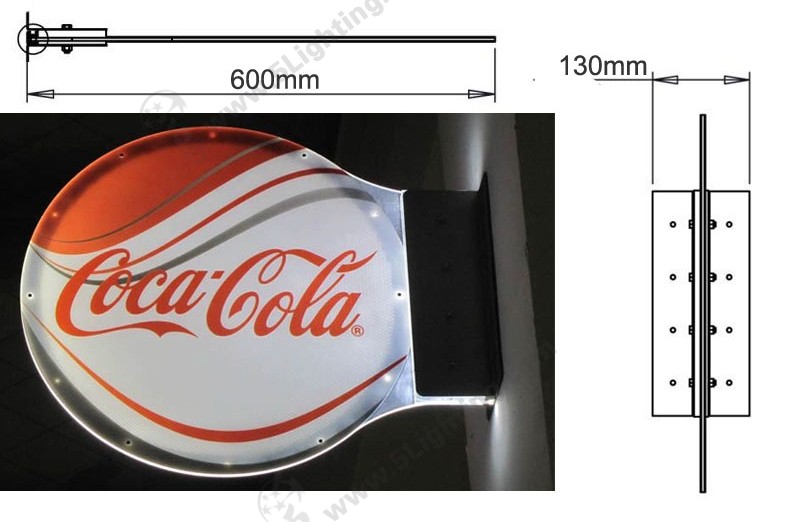 LED Acylic Signs Waterproof
Product Type: Light Boxes
Thickness (mm): 7mm
Materials: Acrylic plate
Power: 7.85W
Input voltage: DC 24V
Application:perfectly applicable for outdoor display signs usage, such as coffee shop, café, club etc.
Contact by Email
Features:
a): Wholesales led acrylic signs waterproof adopts acrylic plate as material, clear appearance make it has bright vision like a crystal, and its more durable to use than other materials, creates a stable and excenllent performance;
b): This led acrylic light box crystal frame is featured with waterproof function, reliable and safe, to some extent, widely expand applications of our LED acrylic signs, perfectly applicable for outdoor display signs usage, such as coffee shop, café, club etc.
c): Superior quality acrylic led signs double-sided with clear and transparent vision, it will emit super bright and attractive light when it start working at night, and bring best illuminating effects, it will enjoy great popularity in stylish people who want to decorate their own creative studios or pretty shop;
d): Crystal clear type led acrylic signs waterproof has high intergrated structure, it using SMD LEDs as lighting source, and double-sided LGP, its high effeciency and energy saving over 60% comparing with traditional sign board, and not harmful to the environment totally;
e): Our waterproof led acrylic signs has gentle and soft vision, because of transforming line light source to flat light source, make it emit comfortable light to attracts people's attention and focus on your sign board;
f): Easy installation, there are 2pcs matched galvanized sheet and 4pcs screw comes with led acrylic light box crystal frame for you, simple to use, customers can fix it on the wall or the edge of building by there matched accessories;
g): There are available for customized about display picture of acrylic led signs double-sided;
Applications:
Factory direct sale led acrylic signs waterproof using acrylic plate as material and featured with waterproof function, it has been widely used in indoor display scenes and perfectly applicable for outdoor display signs usage, such as coffee shop, café, club etc;
[1]: Exhibition / Trade fair / Trade show display scens;
[2]: Museum;
[3]: Gallery;
[4]: Night market;
[5]: Store / Shopping mall;
[6]: Coffee shop / Café;
[7]: Club / Pub / Bar;
[8]: Airport;
[9]: Subway / Bus / Metro station;
[10]: Hotel;
[11]: Restaurant;
[12]: Entrance / Stairway;
[13]: Other places need to use waterproof acrylic led signs to display.
Notice:
1. Before starting use of the light, please check if the light was damaged during transportation, If any damage shown, please DO NOT install or use it;
2. Any maintenance should be performed by trained professionals only;
3. Keep packaging material away from the reach of children and pets. Risk of suffocation!
4. Caution. The packaging contains small parts that may be swallowed by children.
5. Never leave children unattended in the vicinity of the lights and do not allow them to play with electrical devices;
6. Never cover the lights by other objects while using it;
7. Never allow the light to come into contact with open flames or external heat sources;
8. The products need to re-repair inspection or special treatment of retirement after service time.
Good quality led acrylic signs waterproof from 5 star lighting factory !
Brief Discription
7.85W, DC24V, Waterproof, Double sides hang type, Crystal frame, Ultra slim light box, LED acrylic signs
Item Type
Light Boxes
Electrical and optical parameter
Model number:
LED Acylic Signs – Waterproof
Item color:
White
Fixing ways:
Hung from side, such as install on wall of café, pub ect.
Structure:
Crystall frame, SMD LED lighting source, high quality LGP;
Materials:
Acrylic plate
Suitable size:
Small and middle size
Thickness (mm):
7mm
Power range (w):
12W-120W
Power consumption (W):
7.85W
Voltage (v):
DC 24V
Power supply
0.5A-12W
Matched accessories:
Operating instruction x 1Power supply (24V-0.5A) x 1
Galvanized sheet x 2
Screws x 4
Color temperature (K):
Cool white: 5750-6250K
Operating temperature (℃):
-20 to +50℃
Storage temperature (℃):
-20 to +70℃
Humidity Operating:
30%-70%
Humidity Storage:
30%-70%
Life span:
Above 50,000 hours
Is customized:
Yes
Packing dimension
Package:
Bubble bag, cartons, adding plywood frame for shipping.
Unit Light size(Inch):
The round plate part: Φ: 19 3/4 Inch (L) × 1/4 Inch (H)
The square edge part: 11 3/4 Inch (L) × 4 Inch (W) × 5 Inch(H)
Interior box dimension (Inch):
21 3/4 Inch (L) × 21 3/4 Inch (W) × 3 2/4 Inch (H)
Installation details of graphic replacement:
1. Check integrality of the products when unpack the packing;
2. The distance between the light and any flammable materials must not be less than 0.2m;
3. When laying the cables, make sure that the cables and plugs are not subjected to any tensile; or twisting forces. Fit the cable tension relieving mechanisms to the connection points of the surface-mounted lights. Do not kink cables. Output cables should be laid separately and at a distance from other cables;
4. After installation, connect the transformer to the mains supply;
5. Use only the LED drover included, and do not connect the surface-mounted lights to other loads;
6. Do not remove the name plate of the power suply and driver of the light;
7. Non-professionals are not allowed to disassemble and maintain the products. We have the right not to provide after-slae service if unauthorized disassembly and maintenance happens to the products.
Humanized Design LED Light Boxes Series Online!