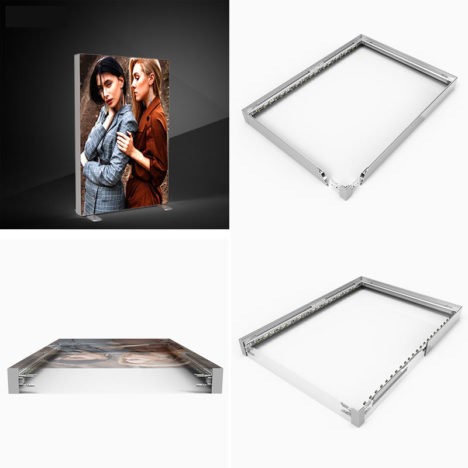 Plug-in LED Light Boxes Display
Product Type: LED  Lighting box

Product Model: 5-L-A-F-E-Z

Lighting Source: LED module

Intput Voltage: 110 V / 220 V

Power: 80 W

Application: AD, Shopping Mall, Airport, Trade Show , Event …
Contact by Email
SEG aluminum frame light boxes are fashionable, popular and trendy nowadays .
Usually installers should set up aluminum frames and led lighting kits separately .
This will add labor cost and complicated wire connection when assembling especially for clients without electrical knowledge .
5 Star Lighting Factory newly release BUILT-IN SEG led light box display which can eliminate this trouble forever .
Our Plug N Play design is :
all led edge lights are integrated with aluminum frames pieces by pieces ;
All led edge-lit strip lights are connected together when assembling four size frames around;
With a final extending plug into wall outlet , whole light boxes is illuminated bright & evenly .
The whole lighting box kits can be neat , compact and easy for mobile moving .
This innovative frame structure with driver, wire cable and lighting strip bars together, greatly help build up a wonderful
exhibition / trade show booth simply by plug & play .
Features of plug N Play SEG LED light boxes :
– Set up with combine modules for many sizes ;
– Small size packing for storage & transportation ;
– Quickly set up with tool-less structure, just plug-in, done ;
– Alum frame deepth 120 mm ;
– High quality led modules with optimized lens ;
– All-in-One kits includes four aluminun frames ;
– Standard size : 2000*1000*120mm other sized can be customized;
Our plug-in led light boxes are suitable for wall mounting / free standing / suspension / mobile installation .
Welcome to get more information about our built in light box display series with silicone edge graphic printings .
Brief Descriptions:
Plug-N-Play, Built-in led lighting boxes perfect for Exhibition and trade show
Item type:
LED Light boxes display
Electrical and optical parameter
Model number:
5-L-A-F-E-Z SEG Light Box
Finish color:
Silvery
Lighting source:
Edge LED Lighting Strips
Materials:
ABS, Aluminum
Power consumption:
80 Watts
Lumens:
120Lm / LED
Input voltage:
110V / 220V
Light appearance(CCT):
Cool white/warm white/customized
Applications:
 Exhibition and trade show, AD
Packing Dimensions
Gross Weight:
12.8 KGS
Product Size:
2000 × 1000 × 120 mm
Packing Size:
286 ×1018 × 152 mm
Packing :
Bubble bag+inner box+Carton
Measurement :
1 sets/ Box ;
Applications :
Exhibition display, Trade show, Gallery Display etc
We have two options for our plug N Play SEG LED light boxes,
one is 24V input , the other is 110V / 220V input :
Frame Size/mm
Thickness/mm
Specification
Output Voltage
Power Rate
Packing Size
Gross Weight
1000*2000
120
1. High quality anodized aluminum frame, 120mm wide; 2. Super bright led edge lights , up & down sided illuminated ; 3.Built-in 24V, 75 W Power Driver ; 4. Paper box packing ;
DC24V
75 Watts
1020*280*180
15  KGS
1000*2000
1. High quality anodized aluminum frame, 120mm wide; 2. Super bright led edge lights , up & down sided illuminated ; 3.Built-in 110 / 220 V, Input; 4. Paper box packing ;
AC100-240V
80 Watts
1020*280*180
15  KGS
Parameter of this built in light box display ?
This plug and play light box display is easy to install and can be quickly disassembled and assembled without
tool . The lightbox use built-in power supply / high-voltage lighting bar which is plut-and-play .
It's simply and convenient comparing traditional light box , also save transportation cost .
Our plug N Play SEG fabric LED light boxes are packed with bubble bag and cartons .
Application : hotels, offices, schools, airport …
Package method
interior box size : 1018 X 286 X 152 mm ;
Light bars and profiles are placed in the foam ;
How to install this built-in led light boxes ?
They are very simple 8 steps to set up this plug-in led light boxes :
(1) Take out all parts ;
(2) Take out component A and rotate the bottom support foot to make it 90 degrees with the shelf ;
(3) Insert part B and C into part A in the graphical direction respectively ;
(4) Slide the connector in component B and C from the profile to half position ;
(5) Insert part D and E into part C and B in the graphic direction respectively ;
(6) Insert component F into the assembled frame in the graphical direction ;
(7) Install intermediate support rod ;
(8) Put on canvas .