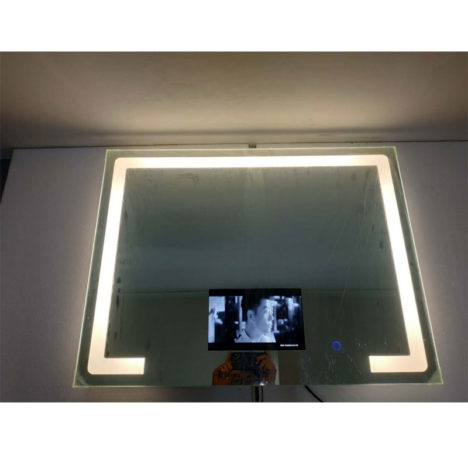 Light Boxes Mirror Display with AD. Player
Product Type: Lightbox Display

Product Model: Light-Box-LCD-Player

Intput Voltage: 110 V / 220 V

Power: 12 W

Application: Bathroom, Dress room, public washroom
Contact by Email
Nowadays video streams are more and more popular in advertisement market .
We newly release one light box mirror with Video display intergrated .
This LCD player are builded into mirror with sensor detecting function, which can automatic display ADs when people walk on the front and auto standing by when walking away .
– Digital advertising media player;
– USD / CF card or Wifi update promptly and easily ;
– 20, 000 long life span , durable ;
– DC12V low voltage input ;
– IOS , Android, Windows
system compatible .
This light box display with lcd player can be widely used for bathroom, dressing room, expecially public toilets and environments .
Our design for Mirror light box with ad player is making mirror with dural functions .
It can be used as a commercial AD player when people approcaching mirror . Illuminated images, signs, message, graphics … can attracting great attentions .
Motion sensor active function for our mirror light box display can save more than 70% engergy up and prolong LCD player's life span .
Multi-languages can be chooses for our light box mirror display so that it can be used for different countries .
Effects for light box mirror with sense function player :
Slim single-sided aluminum light boxes display series
We just list some popular super thin single side light box display models as below, more other models like SEG /  RGB vivid /  Writing board / Double Sided lightbox display ,please contact us for more information .
Aluminum Light Box Display Series
Item No.
Type
Frame Size Available
Frame Thickness
Input Voltage
5L-AF-14-A
Super Slim Light Boxes Single Side – Snape Open
B1, B2, A0, A1, A2, A3, A4
13mm
12V
5L-AF-2A-LED-Screen
Light Boxes With LED screen
A1, A2, A3
10.5mm
12V
5L-AF-2A-Mirror
Snape Open – Magic mirror light box induction type
A0,A1, A2, A3
30mm
12V
5L-Light-Boxes-LCD-Player
Mirror light box display with LCD player, sensor function
Customized
50mm
12V
5L-AF-14
Snape Open -Super Slim Light Boxes – Single Side – 8mm
B1, B2, A0, A1, A2, A3, A4
8mm
12V
5L-AF-13
Super Slim Light Boxes – Single Side – Aluminous Frame
B0, B1, B2, A0, A1, A2, A3, A4
23mm
12V
5L-AF-12-A
Super Slim Light Boxes – Single Side – New Magnetic Type
A0, A1, A2, A3, A4
21mm
12V
5L-AF-50-A
Super Slim Light Boxes – Single Side – Waterproof-Single side door open type
B0, B1, B2, A0, A1, A2
58mm
12V