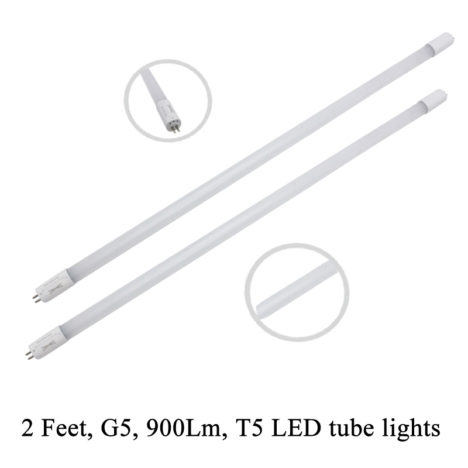 15W T5 Fluorescent Tube Replacement

Equals: 15 Watts T5 Fluorescent Tube Lights

Product Type: LED Tube Lighting – 0.6 m

Product Model: LED-T5-Tube-T5I1

Lighting Source: 3528 SMD LED (60pcs)

Intput Voltage: 110 V / 220 V

Power: 7 W

Application: Office, AD, Shopping Mall, Garage Commercial
Contact by Email
Features:
T5 led tube lights replacement 2 feet is particular energy-saving is equal to a 15 W T5 fluorescent Tube directly and saving more than 60% of energy cost. Compared with the old fluorescent tube light and the integrated T5 light tube, it also saves cost in respect of maintenance and replacement.
T5 fluorescent lights replacement 2 feet are frosted to help reducing multiple shadows, easy and efficient to install. It connects directly to line bracket light for easy installation, no rewiring required. Compared to the integrated T5 tube light, T5 led light fixtures two feet can be disassembled freely, if it is damaged, the only repair or replace the light tube, do not need to change the light rack.
T5 led tube lights 60 cm lighting source is 3528 SMD (60PCS) LED, brings bright and pure lighting that light produces a good distribution, the instantaneous light of no flickering or buzzing. it uses less led than others on the market at the same lumens flux, therefore it produces less heat dissipation, longer life span.
Fluorescent lights replacement LED 2 feet is a very quiet energy saving lamp and will not make a noise like a traditional fluorescent light tube, this is very suitable for use in the quiet environment, such as a library, teachers and so on. It also protects the eyes, which can be started very quickly and won't blink.
T5 led light fixtures two feet body uses the material of epoxy resin instead of traditional glass, stronger and stronger, even if it on the floor is not easily damaged, can be used safely.
Its lifespan is rather than the old T5 fluorescent tube lighting which up to 30,000 hrs, equivalent to 10 years of working days. T5 led tube lights replacement can be used for a long time without replacement, reducing labor costs and more suitable for difficult occasions.
Application:
Led tube t5 2 feet are an ideal energy saving choice for existing linear fluorescent fixtures, has been can extensively apply in the bedroom, classroom, shopping malls, corridors and so on.
Installation Instructions:
Easy installation for t5 led tube replacement 2 feet, only three steps:
Turn off the power;
Put the tube light in the bracket, doesn't need to route or ballast bypass.
Turn on the power.
Brief Description
7W, 2 Feet, G5, 900Lm, T5 LED tube lights, Replaces 15W Fluorescent Tube Directly
Item Name:
Nano T5 LED Tube Lights 0.6 m
Model Number:
5L-FLA0-T5I1
Electrical and optical parameter
Power Consumption:
7W
Replacement :
15W T5 Fluorescent Tube
Base Type:
G5
Item Color:
Frosted Shell
Brightness:
> 900Lm
Light Appearance (CCT):
WW(2700-3200K )/CW( 6000-6500K)
Input voltage:
AC 90-260V
Beam angle:
> 270°
IP Grade:
IP 20
Material
Nano tube body + fireproof PC lamp base
Application Area:
Indoor
Lamp Luminous Efficiency (lm/w) :
130 Lm/W
Color rending index CRI (Ra>):
80
Lighting source:
3528 SMD LED(60PCS)
Power factor(PF):
> 90%
Dimming:
NO
RGB Color Available:
NO
Working Temperature(℃):
-20℃-40℃/-4°F-104°F
Warranty:
2 years
Lifespan((based on 4 hrs/day)
20 years
Packing dimension
Unit Net Weight(lb)/[g]
0.13(lb)/60(g)
Unit Light size(Inch):
Φ6.89Inch x 21.61Inch (L)
Item Packaging(mm):
22.24Inch (L)x 0.7Inch(W) x 0.7Inch(H)
Carton Size (Inch):
24.35Inch (L)x 8.6Inch(W) x 8.4Inch(H)
packing Quantity:
100 PCS/CARTON
Packing Weight(KG):
7.5 KGS