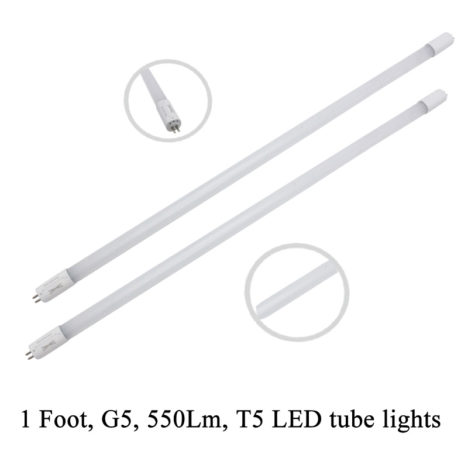 10W T5 Fluorescent Tube Replacement

Equals: 10 Watts T5 Fluorescent Tube Lights

Product Type: LED Tube Lighting

Product Model: LED-T5-Tube-T5I0

Lighting Source: 3528 SMD LED (30pcs)

Intput Voltage: 110 V / 220 V

Power: 4 W

Application: Office, AD, Shopping Mall, Garage Commercial
Contact by Email
Features:
T5 led tube lights replacement 1 foot is a 5/8 inch Diameter LED light tube. It uses 4 watts, the viewing angle is 270 degrees, and power factor is greater than 90%, replaces 10W T5 fluorescent Tube directly.
Led tube lights t5 1 foot is frosted to help reduce shadows, the tube is available in Warm White 3200 K and Cool White 6500K. Its lifespan up to 20 years or longer (based on 4 hrs/day), Energy saving.
T5 led light fixtures one foot uses G5 base style, up to 550 lumen output, it offering remarkable performance, with 110V / 220V input voltage, and lighting source is 3528 SMD (30PCS) LED, so can deliver balanced and high-efficiently illumination to instead of any existing fluorescent tubes.
T5 led tube lights 30 cm has a constant current source can be installed in fixtures without a ballast, making it ideal for retrofit applications where it is being promoted to save energy and service costs.
Perfectly T5 fluorescent lights replacement 1 foot does not contain water silver and lead, and it does not generate noise when used. It can protect the environment well and is recognized as one of the green light sources.
Fluorescent lights replacement led 1 foot have passed the CE, FCC, SAA and RoHS certification, and it can be used in any interior space.
Application:
Led tube t5 1 foot are an ideal energy saving choice for existing linear fluorescent fixtures, has been widely used in many indoor scenes, such living room, classrooms, bedrooms, shopping mall and so on.
Installation Instructions:
Easy installation for t5 led tube replacement 1 foot, only three steps:
Turn off the power;
Put the tube light in the bracket, doesn't need to route or ballast bypass.
Turn on the power.
Brief Description
t5 led tube lights replacement 1 foot, 4W, 1 Foot, G5, 550Lm, T5 LED tube lights, Replaces 10W Fluorescent Tube Directly
Item Name:
Nano T5 LED Tube Lights 0.3 m
Model Number:
LED-T5-Tube-T5I0
Electrical and optical parameter
Power Consumption:
4W
Replacement :
10W T5 Fluorescent Tube
Base Type:
G5
Item Color:
Frosted Shell
Brightness:
> 550 lm
Light Appearance (CCT):
WW(2700-3200K ) / CW( 6000-6500K)
Input voltage:
AC 90-260V
Beam angle:
>270°
IP Grade:
IP20
Material:
Nano tube body + fireproof PC lamp base
Application Area:
Indoor
Lamp Luminous Efficiency (lm/w) :
130 Lm/W
Color rending index CRI (Ra>):
80
Lighting source:
3528 SMD LED (30pcs)
Power factor(PF):
>90%
Dimming:
NO
RGB Color Available:
NO
Working Temperature(℃):
-20℃-40℃/-4°F-104°F
Warranty:
2 years
Lifespan((based on 4 hrs/day)
20 years
Packing dimension
Unit Net Weight(lb)/[g]):
0.099(lb)/45(g)
Unit Light size(Inch):
Φ6.89Inch x 11.34Inch (L)
Item Packaging(mm):
11.6Inch (L)x 0.7Inch(W) x 0.7Inch(H)
Carton Size (Inch):
13.1Inch (L)x 8.6Inch(W) x 8.4Inch(H)
packing Quantity:
100 PCS/CARTON
Packing Weight(KG):
5.5 KGS
Nano T5 LED Tube Replacement series
All Models View:
Power
Power factor
LED(pcs)
CRI
Angle
LED Chip
Lifespan (hour)
Temperature(K)
Size
Luminous Flux
Input voltage
4W-5W
≧0.90
30
>80
120°
Epistar
>3,0000
3000K / 6500K
Φ16*L300mm
550LM
AC 110V / 220V
7W-8W
≧0.90
60
>80
120°
Epistar
>3,0000
3000K / 6500K
Φ16*L600mm
900LM
AC 110V / 220V
10-12W
≧0.90
90
>80
120°
Epistar
>3,0000
3000K / 6500K
Φ16*L900mm
1350LM
AC 110V / 220V
13W-15W
≧0.90
120
>80
120°
Epistar
>3,0000
3000K / 6500K
Φ16*L1200mm
1500LM
AC 110V / 220V