Single ended T5 / T8 led tube lighting manufacturer
There are several configurations for LED tube lights, there are two main wiring classify types :
(1)Single ended;
Live line and Zero line are on the same side of tube lamp with non-shunted tombstone ;
(2) Double ended;
One side of the tubes is live line and the other side is zero line ;
Now the question comes out that why there are these two type of power connection ?
The most prevailing version is : single-ended led tubes are more safe than doulbe-ended led tubes .
There would be potential electric shock hazard during replacing operation if labor contact one end of tube lighting .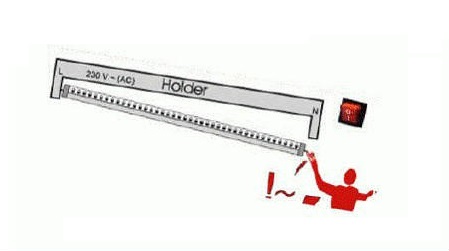 In fact it maybe not absolute worldwide compliable .
Because different countries have his own safe standards , even different state's standards varies (Like USA) , we have to strictly obey local government's file statements .
For example,
Dural ended tubes need extra circuit design of T5/T8 tubes want to meet in UL and FCC requirements, most of lighting factories would made single-ended models only. But now 5 STAR lighting have released our new
dural ended models which can be UL and FCC certified .
5 STAR also produce single-ended led tube
always , there are 60cm, 90cm, 120cm for options . Other size can be customized as requirement . 6000K and 4000K are our standard CCT with CRI >80 . Perfect replace
fluorescent tubes or new lighting project .
Our single end is made of non shunted tombstones and can work without ballast , please do operate by professional engineer .
Features of single-ended t5 / t8 tubes :
– Instant start without delay like fluorescent tube ballast powered ;
– Color temperature can be customized for all our led products;
– Long lasting with more than 30,000 hours ;
– Single ending tubes can be used for school, office, garage, parking basement …
– Lamp holder for single-ended are not shunted .
Simple Installation Guide:
1) Switch off power ;
2) Remove old fluorescent tubes ;
3) Remove ballast / wire cover ;
4) Cut off ballast wires ;
5) Connect "Live Line " and " Zero Line " to lamp holder (One end) ;
6) Replacing wire cover;
7) Install single-ended led tube as label shown ;
8) Switch on power and done .
Please check local standards for single-ended / double-ended specification , our factory will produce right LED luminaires for your country . It's right choice to switch fluorescent tubes to LEDs .