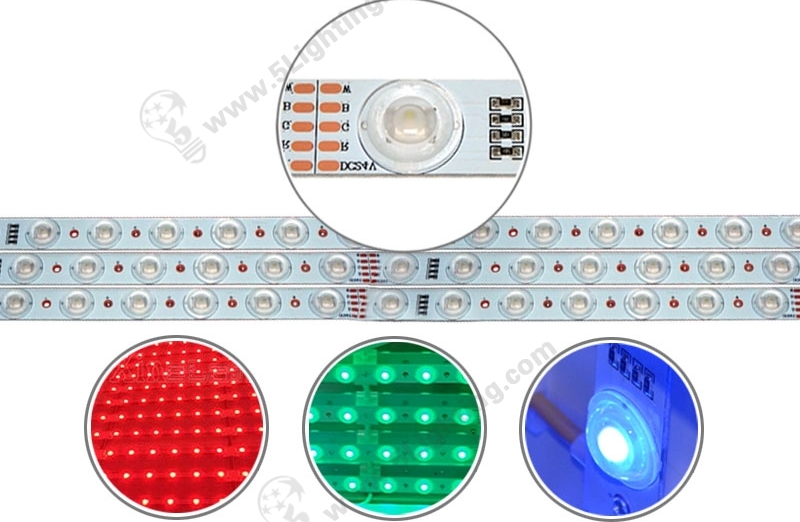 RGB LED Lattice Backlighting SMD 5050
Product Type: Light Boxes Backlighting
Product Model: RGB LED Lattice Backlighting
Lighting Source: 28pcs LED Chips
Voltage: DC24V
Power: 6.5W
Application: Dedicated direct type advertising signboards and various light boxes display backlighting.
Contact by Email
Features:
a): Factory direct sale excellent brightness RGB LED lattice backlighting with RGBW lighting color changeable, enjoys high lumens but low power consumption, energy saving that major in cost reduction, Ideal choice for backlit walls or light boxes, or different kinds of advertising signboard display backlighting;
b): Unique item RGB lattice backlight for light boxes with innovative design of lattice system comes in lightweight, easy labor-saving Installation, and more flexible to use;
c): Our RGB lattice backlit display lights with luminous high purity, without lamp filter, optical wavelength error within 10 nanometers, this RGBW led strip light lit instant start without delay, faster response time;
d): This RGB backlighting for light box uses great quality LED chips, a small LED heat, adopts aluminum materials with great heat-resistant function, and it is truly the most comprehensive and versatile lighting solution for illuminated sign cabinets and general backlighting applications;
e): New and improved version of the original lattice, RGB backlighting for light boxes with reliable and predictable lighting effects, Added reliability, longevity, and constant current technology, specially for easy and fast backlighting large areas;
f): High efficiency led with front lens allow minimum depths, beam focused and easier to control, and doesn't require use reflectors focus, to reduce the depth of lamps; emit uniform light, without spots be seen on sign surface, the most powerful and practical fluorescent replacement illuminated solution;
g): RGBW led strip light with long life, no heat filament structure, in the normal use of more than six years
h): The space between strip to strip are available for options, customers can choose according to thickness of light boxes.
Application:
Wholesale our RGB LED lattice backlighting adopts high quality LED chips as lighting source with excellent brightness, and provides RGBW lighting color changeable, it can create colorful vision and then attract people's attention on your light boxes, perfectly fits for illuminated sign cabinets and general backlighting applications, Such as:
(1) Thick light boxes;
(2) Indoor or outdoor sign cabinets;
(3) Large advertising light boxes;
(4) Large poster light boxes;
(5) Internally lighted billboards;
(6) Advertising signboard;
(7) Other signage display areas.
Good quality RGB LED lattice backlighting from 5 star lighting factory.
Brief Discription
RGB LED Lattice Backlighting, DC24V, SMD 5050, RGB LED Backlit, LED Lattice Backlights for Light Boxes Display
Item Type
Light Boxes Backlighting
Electrical and optical parameter
Model Number:
RGB LED Lattice Backlighting
Material:
Aluminum + Retardant ABS
Item color:
White (a little bit like light blue)
Lighting source:
SMD 5050
LED QTY:
28pcs/strip
Length:
980mm /38.58Inch;
Led bead spacing:
35mm
Power consumption:
6.5W
DC output voltage:
DC24V
CRI (Ra>):
85
Waterproof:
No
Bean angle(°):
165°
Lighting color:
RGBW
Application:
Dedicated direct type single-side advertising signboards and various single-side light boxes.
Working Temperature(℃):
-20 – +40
Life span(hours):
50000hrs
Certification:
CCC, CE, CQC, PSE, RoHS, SAA, UL
Packing dimension
Unit Light size(Inch):
38.58 Inch (L) x 0.79 Inch (W) x 0.33 Inch (H);
Advantage of led backlit strip lights with TV lens
Advantage of led lattice back lighting with TV lens, More details please click here.