"SMART" led tube lights
After testing hundreds of Magnetic or Electronic ballasts,
finally we issue our compatible tube light series: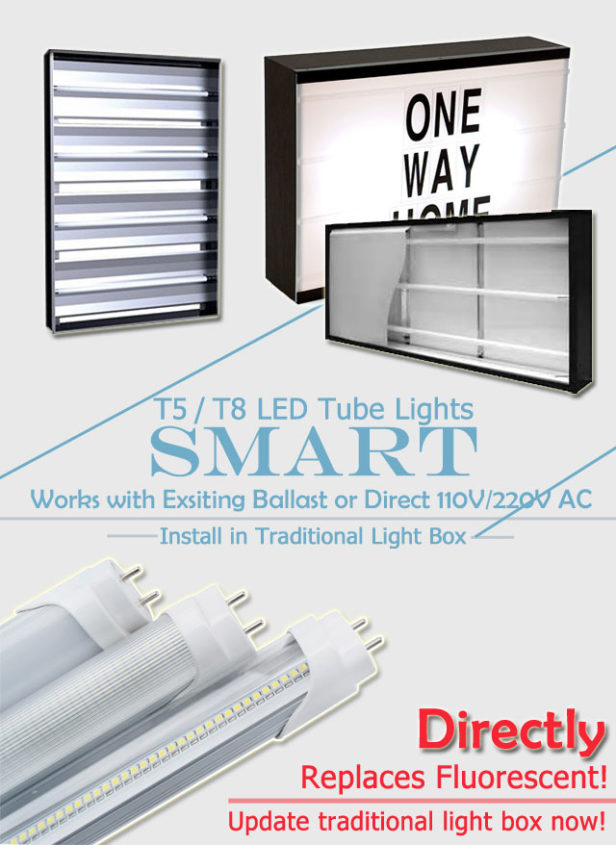 Generally they are following features,
a)
The so called compatible means our tube lights fit Both High Voltage (110V / 220V) Input And Connected With Electronic Ballast Directly (Electronic Ballast No Need To be Taken Away)
the most one comparing normal led tubes in the market,
they can install to current fluoresecent tube brackets without any changes to circuits existed.
Global standard size and G5 or G13 pin ends.
No rewiring,
PNP (Plug and Play),
Easy installation,
only three steps:
1. Turn off the power,
2. Put the tube light in the bracket, doesn't need to route or ballast bypass.
3. Turn on the power.
b) Smart LED tube lights is using the latest LED light 3528 SMD source technology, digital design, saving up to 60% or more energy, replaces traditional t5 / t8 fluorescent Tube directly.
c) Lighting fixtures are used an all-plastics tube, and frosted shell design, more convenient to shatterproof and avoids slipping.
d) Upgraded SMART LED tube light appearance is WW(2700-3200K)/CW(6000-6500k), which of the cold light source gives a visual cool feeling, humanized illumination difference design, but also help to concentrate
and improve efficiency. So our LED tube light is a veritable green light source.
f)Its lifespan can reach more than 30000 hours, with LED T5 / T8 led lights almost maintenance-free.
g): It is easy to install, using the standard light tube dimension that can replace many kinds of T5 / T8 fluorescent.