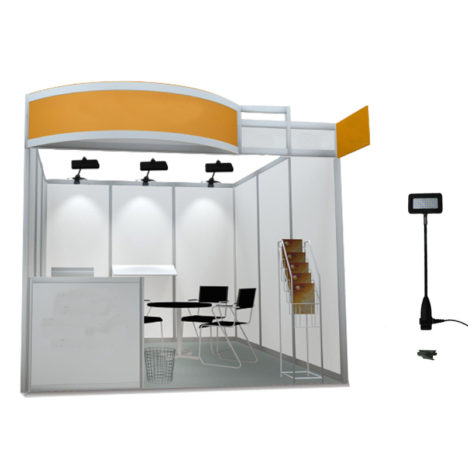 150 W Halogen Panel Display Lights Replacement

Equals: 150 Watts Halogen Panel Board Display Lights

Product Type: LED Panel Board Lighting

Product Model: Panel-Multi-clip-Daisy-Chain

Lighting Source: LED

Output Voltage: 36 V

Power: 12 W

Application: Trade show, Exhibition, Octanorm Display
Contact by Email
Feature:
Daisy chain display light octanorm clamp adopts cutting-edge modern design, lightweight and beautiful appearance.It has a straight arm and a bald head that is completely adjustable, able to light up the pattern on the board without a dead Angle and attract the attention of the customer in the first place.
Using the latest 50 PCS SMD 5050 LED chip as the light source, Link able display lights octanorm clip generates low heat consumption and does not overheat during long time use, thus increasing the lifespan of it.
Display lights daisy chain for trade show consume only 10 watts of power, but can emit 1100 Lm of brightness, it can work more than 30,000 hours, saving more energy and saving cost. Its light is soft, which makes the graphics on the display have the ability to attract customers.
Daisy chain display light octanorm clamp is about 8 times less power than a traditional halogen light, it illuminates for longer and durable in trade display booth.it could be adjusted to suit most any dimension exhibition display, you will be able to attract a wide customer to your booth.
The biggest advantage of it is that Linkable display lights octanorm clip can be reduced to just one plug so that two or more lights can be lit at the same time, changing each light in the past needs to be equipped with a plug to reduce the workload.
Application:
 Display lights daisy chain for a trade show can completely attract customers' attention at the exhibition or business meeting.
Brief Descriptions:
Daisy Chain Display Light Octanorm Clamp – LXS50-001-A, 36 V, 0.3 5A, Exhibition display lights that easy installation for octanorm board applications.
Item type:
Daisy Chain Display Light Octanorm Clamp
Electrical and optical parameter
Model number:
Daisy Chain Display Light Octanorm Clamp-LXS50-001-A
Finish color:
black
Lighting source:
50 PCS SMD 5050 LED chip
Materials:
ABS, Metal materials
Power consumption:
12W
Input:
36V, 0.35A
Lumens:
1100Lm
Light appearance(CCT):
Cool white/warm white/customized
Applications:
 Exhibition display lights that easy installation for octanorm board applications.
Packing Dimensions
Head Dimensions:
5.5″(L)x2.8″(W)x1.1″(H)
Arm Dimensions:
11.2″x0.43″OD
Power Cord:
9.8' long
Packing :
Bubble bag+inner box+Carton
Measurement :
2 sets/inner Box ; 30 Sets / Carton
Applications :
Exhibition display panel & board
unique light-Daisy chain display light
Customized Clamps & Clips for Daisy chain display lights