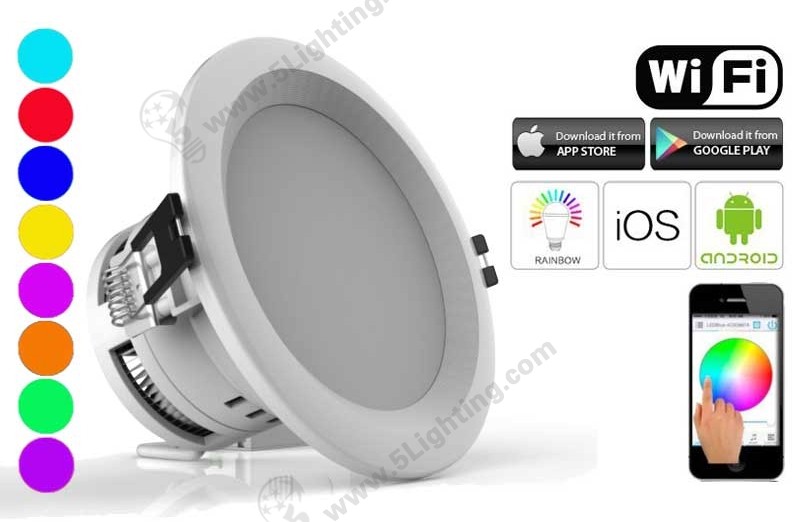 7.5W WiFi Smart RGBW LED Downlights

Product Type: Smart LED Downlights
Product Model: WiFi Smart LED Downlights RGBW-7.5W-A
AC input voltage: AC85V-240V, 50/60Hz
Power: 7.5W
Beam angle: 120°
Application: For entertainment decoration lighting, likes: party, club, pub etc.
Contact by Email
Features:
a): The WiFi Smart LED Downlights RGBW-7.5W-A adapts superior quality aluminum and PMMA material, effects a excellent heat dissipation, with stable and great performance;
b): Wholesale 7.5W RGBW wifi smart LED downlights is wireless controlled, easy to operation, only need to download APP from App store or Google play store, and it surpports for Android & IOS system, no need extra WiFi controller/Bridge/Hub—Each downlight has its' own WiFi IP address, just connect phone to this IP and run APP to control it;
c): This RGBW LED recessed lights are avaliable for customers to personalize your lighting with a color palette of over 16 million colors, plus different tones of white light, that colorful vision will create more fun to your life!
d): Our wifi smart LED downlights also has creative music sync function, which will let lighting color change to match music or other sound wave, just like changeable lighting color is dancing with music, perfect for party decoration lighting or various of entertainment scenes, such as: KTV, Pub, Club etc;
e): It has 20 color changing modes of lighting colors changing, customers can choose according to requirements for real condition;
f): With a unique wake up mode allows customers to set timer to turn on the light, It's really a sweet and funny way to wake you up at morning;
g): This wifi smart LED recessed light can be installed into ceilling of many indoor scenes, more safety , like living room, Pub etc;
h): Wifi smart RGBW LED ceilling lights can control multiple downlights simultaneously or separately from your mobile device, remote control function let you can control this bulb from anywhere;
i): Here are two methods of download our free APP, from APP store/Google play store or download directly by scanning QR code, we also offer customized packing box and customized APP with your logo.
Applications:
Factory direct sale 7W RGBW Wifi Smart LED Downlights with wifi controlled function through our free APP 'MagicHome WiFi', it has 20 color changing modes and 16 millions of lighting colors for options, and it also will change with music or other sound wave, perfect for different kinds of indoor entertainment decoration lighting.
[1]: General indoor decoration lighting: Living room lighting, Bedroom lighting etc, Hotel lighting, Stairs lighting;
[2]: Special indoor decoration lighting: Party decoration lighting, Pub lighting, Club lighting, KTV lighting, Stage lighting and other entertainment place or operating atmosphere scenes.
Good quality 7W RGBW wifi smart down lighting from 5 star lighting factory.
Brief Discription
7.5W, AC85V-240V, Wireless Control for Android & IOS System, RGBW LED Recessed Lights, WiFi Smart LED Downlights
Item type:
Smart LED Downlights
Electrical and optical parameter
Model number:
WiFi Smart LED Downlights RGBW-7.5W-A
Materials:
Aluminum+PMMA
Item color:
Milk white
Lighting source:
Chips RGB: 5050-1.5W*5pcs, Warm White: 2835*20pcs
Power consumption:
7.5W
AC input voltage:
AC85V-240V Input voltage, 50/60Hz
Channels:
4 chanels (emitting RGBW 16 million colors)
Luminous flux:
Warm White:650-750LM
Wavelength(nm):
Red: 620-630nm
Green: 520-525nm
Blue: 450-460nm
Color Temperature :
2800K-3200K
Beam angle(°):
120°
Power Factor:
0.6
Waterproof IP:
IP 25
Control Range:
No barrier: 60m;
Indoor: 30m
WiFi control APP­:
'MagicHome WiFi'
Wireless control APP download for Android & IOS system
Working Temperature(°C):
-25°C -55°C
Packing dimension
Unit Net Weight(lb)/[g]:
0.57(lb) / 260[g]
Unit Light size(Inch):
Φ5 1/4 Inch x 3 2/4 Inch (H)­
Unit Gross Weight(lb)/[g]
0.78(lb) / 355[g]
Interior box dimension (Inch):
5 3/4 Inch (L) x 5 3/4 Inch(W ) x4 1/4 Inch(H)
How to create a warm and funny atmosphere to your bedroom?