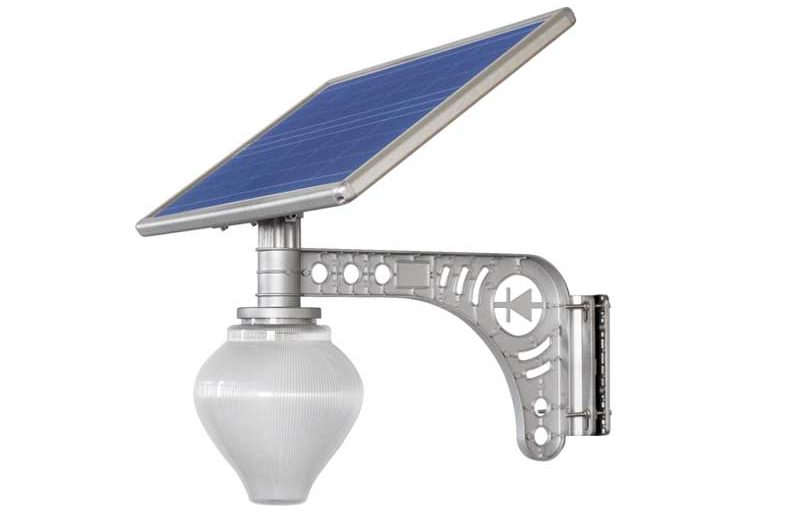 Solar Street Lights 10W

Product Type: LED Street Lights
Product Model: 5L-BCT-OLP1.0
Shape design: Peach shape
Lighting source: Japan Nichia SMD LED
Power: 10W
Power efficiency: 220Lm/W
Control mode: Light sensor Intelligent control
Application: For outdoor lighting
arid place and poverty region lack of electric power etc.
Contact by Email
Features:
a): Wholesale solar street lights 10w converts sunlight to electricity, it's completely energy saving without electricity fees, and there is no buzzing noise and UV radiation of this outdoor led street lights, environment friendly without any Pb and Hg, no pollution, green lighting provide a quiet safe environment;
b): Our solar street led light 10w using Japanese imported Nichia LED SMD with 50,000 hours life span, this solar street lights working without flickering, effects a uniform lighting environment, LED lighting with superior brightness and more energy saving than the CFL and the incandescent lamp up to 50%;
c): Waterproof solar led street lights 10w adopts durable aluminum magnesium alloy as material, pretty excellent in heat dissipation, waterproof smooth weather resistant, such as: garden lights, courtyard lights and kinds of outdoor roadway lighting;
d): This solar outdoor street lights 10w using high efficiency lithium iron phosphate battery with 8-12 years long time life span, featured with over-voltage protection circuit, intelligent charging and 100% safe;
e): Great quality solar panel of this outdoor roadway lights can be rotated in 360º, flexible to adjust direction, the rotation of the solar plates can not only increase solar energy receiving area but also adjust receiving angles and regulate lighting quantity;
f): The Outdoor street lights is integrated control design, make it much more convenient to operate and daily management, Mainly used in courtyard, residential community, scenic spot and lack-of no-power area;
g): Easy installation of our solar street lights that provide strong fixed bracket and attached screws;
Applications:

Factory direct solar street lights 10w adopts durable aluminum magnesium alloy, this solar street led light costs no electricity fees, waterproof resistant and energy saving special design for different types of outdoor lighting;
[1]: Garden lighting;
[2]: Courtyard lighting;
[3]: Landscape lighting;
[4]: Square lighting;
[5]: Gate lighting,
[6]: Port lighting,
[7]: Container yard lighting,
[8]: Stadium lighting,
[9]: Scenic spot lighting
[10]: Arid and poverty region lack of electric power etc.
Great quality solar street lights 10w from 5 Star Lighting Factory!
Brief Description
Solar Street Lights 10w, 220Lm/watt, 5V, Peach shape, Solar LED street light kits, Outdoor solar roadway lighting garden lights.
Item Type
Solar Street Lights
Electrical and optical parameter
Model number:
5L-BCT-OLP1.0
Item color:
Silvery + Blue color
Shape design:
Peach shape
Bracket materials:
Aluminum magnesium alloy
Lighting source:
Japan Nichia SMD LED
Battery:
Lithium iron phosphate battery
Power consumption:
LED light: 10W
Solar panel: 25W
Luminous flux:
2100Lm
Power efficiency:
220Lm/W
Input voltage:
Solar panel: 5V
Battery: 3.2V/25AH
Control mode:
Light sensor Intelligent control
Lighting time:
Whole night lighting, 1-3 raining days
Solar panel rotate angle:
360°
Suggest installation height:
3-5Meters
Attached accessories:
Solar panel + LED lamp + Bracket + Screws
Life time:
Solar panel: 25 years
Lamp: 50,000hours
Battery: 8-10 years
Warranty:
5 years
Packing Dimension ( 2 Sets Packing in a carton )
Unit Net Weight(lb)/[g]:
24.25(lb) / 11000[g] / carton (2sets)
Carton size(Inch):
590mm (L) x 370mm (W) x 290mm (H)
23.23Inch (L) x 14.57 Inch (W) x 11.42 Inch (H)
Popular item > LED solar street light series
View > Widely apply for roadway lighting, perfect for Arid and poverty region lack of electric power…
NEW Humanized design solar street lights
Humanized design Solar Street Lights for kinds of roadway lighting > click to view