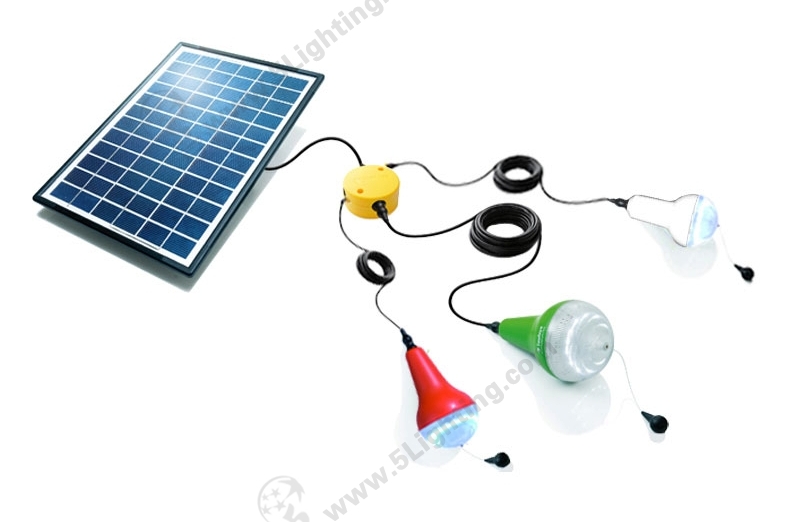 Solar Light Bulbs/Lighting Kits
Product type: Solar Light Bulbs, Solar Lighting Kits
Product model: Solar Lighting Kits – 5L-LY-KZ-SM01
Lighting source: 3pcs LED bulbs
Output voltage:18V-20V 500mA-900mA
Power: 15W solar panel, 2.5W each LED bulbs
Lamp and end cap materials: ABS UL94-V0 with UV resistant
Item color: White, Green, Yellow
Application: Suitable fo indoor & Outdoor scenes
Contact by Email
Features:
a): This Solar Lighting Kits is about 23% efficiency higher than incandescent or CFL bulbs, each bulb with 300Lm high brightness, equals to 8W CFL bulb or 40W incandescent bulb;
b): It converts sun radiation into electrical energy, extremely low energy consumption, 3 Light kit is supplied with 15W solar panel. Individual lights can be charged with very small solar panel of 5W;
c): These devices either stroe or consume this electrical energy harvest capacity of 180 kj per day, each LED lamp can strore 60 KJ of electrical energy in the battery pack integrated inside. At a pull of the switch this stored energy is converted back into light energy. Energy harvest amount is based on 6 sun-hours solar radiation per day;
d): System expandable from 1 lamp to 10 or 100 lamps, simply by adding and connecting more panels and lamps;
e): Each lamp has it's own microprocessor which controls the lamp and the charging of the built in batteries, they're "networked" together with plug and play connectors to form a system as large or as small as you want!
f): Dimmable from 300 lumen (100%), down to 150 lumen (50%), 60 Lumen (20%), and off position, by integrated pull-switch;
g): Built-in Energy Storage (2000mAh 7.4V) and management electronics, no need for separate battery and controlle anymore, Solar panel plugs in directly to the lamp through a Hub 4;
h): It can be used as hunging light or flashlight connecting with movable connectors, after full charged.
i):Wholesale 3 LED light bulb plus 15 watts solar panel kits,muti-function as flashlight. Factory direct 3 Bulbs solar lighting kits for ourdoor, emergency, shipping, camping…
Applications:
Compares to incandescent or CFL bulbs, this Solar Lighting Kits' each bulb with 300Lm high brightness, equals to 8W CFL bulb or 40W incandescent bulb, no need for separate battery and controlle anymore, Solar panel plugs in directly to the lamp through a Hub 4, Suitable for various of indoor and outdoor activities usage:
[1] Indoor usage: .Home emergency lighting, Warehouse lighting, Garage lighting etc.
[2] Outdoor usage: Night market lighting, Driveway lighting, Patio lighting, Garden lighting, yard lighting, Flowerbeds lighting, Camping lighting, Travelling lighting, Adventure lighting, Tent lighting, Field works lighting and other outdoor activities;
[3] Special usage: Earthquake and other disaster relief situation, For the poors to replace candles or kerosene lamps, Tibetan areas, pasturing areas, Remote area, Mountainous area, Desert area, Grassland areas, Village, Country area etc.
All matched Parts & accessories:
[1]: 3pcs Solar Smart light kits with pull switch for ON/OFF and Dimming;
[2]: 1pcs Hub 4, plug&play interconnection box with additional expansion terminal;
[3]: 3pcs DC cable with bayonet plugs (5 meters), celling cap &screws;
[4]: 1 Solar panel with tilt angle adjustable pole mounting bracket and 5meters cable;
[5]: 3pcs portable movable connectors, make bulbs as hunging light or a flashlight, can use in moving;
[6]: 3pcs bracing wire switch, each one has 1meter nylon wire on a wire axle inside.
Special caution:
(1): The working time of the light depends on the charging time of battery and this is affected by the season of the year. Solar Panel do not receive as much direct sunlight in winter months.Therefore,the number of hours the light stays on will be reduced during winter. Makes sure the solar panel is located in an area where can gets the manximum amount of full, direct sunlight every day;
(2): To use LED bulbs inside house, avoid of rain when they use outside;
(3): To use soft rags to move debris on solar, neither uses any liquid which contains any chemical reagent nor knock at face of solar panel with solid item;
(4): Charging: Cennect both solar panel and lamp to the yellow collector before charging.The indication led to be RED when charge by sun, and red LED will off when fully charged.
Brief Discription
15W Solar Panel, 3pcs 2.5W LED Light Bulbs, 300Lm, 18V-20V Output voltage, Solar Light Bulbs, Solar Lighting Kits
Item Type
Solar Light Bulbs, Solar Lighting Kits
Electrical and optical parameter
Model Number:
Solar Lighting Kits – 5L-LY-KZ-SM01
Lamp and end cap materials:
ABS UL94-V0 with UV resistant
Connector material :
Brass / nickel plated
Item color:
White, Green, Yellow
Lighting source:
3pcs LED bulbs
Length of cable:
3pcs, 5 meters(196 3/4 Inch)
Power consumption
15W solar panel, 2.5W each LED bulbs
Luminous flux
300Lm
Luminous Efficiency:
120Lm/W
Connector base:
DC socket bayonet
Output voltage:
18V-20V 500mA-900mA
Dimmable:
Yes
Reverse polarity protection:
Yes
Enclosure protection class:
IP43
Lighting color temperature:
5000K-5700K
Operating temperature :
-10°C to +55°C
Storage temperature :
-40°C to +85°C
Storage type :
Litium ion battery
Application:
Suitable fo indoor & Outdoor scenes
Warranty:
1 years
Certifications:
CE
Packing dimension
Unit Net Weight(lb)/[g]:
6.83(lb) / 3100[g]
Unit Gross Weight(lb)/[g]
8.82(lb) / 4000[g]
Interior box dimension (Inch):
18 3/4 Inch(L) x 12 2/4Inch (W) x 5 2/4 Inch (H)
About Warranty:
LIMITED WARRANTY-1 YEAR
We warrants the Solar Smart Light Kit to be free from defects in materials and workman-ship under normal application, installation, use and service conditions of one(1)year from the date of sale to the original consumer purchaser. If the module fails to confirm to this warranty then, for a period ending one(1)year from the date of sale to the original consumer purchaser, we will at its sole option, either repair or replace the product. This warranty shall only apply while the original consumer purchaser owns the product.
WHAT THIS WARRANTY DOES NOT COVER
The limited warranties set forth herein do not apply to any product which, has been subjected to misuse, neglect or accident, or which has been damaged through abuse, alteration, improper installation or application, or negligence in use, storage, transportation or handling, or has been repaired, or in any way tampered with by anyone other service representative. These limited warranties do not cover any transportation costs for the return of a module or for reshipment of any repaired or replaced module, or the costs associated with installation, removal or reinstallation of the module. Design and production quality, ensure that the breakage of LED occurs only as a result of external force and, therefore this is not covered under any warranty.
What are the superior differences between this Solar Lighting Kit and others ?
Solar Light Bulbs, Energy-saving Solar Lighting Kits.