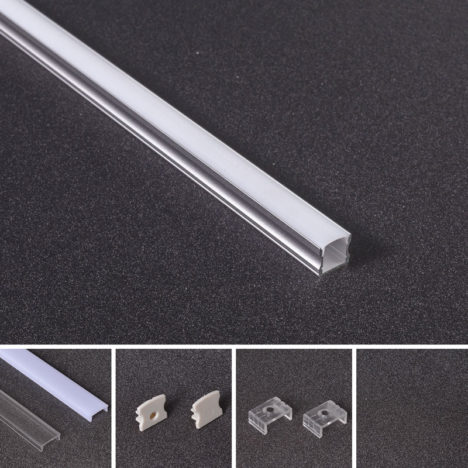 Recessed mounted linear lighting profile
Product Type: aluminum extrusion / channel / profile

Product Model: 5L-2415-1

Lighting Source: flexible led strip tape lights / rigid strip lights

Intput Voltage: 12 V / 24 V

Application: jewelry store, signage, kitchen cabinets, show case, wall decoration …
Contact by Email
Product Description :
This aluminum channel model : 5L-2415-1 is specially designed for recessed mounting linear lighting fixtures .
Aluminum alloy profile is a very good meterial as led strip tape lights / rigid strip lighting heat sink .
Aluminium extrusions can have various shapes and colors with good thermal conductivity [ 220 up W/(m·K)) ] .
With this feature, our lighting board inside can rapidly emit heat and keep whole lighting fixture in low temperature.
Prolong led lights with 35, 000 up hours life span .
This linear aluminum profile is elegant and fashionable in appearance , anti-rusty .
It's suitable for office, under cabinet, celing, rest room, pendant hanging application …
– with more than 100 kinds of led aluminum recessed mounted profiles / extrusion / channel for choosing ;
– good quality 6063 anodized / sandlbast aluminum housing guarantee ;
– frosted / transparent PC colver for optional, PMMA material ;
– small quantity and different sizes can be customized ( 1 meter – 4 meter cuttable );
– OEM service availble , slim / easy for installation;
– Reasonable illumination solution for rigid / flexible strip lighting profile ;
– kitchen, bathroom, office ceiling, furniture, closet, interior illumination …
the standard matched accessories for this recessed mounting aluminum channel model 5L-2415-1 includes :
aluminum profile+PC diffuser+end caps(plastic)+clips(plastic)
1) Frost / clear pc cover ;
2) two plastic end caps ;
3) small screws ;
4) two plastic mounting clips .
Brief Discription
Recessed linear lighting profile / Aluminum extrusion / Channel
Item Type:
Lighting Aluminum Extrusion Channels
Model Number:
5L-2415-1
Parameter
Inner Size :
12.6 MM X 14 MM
Outer Size:
24.5 MM X 15 MM
Cover :
Milky / Frosted / Clear PC cover
Aluminum Profile:
6063 Aluminum Alloy
IP rank:
IP 20
Surface finish:
Anodized / sand blasting
Channel Color:
Silvery / Black / Customized
Accessories (1) :
1 piece of aluminum extrusion channel (1 Meter)
Accessories (2) :
1 units of PC cover frost (default) or transparent (optional)
Accessories (3) :
2 units of plastic end caps
Accessories (4) :
2 units of plastic mounting clips
Warranty :
2 years
Application Area:
Kitchen cabinets, show room case, celing, office etc
Enquiry for Led Aluminum Profile
This is Alexander from Electroprofil Russia. Now we are very interested in LED aluminum profile and looking for new supplier. Lucky to know your company from internet, could you please send us your catalogue and price list. thank you!
Best regards,
Alexander
Москва, Щербинка, ул.Симферопольское шоссе 11, офис 8
Tel: +7 499-390-32-71 +7 926-129-00-72
Re:
Dear Alexander
Nice to receive inquiry about our led aluminum profiles.
We have three series for aluminum profile:
(1)Surface mounted:
More details kindly check >>>
(2)
Recessed mounted:
More details kindly check >>>
(3)
Suspended hanging:
More details kindly check >>>
5 Star Lighting Team
Widely applied with LED linear lights , recessed types factory direct
Comparing traditional fluorescent / incandescent / halogen lighting sources , LED have many advantages in linear
illumination types .
– With any shapes as artiest imagination, beautiful design ;
– Lightweight in aluminum extrusion ;
– Pendant ( Suspended) / Recessed / Mounted types can be customized ;
– Linkable and extended with connection cables ;
– Special PMMA lens can be added with beam angle 30º/60º/90º ;
– IP 40 / IP 65 can be chosen ;
– Low temperature , good heat emitting with aluminum profile on the back;
– 3000K / 4000K / 6000K color temperature options ;
Our led linear lighting series can be used for super market, shopping malls, warehouse, workshop, office, exhibition booth,
KTV room , pub, wall washing, display case and cabinets …
LED Linear lights : Recessed / Suspended / Mounted indoor and outdoor application :
Three Installing Types for linear aluminum profile
Three types of installation for led aluminum extrusion, profile and channels :
More details, kindly check >>>
Recessed mounted /  Surface mounted / Suspended mounted
Inquiry about recessed linear aluminum profile
I'm looking for prices on recessed strip lighting track (alum channel) and lead time thanks