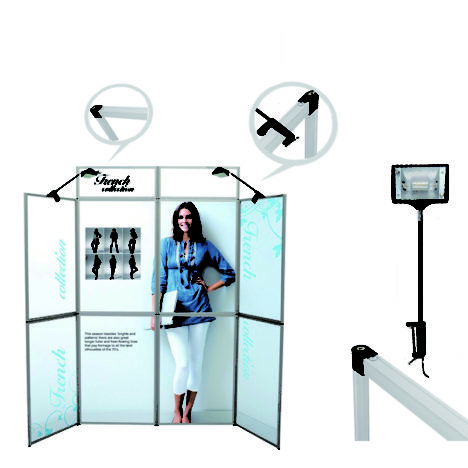 100 W Halogen Panel Board Lights Replacement

Equals: 100 Watts Halogen Panel Display Board Lights

Product Type: LED Panel Display Board Lighting

Product Model: Panel-G-Clamp-R7S-78MM

Lighting Source: LED

Output Voltage: 110 V / 220 V

Power: 7 W

Application: Trade show, Exhibition, Panel board Display
Contact by Email
Feature:
Panel display board lights LXR7S-A is suitable for the panel display in an exhibition, the adjustable tail clip can be installed anywhere in the panel display, the made of aluminum tail double coverlet placed in position, torque, durable, not easy to fall off, in order to achieve the effect of customer satisfaction.
Display lights for folding panels 7 watts consumption 100 equivalent halogen display lighting, it can save more than 90 percent of the energy and emit brighter, softer lights that can bring higher costs and benefits and protect the environment.
Exhibition lights for panel display 7W use the R7S LED light bulb as the light source, and has a 360-degree luminescence, which has the advantages of energy saving, no radiation and environmental protection. It can emit more light and will not change or disappear because of high quality LED chip.
Panel display board lights LXR7S-A is made of metal, plastic and aluminum, and can adjust the direction and Angle, convenient and flexible.With the special hardness of the tail clamp, the G clamp is more powerful and can be fixed quickly on the folding panels to achieve the ideal effect.
Display lights for folding panels 7 watts finish color has silvery and black, and light appearance with cool white and warm white, CCT also can be customized according to the customer's needs. And it has passed the CE, RoHS, UL, SAA approved.
It can be applied to Panel display board, the trade show for folding panels and exhibition for panel display.
Accessories Options:
Matched parts & accessories: Mounting clip assembled with LED light.
Brief Descriptions:
Panel Display Board Lighting-LXR7S-A, Exhibition display lights that easy installation for folding panel board applications.
Item type:
Panel display board lights
Electrical and optical parameter
Model number:
Panel display board lights-LXR7S-A
Finish color:
Black/Silver
Lighting source:
1pcs R7S LED Light Bulb
Materials:
Metal+Plastic+Aluminum
Power consumption:
7 W
Input:
AC 100V-240V
Lumens:
700Lm-800Lm
Light appearance(CCT):
Cool white/warm white/customized
Applications:
For Panel board display and other exhibition/trade fair advertising panel display booth, like: tri-fold display panel etc.
Packing Dimensions47x m
Net Weight:
1.21(lb)/550[g]/pcs
Head Dimensions:
5.4″(L)x3.5″(W)x1.6″(H)
Arm Dimensions:
11.2″x0.43″OD
Cable Length:
3 meters
Packing :
Bubble bag+inner box+Carton
Measurement :
2 sets/inner Box ; 30 Sets/Carton
Applications :
Exhibition display panel & board