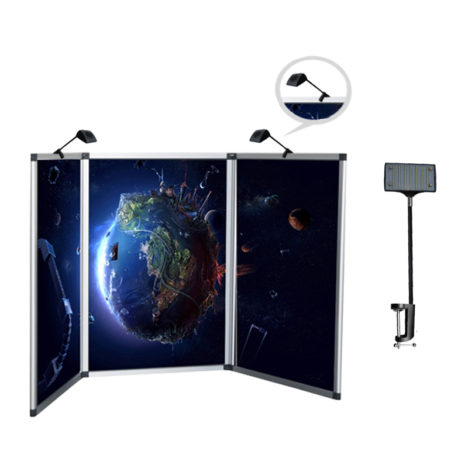 100 W Halogen Panel Board Lights Replacement

Equals: 100 Watts Halogen Panel Display Board Lights

Product Type: LED Panel Display Board Lighting

Product Model: Panel-G-Clamp-LXS98-001-A

Lighting Source: LED

Output Voltage: 24V

Power: 10 W

Application: Trade show, Exhibition, Panel board Display
Contact by Email
Feature:
Panel display board light 10 watts is one of the best partners for the folding display board system. Its G clamp is made of high precision aluminum material, with high strength, good toughness and threaded screw to provide stronger torque.It has strong compaction effect.
Display light for folding panels LXS98-001-A is can be started immediately, without flashing lights and humming, made of durable plastic ABS and metal materials, with good heat dissipation and stable performance.It is free to adjust the Angle and direction of the lamp holder and perfectly achieve the advertising product effect you want.
The newly designed Exhibition lights for panel display10W, with 98pcs SMD3528 LED as the light source, can emit bright 800Lm pure light, we provide different color temperature for you to choose.When customers are visiting the exhibition, your product information will attract the attention of customers in the first place. It will ensure that your booth gets the attention it deserves.
Panel display board lights 10 watts use a special G clamp to effectively control the exhibition lights and display panels, making it easy to fall off and use more safely.It has been approved by CE, UL and SAA, although only 10 watts of power, its luminescence is only 1/10 of the conventional halogen panel display light, which can reduce costs and save energy and environmental protection.
Display lights for folding panel LXS98-001-A is used in Panel board display and other exhibition/trade fair advertising panel display booth, like tri-fold display panel etc.
Accessories Options:
Matched parts & accessories: Mounting clip assembled with LED light.
Brief Descriptions:
Panel display board lights-LXS98-001-A, Exhibition display lights that easy installation for folding panel board applications.
Item type:
Panel display board lights
Electrical and optical parameter
Model number:
Panel display board lights-LXS98-001-A
Finish color:
Silver / black
Lighting source:
SMD 3528 LED Chips
Materials:
ABS+Metal
Power consumption:
10W
Output:
24V, 0.5A
Lumens:
800Lm
Light appearance(CCT):
Cool white/warm white/customized
Applications:
For Panel board display and other exhibition/tradefair advertising panel display booth, like: tri-fold display panel etc.
Packing Dimensions
Net Weight:
1.43 (lb)/650[g]
Head Dimensions:
5.4″(L)x3.5″(W)x1.6″(H)
Arm Dimensions:
11.2″x0.43″OD
Cable Length:
3 meters
Packing :
Bubble bag+inner box+Carton
Measurement :
2 sets/inner Box ; 30 Sets/Carton
Applications :
Exhibition display panel & board