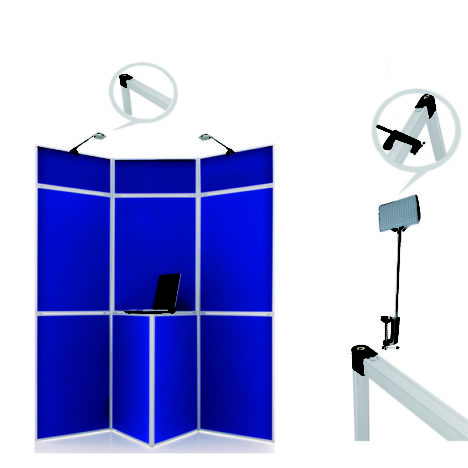 150 W Halogen Panel Board Lights Replacement

Equals: 150 Watts Halogen Panel Display Board Lights

Product Type: LED Panel Display Board Lighting

Product Model: Panel-G-Clamp-LXS160-002-I

Lighting Source: LED

Output Voltage: 12V

Power: 12 W

Application: Trade show, Exhibition, Panel board Displays
Contact by Email
Feature:
Panel display board lights 12 watts and fold display board system is the best partner, G clamp body aluminum tail, with rotating T handle, can provide greater torque, special rings line rotary screw flexible cloth card, stay strong..
Display light for folding panel LXS160-002-I is made of ABS and Metal, and unlike LXS160-002-A, its surface is plated with a surface that looks like a mirror, and the overall appearance is more artistic.
Its manufacturing process is more sophisticated than halogen lamps, and the operation of LED lights can reduce the risk of fire.This kind of lighting is not afraid of the danger of light and dead light. It is good for air tightness and better anti-sulfur effect. The uniformity of LED light colors is good and even light.
Exhibition lights for panel display 12w only have 12 W power consumption, which is 1/12 of the traditional halogen panel display lights, but it can release the super brightness of 1000 lm, which reduces the cost and saves energy and environmental protection.Its finish color has silvery, and light appearance with cool white and warm white, CCT also can be customized according to the customer's needs.
 Panel display board lights 12 watts is suitable for Panel board display and other exhibition / trade fair advertising panel display booth, like tri-fold display panel etc.
Accessories Options:
Matched parts & accessories: Mounting clip assembled with LED light.
Brief Descriptions:
Panel Display Board Lighting-LXD12-002-I, 12 V,1A, Exhibition display lights that easy installation for folding panel board applications.
Item type:
Panel Display Board Lighting
Electrical and optical parameter
Model number:
Panel Display Board Lighting-LXS160-002-I
Finish color:
silvery
Lighting source:
160pcs High Power LED
Materials:
ABS and Metal material
Power consumption:
12W
Onput:
12V, 1A
Lumens:
960Lm
Light appearance(CCT):
Cool white/warm white/customized
Applications:
For Panel board display and other exhibition/trade fair advertising panel display booth, like: tri-fold display panel etc.
Packing Dimensions
Net Weight:
0.99(lb)/450[g]
Head Dimensions:
5.4″(L)x3.5″(W)x1.6″(H)
Arm Dimensions:
11.2″x0.43″OD
Cable Length:
3 meters
Packing :
Bubble bag+inner box+Carton
Measurement :
2 sets/inner Box ; 30 Sets/Carton
Applications :
Exhibition display panel & board