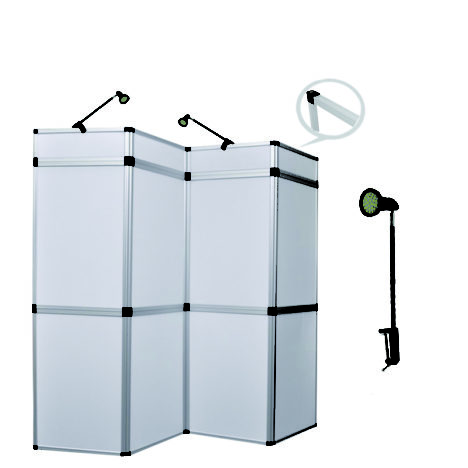 50 W Halogen Panel Board Lights Replacement

Equals: 50 Watts Halogen Panel Display Board Lights

Product Type: LED Panel Display Board Lighting

Product Model: Panel-G-Clamp-JZL017A

Lighting Source: LED

Output Voltage: 110 V – 220 V

Power: 5 W

Application: Trade show, Exhibition, Panel board Display
Contact by Email
Feature:
Panel display board lights JZL017 is generally applicable to folding panels, JZL017 is fixed with a G-shaped function between. Its tail clip is made of trapezoidal thread rod and black heat treatment, so the torque can guarantee a strong clamping effect.
Display lights for folding panels 5 watts is an LED MR16 light source with high efficiency and long life.The power of the only 5W can emit a bright 400 lm, which ensures that your advertising information is first seen by consumers in trade shows.
Exhibition lights for panel display 5W have a rotating lamp holder for horizontal and vertical adjustment. With this adjustable head and arm, the light can be hit with no dead Angle on your banner information.
 Panel display board lights JZL017 is small in size and light in weight.And its color temperature (warm and cold light) is very helpful in improving the color quality of the graphics, so don't worry about changing the bulb or getting burned by the hot lamp again!
 Its tail parts are designed with a strong structure, which enables the threaded rod to provide stronger torque and fastening force after heat treatment, smoothing and pushing the clamping without damaging the panel board.
 Display lights for folding panels 5 watts is suitable for Panel board banner stand and other exhibition/trade fair advertising panel banner stand booth, like tri-fold banner panel etc.
Accessories Options:
Matched parts & accessories: Mounting clip assembled with LED light.
Brief Descriptions:
Panel Display Board Lighting-JZL017, Exhibition display lights that easy installation for folding panel board applications.
Item type:
Panel display board lights
Electrical and optical parameter
Model number:
Panel display board lights-JZL017
Finish color:
Black / Silver
Lighting source:
LED MR16 Lamp
Materials:
Metal material
Power consumption:
5W
Input:
110V / 220 V
Lumens:
400Lm
Light appearance(CCT):
Cool white/warm white/customized
Applications:
For Panel board display and other exhibition/trade fair advertising panel display booth, like: tri-fold display panel etc.
Packing Dimensions
Net Weight:
1.43 (lb) / 650[g]
Head Dimensions:
11.6″x 0.40″OD
Arm Dimensions:
2.2″ODx3.5″
Cable Length:
2.8 meters
Packing :
Bubble bag+inner box+Carton
Measurement :
2 sets/inner Box ; 30 Sets/Carton
Applications :
Exhibition display panel & board