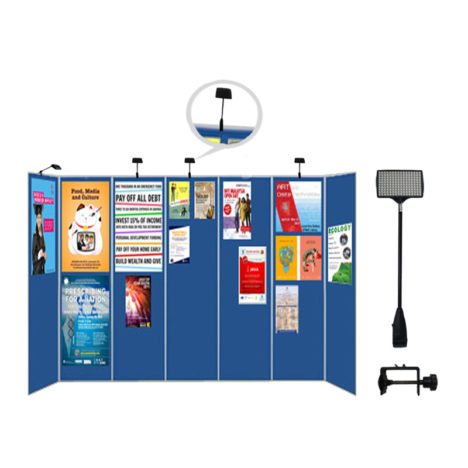 150 W Halogen Panel Display Lights Replacement

Equals: 150 Watts Halogen Panel Board Display Lights

Product Type: LED Panel Board Lighting

Product Model: Panel-Multi-clip-LXS160-002-A

Lighting Source: LED

Output Voltage: 12V

Power: 12 W

Application: Trade show, Exhibition, Panel board Display
Contact by Email
Feature:
a) Trade show lights with multi-clips for folding panels 12 watts is suitable for the folding display board system in a trade exhibition, and can make it on the panel can be fixed in any place with an adjustable tail clip.
b) Panel display board lighting LXS160-002-A adopts 160pcs super flux led chips as lighting source, with anti-blue eye effect, and never change a light bulb again, compared with other lights more inexpensive and durability.
c) Exhibition lights for panel display 12 W are ten times that of the traditional halogen lamps, but it produces brighter white light, can more accurately describe the display of the product. It is the best substitute for traditional 150W Halogen panel display board lighting, and less power than the halogen lights, at the same time it is not flash and glare.
d) Panel display board lighting with multi clamp LXS160-002-A is made of ABS + Metal materials, and is very portable. It has a life span of 30,000 hours. The voltage is only produced by 12 V and lumen is 1000Lm, which can produce light brighter and softer than the normal light.
e) Its tail clip is made of high quality aluminum material, special thickness design, higher clamping force and safer use.
f) 12 watts trade show lights for folding panels'finish color has silvery and black, and light appearance with cool white and warm white, CCT also can be customized according to the customer's needs.
Application:
It issuitable for Panel board display and other exhibition/trade fair advertising panel display booth, like tri-fold display panel etc.
Accessories Options:
Matched parts & accessories: Mounting clip assembled with LED light.
Brief Descriptions:
Panel Display Board Lighting With Multi Clip LXD12-002-A, 21V,1A, Exhibition display lights that easy installation for folding panel board applications.
Item type:
Panel Display Board Lighting
Electrical and optical parameter
Model number:
Panel Display Board Lighting-Multi-clip-LXS160-002-A
Finish color:
silvery/black
Lighting source:
160pcs High Power LED
Materials:
ABS, Metal materials
Power consumption:
12W
Onput:
12V, 1A
Lumens:
960Lm
Light appearance(CCT):
Cool white/warm white/customized
Applications:
For Panel board display and other exhibition/trade fair advertising panel display booth, like: tri-fold display panel etc.
Packing Dimensions
Net Weight:
0.99(lb)/450[g]
Head Dimensions:
5.4″(L)x3.5″(W)x1.6″(H)
Arm Dimensions:
11.2″x0.43″OD
Cable Length:
3 meters
Packing :
Bubble bag+inner box+Carton
Measurement :
2 sets/inner Box ; 30 Sets/Carton
Applications :
Exhibition display panel & board
2 Packs LED Display and Exhibit 12V DC LED Arm Light, Halogen Display Lights Replacement, Includes Mounting Hardware (C-Clamp-Silver)
Good light for shop displays
I couldn't figure out how to attach these to a solid display cabinet, or how the C brackets worked. I called the vendor, which is a real professional company , and talked with someone who spent an hour talking through it, looking things up for me, etc. Ultimately I just screwed the C brackets to the top of my cabinet and it works great. The picture shows them mounted on the white cabinet (there are also undershelf led lights)