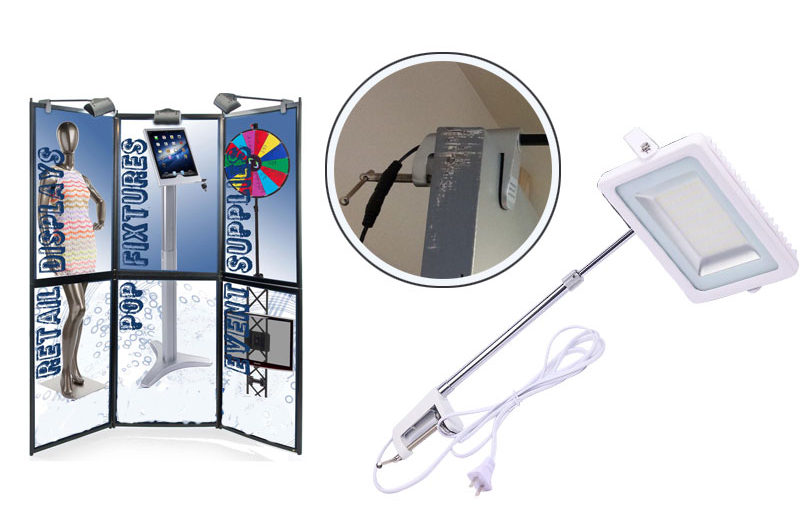 Panel Board LED Display Lights – 50W
Product Type: Panel Display Board Lighting
Lighting Source: LED
Waterproof: Yes
Power: 50W
Voltage: 110V / 220V
Beam angle: 120°
CCT: Warm white / Cool white
Application: Specially used in several kinds of exhibition display panel board.
Contact by Email
Features:
a): Wholesale panel display board lighting 50w adopts integrated design which featured with super bright LED flood lamp as lighting source and hand grip with convenient clip for easy install on panel board display applications, such as 3 panel display board, and several different kinds of folding display board usage;
b): Humanized design trade show lights for folding panels 50watts have a adjustable lamp head based on a convenient bracket, free for change lighting direction as real situation requirements, especially for exhibition / trade show advertising display scenes;
c): Creative item exhibition lights for panel display  50 w using high quality aluminum material that affects excellent performance in heat dissipation, and using explosion-proof glass as lamp head cover, make this led display panel lights not only with fashionable transparent appearance and also last a long life span time reaches 50,000 hours;
d): This panel display board lighting can emit pure and uniform light, different color temperature for options, superior brightness to make that graphic more attractive, to some extent, it really plays a important role in exhibition adverting display effects;
e): Easy installation trade show lights for folding panels 50watts with flexible clip, users can finish installation within few minutes, and also easy to remove and change installation place;
f): Our exhibition lights for panel display 50 w provides two types hand grip for optional, which are 20cm to 40cm extensible and 30cm inextensible, customers can freely choose according to their requirements;
g): New display lighting series trade show lights for folding panels 50watts offers black and white two colors optional.
Applications:
Factory direct sale panel display board lighting 50w comes with a flexible mounting clip, to a great extent, it brings great convenient for customers while doing installation, and our led display panel lights has widely adopted in trade fair panel board display scenes, like: tri-fold display board, advertising display board, even used in Octanorm display system.
Accessories Options:
[1]: Plug options: UK Plug / US Plug / Plug / Euro Plug etc.
[2]: Matched parts & accessories: Mounting clip assembled with LED light.
Great quality panel display board lighting 50w from 5 Star Lighting Factory!
Brief Descriptions:
Panel Display Board Lighting 50w, 110V/220V, Exhibition display lights that easy installation for folding panel board applications.
Item type
Panel Display Board Lighting
Electrical and optical parameter
Model number:
Panel Display Board Lighting – 50W
Shell color:
Black / White optional
Lighting source:
LED
Materials:
Aluminum + Explosion-proof glass
Hand grip length:
20cm to 40cm extensible
30cm inextensible
Power consumption:
50W
Input voltage:
110V / 220V
Beam angle:
120°
Ratable angle:
180°
Waterproof:
Yes
Light appearance(CCT):
Warm white / Cool white
Life time:
50,000hours
Applications:
For Panel board display and other exhibition / trade fair advertising panel display booth, like: tri-fold display panel etc.
Packing Dimensions
Unit light size(Inch):
8.66 Inch (L) x 6.30 Inch (W) x 1.42 Inch (H)
220 (mm) x 160 (mm) x 36 (mm)
Offer for Panel Display Board Lighting