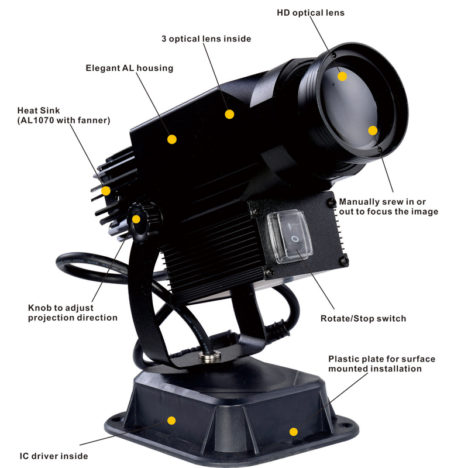 100 W Halogen projector  Replacement
Equals: 50 W MSR / HID / HSD / HSR / CDM projector

Product Type: LED Gobo Projector

Product Model: 5L-LPL-003RT

Lighting Source: CREE

Intput Voltage: 110 V / 220 V

Power: 15 W

Application: Lobbies, iconic buildings, Window displays, wedding, P.O.P displays, car brand logos, Indoor advertising …
Contact by Email
Product Description :
Logo project lights attract people's attention for architectural facade, shopping entry door, entertainment holiday festivals, expo booth
display, wedding ceremony …
Almost all logos, text and other images can be projectd on any surfaces as required .
By using CREE LED and optimized optical lens, our led logo projector is super bright and can be applied for long distance / dark
places.
Easy can quick install for our projector kits and can be controlled remotely by our matched controller .
It's a good advertising lighting fixture to capture customer's attention .
More and more places use one or several logo projectors for promotion / message like stores, windows, bars … indoor / outdoor .
LED lighting bulbs inside is 65% energy saving up comparing traditional incandescent / fluorescent / metal halide bulbs .
IP 20 / 54 / 65 waterproof class logo projector led lamps are available , ceiling mounts, wall mounted, truss / track rail installation
can be choosing .
Zero maintenance , no need for bulb replacements periodly for our LED logo projector series .
Film patterns can be customized and changeable for different event / advertising / promotional purpose …
Different gobo types and shapes such as metal, glass or bi-color gobos are optional .
Super bright , CCT optional : 3000K / 4000K / 5000K / 6000K / 7000K
The recommend projecting distances is :
Dark environments- up to 20 meters;
Dim – up to 10 meters;
Bright – up to 5 meters .
The default mounting solution for this logo projector ceiling lights 15 watts is on ceiling with our standard bracket;
2 / 3 circuit Track header can be optional ;
Mounting flat plate or recessed dowing lighting installing method can be added as customized .
Our ceiling logo projector lights model : 5L-LPL-003RT is good replacing 50 W – 100 W MSR / HID / HSD / HSR / CDM / HALOGEN
projector .
The spirit of logo projector is gobos / slides , abundant images or text can be shown on your gobos .
From simply black / white metal gobos, single color / bi-color / three colors to full color gobos .
Applications:
(1) Indoors – safety signages, Banks, Promotional, Shops, quotations & poems, Exhibitions, Studios …
(2) Outdoors – Restaurants, Bars, Billboards, Radio & TV Stations, Sports Facilities …
Brief Discription
Surface ceiling mounted & image rotated with remote, controller (on/ off/ rotated/ stop)
Item Type:
Logo Projector Ceiling Lights
Model Number:
5L-LPL-003RT
Electrical and optical parameter
Replacement :
Metal Halide / Halogen Logo Projector
Power consumption:
15W
High-definition:
Focal distance can be adjusted
Lighting Source
CREE LED chip
CRI
≥ 80
Surface finish:
Anodized black
Input voltage:
AC85V-AC265V
Dimensions:
D52mm, L150-195mm, H150mm
IP rank:
IP44 / IP65 ( Optional )
Color temperature:
White (7000K)
Warranty :
2 years
Materials:
Aluminum / Stainless Steel
G.W:
2.5KG
Application Area:
Hotel, restaurant, store, supermarket, pub, cafe, disco, etc
Vivid logo projector effect, images, patterns - butterfly series
Our 5 star logo projector can have many kinds of gobo patterns .
Features of our logo projector :
– Light in weight, compact sizes ;
– Variety of clamps & clips for mounting options : ceiling / wall / truss display …
– free gobo templates and printing service available ;
– wireless remote controller operation ;
Gobo can be designed for abundant images for various applications : wedding, shopping stores, clubs, bars …
Factory direct led logo projector effects, images and patterns for option – butterfly series gobo projector pictures.
Following is our butterfly gobo series with our logo projection lights :
Gobo options for Logo projector
Gobo slide glass :Single, Two, Three color and others
A meaningful and creative gobo can be a piece of wonderful artwork.
It's really a great lighting fixtures witch can make your event & exhibition a success and attractive .
It's once for all investment, especially in renting market .
We can meet your requirements and assist designing for your special
event , gallery, signage, personalized wedding …
Our glass Gobos can have different levels and mutiple colors printed on the surface like Black & white , garyscale effects, 1/2/3/4 and full colors
…
| | | | | | |
| --- | --- | --- | --- | --- | --- |
| Color | Single | Two Colors | Three Colors | Four Colors | Full Colors |
Can LED Logo Projector be used for trade show / expo / event ?
Yes, Vivid LED Logo Projector  can make your trade show / expo / event a success .
Wide LED logo projection applications
Some cases for our logo projected applies with our abundant Gobo designs & patterns :
company logos, letters, wedding wishes , texture …
Colorful rotating logo projector motional effect, images, patterns - fishes series
Rotating logo projector motional patterns – fishes series
Factory direct led logo projector rotating effects, images and patterns – motional fishes series gobo projection .Our this 15 Watts led logo projector has Rotating / motional functions, following is one of our animated effects – fishes series :