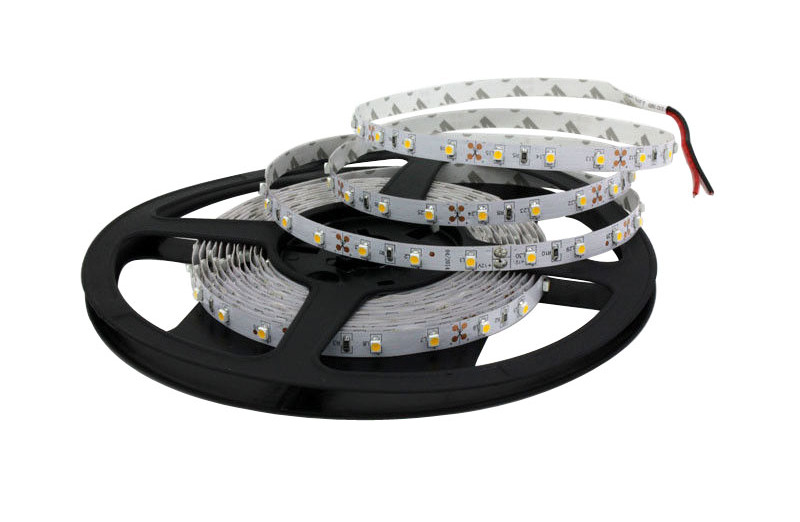 LED Flex Tape Lighting SMD 5050 300LEDs

Product type: LED Strip Lights
Lighting source: SMD 5050 LED chip
Input voltage: DC12V (default), DC24V (optional)
Power consumption: 14.4W/Meter, 5Meters/Reel
Waterproof level: IP20 / IP54 / IP67 / IP68 for options;
Application: Perfect for light boxes display usage, or holiday, party and wedding decoration lighting;
Contact by Email
Features:
a): Factory direct sale led strip light SMD 5050 300LEDs with 14.4W per meter, means less power consumption concerns, energy-saving and eco-friendly, its solid state featured with high shock or vibration-resistant funtion, 14Lm/LED chip, no RF interference, maintenance free, major reduction in power costs, affects high brightness that easily to catch people's attention;
b): Stylish design led tape light SMD 5050 12V / 24V adopts Epistar SMD 5050 LED chips as lighting source, with great quality and excellent performance, can service life span up to 50,000 hours!
c): This flexible led strip 5050 10mm runs on constant voltage DC12V systems, DC24V system for options, and constant current version also can be customized, clients can choose according to real condition;
d): Our humanized design led flex tape lighting 12v / 24v has 120 degrees wide beam angle, which can emit uniform and pure lighting with gentle and soft vision, its can creates great illuminating effects, suitable for light box display lighting at exhibition;
e): There are four waterproof levels of this led strip light kit for choice, IP20 (non-waterproof) default, IP54, IP67 and IP68 also for options, clients can choose this led strip light SMD 5050 300LEDs according to application in indoor or outdoor usage;
f): LED strip lighting has two types lighting colors system of for options, one is single colors system, like green/ yellow/blue/warm white and cool white, another one is RGB system avaliable, completely meet your lighting necessary, its colorful vision can create warm and sweet environment, and romantic effects is perfectly suitable for party or wedding decoration usage;
g): Convenient to install, that flexible led strip 5050 10mm is self-adhesive with double-sided tape, can be install in a aluminum profile, which in several different kinds of angle cabinet lighting, such as shopping mall's jewellery cabinet or other commercial activities display and holiday lighting decoration.
Applications:
Wholesale led strip light SMD 5050 300LEDs runs on constant voltage DC12V / 24V system for options, and constant current also available for customized, it use Taiwan Epistar SMD 5050 LED chip, super bright with great illuminating effects, perfectly fixed for light boxes display lighting at exhibition and tradeshow or other commercial activities;
(1): Commercial lighting: Advertisement sign lighting, Backlighting for luminous characters, Window display lighting, Lighting boxes at trade fair or other commercial activities etc;
(2): Special place lighting: Architectural decorative lighting, Amusement park lighting, Canopy and Bridge edge lighting, Theater lighting, Emergency lighting, Security lighting, Swimming pools and fountains lighting, Club decorative lighting, Stairway accent lighting, Furniture decorative lighting, Car decorative lighting etc;
(3): Moment decorative lighting: Holiday decorative lighting, Party decorative lighting etc.
Installation instructions:
1. Clean the surface you intend to stick the light strip to;
2. Peel off the backing strip off the 3M adhesive tape;
3. Press and hold the light strip firmly against the surface;
4. Plug your light strip into a compatible power supply or dimmer;
5. Connect your power supply to a wall outlet.
Notes:
1. This strip light has three level of waterproof: IP20/IP54/IP67/IP68, IP20 and IP54 just for indoor using. If you need the waterproof one, please choose IP67 and IP68 waterproof level;
2. If you want make it shorter, you can cut it every 3 LEDs and 6 LEDs along the cutting marks, without damaging the rest strips;
3. If you don't know how to install it, just contact us, then please do not lighten this item be in roll exceed one minute, in case destroy it;
4. It can be used in residential decorative design and many other fields. Use your imagination and creative idea to DIY this strip lights.
Good quality led strip light SMD 5050 300LEDs from 5 star lighting factory !
Brief Discription
14.4W/Meter, DC12V / 24V, Epistar SMD 5050 LED Chips, 120° Beam angel, 300LEDs, 5Meters/Reel, Flexible LED Strip Lights
Item Type
LED Strip Lights
Electrical and optical parameter
Model Number:
LED Strip Lights-SMD 5050-300LEDs
LED QTY:
300PCS LEDs
Lighting source:
Taiwan Epistar SMD 5050 LED chips;
Cutting methods:
Cuttable every 3 LEDs / 6LEDs, 30LEDs/Meter, 5Meters/Reel
Power consumption
14.4W/Meter
Luminous flux
14Lm/LED
Width:
10mm;
Input voltage:
DC12V (default);
DC24V (optional)
Constant voltage:
Constant voltage (default);
Constant current (optional)
Color rendering:
CRI(Ra) ≥ 80 (default);
CRI(Ra) ≥ 90 (optional)
Waterproof:
Waterproof level: IP20 / IP54 / IP67 / IP68 for options;
IP20: non-waterproof (default);
IP54: single-side glued with epoxy glue (optional);
IP67: with silicone tube (optional);
IP68: silicon tube with glue filled (optional)
Lighting color:
Single color: Warm white/Pure white /Green/Blue/Yellow etc;
RGB color (optional)
Operation temperature:
-20-50°C
Lifespan:
30,000hrs – 50,000hrs
Application:
Suitable for light boxes display and other commercial display usage, or for holiday, party and wedding decoration lighting
Warranty:
2years
Certifications:
CE & ROHS approved
Packing dimension
Unit Net Weight(lb)/[g]:
0.57(lb) / 260[g]
Unit Light size(Inch):
Φ7 Inch x 2/4 Inch (H)
Unit Gross Weight(lb)/[g]
0.66(lb) / 300[g]
Interior box dimension (Inch):
L:7 1/4 Inch x W:7 1/4 Inch x H:3/4 Inch
Super Bright , SMD 5050 LED Tape Strip Lighting Series, 12 V
Data analyze through parameters & spectrum chart for this super bright tapes,
LED Flexible Tape Strip Lighting - Blister Package series
Compact strip kits for our SMD 5050 strip tape lights
Specification of SMD 5050 LED Tape Strip Lighting Series, 300 leds
SMD 5050 tape lights are very popular in flexible strip lighting series .
Our model using 22 – 24 lm per bulb brightness , can be much brighter than normal tape lights in the markets .
Benefits :
Safe voltage,suit for indoor use.
Flexible, easy to bend and low profile.
Adhesive tape and paste directly, easy to install.
Available in various color temperatures.
Applications :
Furniture lighting and contour accentuation ;
Decorative applications ;
Home lighting and corner lighting ;
Signage and illuminated advertising
Technical Features :
One meter (entire module 60 LEDs) comes with one LED-band ;
Light emission vertical to the mounting surface ;
Dimensions (L x W x H): 1,000 mm x 10 mm x 2.16 mm ;
Length of smallest unit with 3 LED: 50 mm ;
Additional cutting possibilities by using the termination ;
Easy mounting by adhesive tape on isolated backside ;
Easy connection with optional connect system ;
Dimmable by pulse width modulation (PWM) ;
Max. 5 meters in series connection ;
Parallel connection is allowed .
Safety Information :
The SMD 5050 LED strip itself and all its components must not be mechanically stressed.
Assembly must not damage or destroy conducting paths on the circuit board.
In order to drive LED-Modules safely, it is absolutely necessary to operate them with an electronically
stablised power supply protecting against short circuits, overload and overheating.
Electronic control gear complies to all relevant standards and guarantees safe operation. Only qualified
personnel should be allowed to perform installations.
Observe correct polarity! Depending on the product incorrect polarity will lead to emission of red or no light.
The module can be destroyed! Correct polarity immediately.
Parallel connection is highly recommended as safe electrical operation mode.Serial connection is not
recommended. Unbalanced voltage drop can cause hazardous overload and damage the LED module.
Please ensure that the power supply is of adequate power to operate the total load.
When mounting on metallic or otherwise conductive surfaces, there needs to be a electrical isolation at
soldering points between model and the mounting surface.
Pay attention to standard ESD precautions when installing the module.
It has no conformal coating and therefore offers no inherent protection against corrosion. Damage by
corrosion will not be honored as a materials defect claim. It is the user's responsibility to provide suitable
protection.
If you need more details of this super bright 5050 led strip tapes , don't hesitate to contact us .