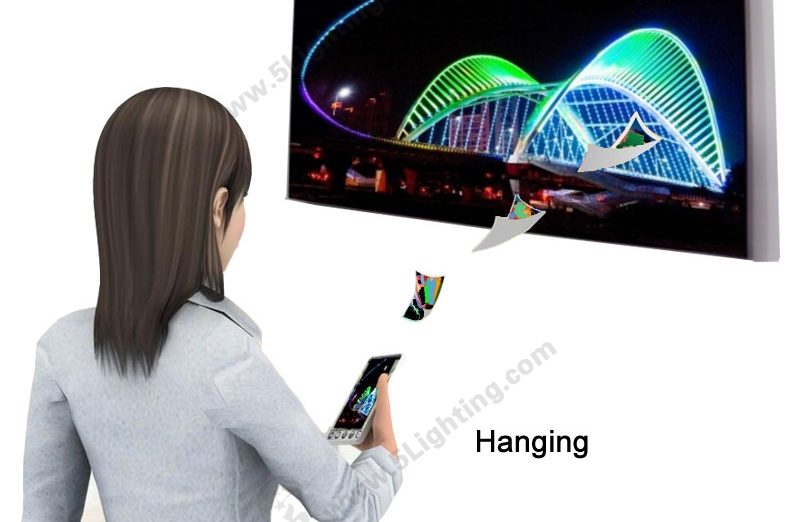 Hanging LED Sign Screen
Product type: LED Sign Screen
Size: 88 inches
Pixel pitch: 2.9 mm
Support system: Android & IOS
Operation voltage: AC100-220V
Application: Exhibition / Company / Retailer store / Shopping mall / Event / Airport / Hotel / Restaurant / Lobby etc.
Contact by Email
Features:
a): Factory direct sale led sign screen hanging adopts 2.9 mm pixel pitch, comparing with normal 4mm pixel pitch at LED screen market, our led screen poster with more amazing sharpness, 1800Nits high brightness that brings brilliant lighting effects, make  your led advertising screen attractable enough to catch people's attention while doing some advertising event;
b): This led poster screen hanging is featured with slim shape design, with super light 15kg per square meters, easy installation to uses a hanging chain that make it can be hanging from ceiling or wall steady;
c): Great quality led screen advertising hanging adopts new technology that it can play immediately after plug, instant start without delay, easy and flexible for users and operate; The led screen advertising has been widely adopted in events, shopping mall and kinds of exhibition display applications;
d): Unique design led poster screen hanging can be programmed by mobile software and support slap-and-ship, users can edit photos through mobile device, and this mobile software APP supports Android & IOS system;
e): New item led sign screen using superior performance aluminum, metal and plastic as materials, affects excellent heat dissipation, and then can make it last a long time life span.
Applications:
Wholesale led sign screen hanging using new technology with only 2.9mm pixel pitch that featured with amazing sharpness, and high definition with 1800 Nits high brightness, our led advertising screen is perfect for kinds of indoor advertising application;
[1]: Exhibition;
[2]: Events;
[3]: Shopping mall;
[4]: Retailer store;
[5]: Airport;
[6]: Hotel;
[7]: Restaurant;
[8]: Company;
[9]: Lobby.
Good quality led sign screen hanging from 5 Star Lighting Factory!
Brief Descriptions
LED Sign Screen Hanging, 88 inches, 1800 Nits, P2.9 pitches, Display Poster Screen, Hanging LED Advertising Screen.
Item Type
LED Sign Screen
Electrical and optical parameter
Model Number:
VA-88
Materials:
Aluminum + Metal + Plastic
Pixel Pitch:
2.9mm
Size (inches):
88″
Resolution:
384 x 640
Brightness:
1800Nits
Max. power:
900W
Avg. power:
315W
Operation voltage:
AC 100-220V
Operation system:
Android / IOS system
Visual distance:
> 4 Meters
Applications:
Exhibition / Company / Retailer store / Shopping mall / Event / Airport / Hotel / Restaurant / Lobby etc.
Installation methods:
Hanging from ceiling / wall by using a hanging chain.
Packing dimension
Unit Net Weight(lb)/[g]:
69.45 (lb) / 31500[g]
Unit Light size(Inch):
45.67 Inch (L) x 75.59 Inch (W)
LED Sign Screen Display Poster for Events, Exhibition, Company display decoration...
Do you need a LED Sign Screen Stand to display your business?