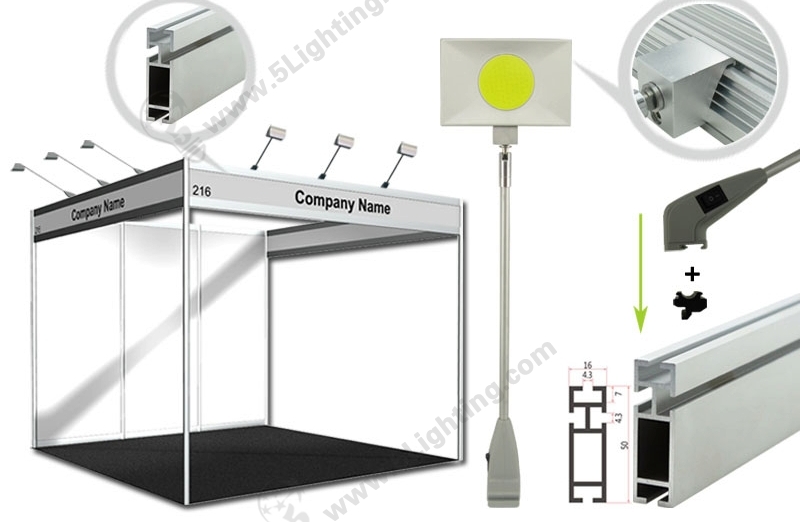 250W Halogen Octanorm Lighting Replacement

Equals: 250W Halogen Octanorm Lighting

Product Type: Octanorm Display Lights

Product Model: Octanorm Display Lights – LXCOB-A

Lighting Source: LED COB

Input Voltage: DC36V

Power: 30W

Application: Specially used in Octanorm exhibition display usage
Contact by Email
Features:
a): This Octanorm Display light – LXCOB-A uses great quality materials: metal, plastic and aluminum, with excellent heat dissipation;
b): Energy saving, it can be the best choice to replace 250W halogen light;
c): With 2400Lm high lumens, bright enough to make the graphic catch people' attention;
d): Each light outputs the equivalent of 30W, light emitted is high-quality daylight effect with a 3000 colour temperature;
e): Our octanorm lighting has a pivoting head allows users to direct focus of lights as required, users can change lighting direction according to real condition, to some extent, it solves the trouble about eye catching effect;
f): State of the art technology with optimal light diffusion, enjoys safety and stable performance;
g): No UV or IR radiation, it's special product structure for heat elimination, make it has a long time lifespan;
h): It's mouting clip is easy to install, very convenient to use, specially used in Octanorm exhibition display;
i): Different country's standard of transfomer customized avalible.
j):Factory direct LED Octanorm display lights – LXCOB-A ! A kind of LED lights & lighting fixtures for Octanorm, Exhibition Maxima System, tradeshow construction…
k):LED Octanorm lighting model LXCOB-A, 30W Only – Equals 250W Halogen Octanorm, Exhibition Maxima, Booth construction display Lighing.
Applications:
Octanorm Display light-LXCOB-A has 2400Lm high lumens, superior brightness to make that graphic more attractive, and it comes with a mounting clip, specially used in Octanorm display system or Exhibition maxima system, such as:
(1): Octanorm exhibition display booth;
(2): Octanorm traditional shell scheme booth;
(3): Octanorm M1000 shell schemes;
(4): Octanorm SM range shell schemes;
(5): Octanorm illmunated shell scheme;
(6): Exhibition maxima system etc.
Accessories Options:
[1]: Transformer options: UK Transformer / US Transformer / AU Transformer / Euro Transformer etc.
[2]: Matched parts & accessories: Mounting clip.
Brief Discription
30W, 2400Lm, 34v, Replaces 250W Halogen Octanorm Lighting, Octanorm Display Lights, Specially Used in Octanorm Exhibition Display
Item Type
Octanorm Display Lights
Electrical and optical parameter
Model number:
Octanorm Display Light – LXCOB-A
Material:
Metal+Plastic+Aluminum
LED QTY
1PCS high power COB LED
Power consumption
30W
DC output voltage
34V 0.9A
Luminous flux
2400Lm
Item color:
Black / Silver
Wire length:
3 Meter
Mounting bracket:
Aluminum Ocatnorm adaptor, suitable for fixing to Ocatnorm system
Light appearance(CCT):
Warm white/Cool white/Customized
Transformer:
Different country's standard transformer
Applications:
Specially used in Octanorm exhibition display usage
Packing dimension
Unit Net Weight(lb)/[g]:
1.21(lb) / 550[g]
Head Dimensions:
5 Inch (L) x 3.4 Inch (W) x1.6 Inch (H)
Arm Dimensions:s
Φ0.43 Inch x 11.8 Inch (L)
Unit Light size(Inch):
19 3/4 Inch (L) x 5 Inch (W) x1 2/4 Inch (H)
Octanorm Display Lighting for Exhibition / Trade show Decoration.
With Excellent illuminating effects of Trade show display decoration lighting
Kindly recommend OCTANORM DISPLAY LIGHTING Series for you!