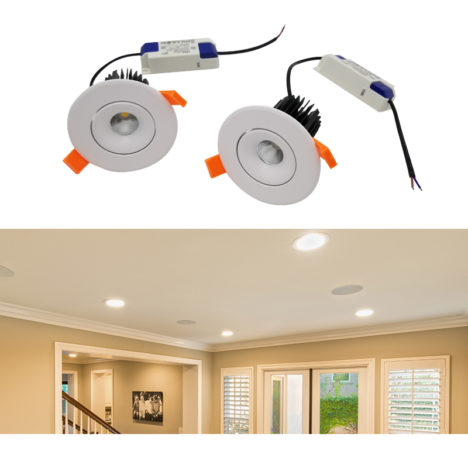 50 W Halogen Down Spot Lighting Replacement

Equals: 50 Watts Halogen Bulb Lights

Product Type: LED Down Lighting

Product Model: Anti-Glare-LED-Downlights-Cree-7W

Lighting Source: CREE cob led

Input Voltage: 110 V / 220 V

Power: 7 Watts

Application: Office, Shopping Mall, Garage, kitchen, living room …
Contact by Email
Product Description :
Anti Glare LED recessed dowlight belongs to high end led lights which can prevent lights directly emit to people .
Our anti-glare lights equip with CREE cob bulbs inside which can bring more than 700 lumens brightness .
Another factor for our 2.5″ anti glare down ligths can be rotate angle according to different application like store, shopping mall …
Dimmable function can be available if this LED lighting fixture with dimmble led driver if necessary .
With good design trim and housing for this recessed / down / pot / can lights, our whole lighting fixture appearance are elegant and
fashionable .
Features for this anti glare led downlights:
– Eliminate glare with high tech lens ;
–
Best replacement for 50 Watts halogen recessed lighting fixtures;
– Superb lighting quality with 30,000 hours' life span ;
– No additional light bulb required, just change with whole lights and free maintenance ;
– Aluminum cast shell with brilliant heat dissipating and high efficient ;
– Comfortable & energy saving for your home / work places ;
– Even lights for your kitchen, living rooms, offices …
Deep reflection cup keep audience could not see lighting directly, Cut hole: 75MM .
Welcome to purchase this anti glaring recessed down lights for your residential / commercial uses from 5Lighting.com
Brief Discription
7 Watts LED Down lights with Anti-Glare Feature, Replaces 50 Watts Halogen spotlights
Item Type:
LED Spot dowlights
Model Number:
Anti-Glare-LED-Downlights-Cree-7W
Electrical and optical parameter
Replacement :
Halogen / Incandescent downlights
Power consumption:
7 W
Bright:
700 Lumens
Lighting source:
COB
Input voltage:
110V / 220V
CRI:
≥ 80
Base Type:
Integrated
Beam angle:
15°/24°/36°/60°
Color:
White
Color temperature:
6000-6500K (White);  4000-4500K (Neutral White); 3000-3200K( warm white)
Materials:
Aluminum / Metal / Steel
Size:
90mm X 95 mm X 90 mm
Application Area:
Indoor , Home / Trade Show / Exhibition / Fashion Store
Dimming:
NO / Dimmable can be customized
Working Temperature(℃):
-20 – 60℃
Warranty:
2 years
Life span (based on 4 hrs/day)
20 years
CREE COB LED Can Pot Downlights, Anti Glare
CREE LED Pot / Can / Recessed / Down lights , Anti-Glaring , COB 7 Watts
Factory direct CREE COB LED pot recessed can downlights, 700 lunens, 2.5″ wholesale .
This COB downlight is equipped with CREE brand chip inside, Great performance, Long life display .
Cutting out 70mm size, with adjutable trim can apply for different requirements .
Details for this anti glare led pot / can /downlights:
– Aluminum Alloy Lamp body;
– CREE COB LED source ;
– >80 CRI ;
– 100-240VAC 50/60Hz Input ;
– 2700K/3000K/4000K/5000K/6000K Color Temperature Option;
– 300g in weight ;
– Application: galleries / offices / conference / exhibition / hotel / theater / clothing stores, airports …
Our anti-glaring led downlights can be great accent spot lights for any objects display .
Welcome to choose our CREE chip-on-board led pot downlights with good lighting beam angle controlling and elegant lamp appearance .