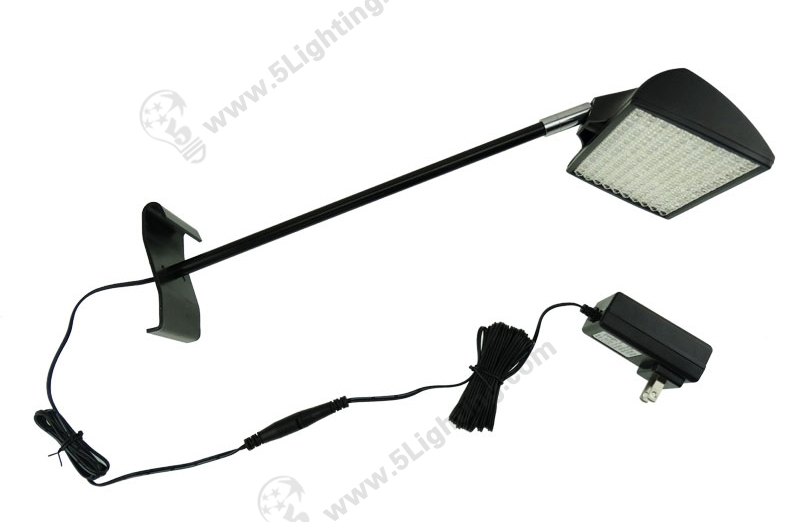 150W Halogen Gridwall Display Lights Replacement
Product Type: Gridwall Display Lighting

Product Model: GWS-001-A

Lighting Source: 160PCS Super Flux LED

Input Voltage: DV12V

Power: 12W

Application: Tradeshow Gridwall Display, Grid Display Shelves, Grid Display Rack, Grid Display Panel, Slatwall Display systems.
Contact by Email
Features:
a): Factory direct sale gridwall display lighting GWS-001-A featured with a unique design S shaped tail, specialized in applicable for kinds of exhibition / trade show grid wall display, grid display shelves, grid display rack, grid display panel, slatwall display systems etc.
b): Super bright gridwall lights GWS-001-A adopts 160pcs super flux led beads with 1000Lm high lumens as lighting source, excellent brightness that attractable enough to catch peoples' attention while passed by, it will bring exposure for exhibition display image it deserves;
c): Energy saving slatwall light fixtures GWS-001-A with 12 watts low power consumption, eco-friendly and cost-efficient than halogen lamp bulbs or other traditional lights, can be the best choice to replace 150 Watts halogen lights;
d): Great quality gridwall lights comes with an adjustable head for height and direction adjustment, it can be adjusted in 90° vertically and 270° horizontally adjusting for freely positioning, flexible for customers to change lighting direction according to requirements;
e): Unique design slatwall light fixtures is 15°tilt up after installation, so that the lights can be emitting more scientifically;
f): Easy installation of our slatwall light fixtures, it provides a S shaped tail that can make itself hang on gridwall stand easily, convenient to use and has good stability without any wobble, specially fixed for exhibition grid wall display stand or slatwall display system application, customers can finish installation within a few minute;
g): Our new item gridwall lighting offers different countries' standard transformers for options, convenient for our customers can choose according to their country's standard;
h): The led gridwall lights offers black & silver colors these two different colors for customers' options, completely meet clients' requirements.
Applications:
Wholesale gridwall display lighting GWS-001-A with clear appearance and superior brightness, energy saving that can be the ideal choice for 150W halogen light replacement, easy installation that suitable for tradeshow gridwall display, slatwall display system applications.
Interior exhibit lighting: Exhibition / Tradeshow Gridwall Stand, Grid Display Shelves, Grid Display Rack, Grid Display Panel, Slatwall Display systems etc.
Accessories Options:
[1]: Transformer options: US Transformer / Euro Transformer / AU Transformer / UK Transformer etc.
[2]: Other accessories: Sliders / Clamp etc.
Good quality gridwall display lighting GWS-001-A from 5 Star Lighting Factory!
Brief Description
12W, 1000Lm, 12v, Gridwall Display Lighting, Replaces 150W Halogen Light, Perfectly for Trade Show Gridwall Display.
Item Type
Gridwall Display Lighting
Electrical and optical parameter
Model Number:
GWS-001-A
Material:
ABS, Metal materials
Lighting source
Super Flux LED
LED QTY:
160PCS
Power Consumption
12W
AC input voltage
110V/ 220V
DC output voltage
12V
Luminous flux
1000Lm
Item Color:
Black / Silvery optional
Light appearance(CCT):
WW(2800-3200K ) / CW( 6000-6500K)
Wire Length:
3 Meter
Certification:
CE, UL,SAA approved
Applications:
Perfectly for Tradeshow Gridwall Display, Grid Display Shelves, Grid Display Rack, Grid Display Panel, Slatwall Display systems etc.
Transformer:
US / EU / AU / UK Standard
Packing dimension
Unit Net Weight(lb)/[g]:
0.99(lb) / 450[g]
Unit Light size(Inch):
Head Dimension: 5.4 Inch (L) x 3.5 Inch (W) x 1.6 Inch (H)
Arm Dimension: 11.2 Inch (L) x 0.43 Inch (OD)
Tail Dimension: 3.4 Inch (H) x 2.4 Inch (W) x 0.1 Inch (TH)
Do you need a Super Bright LED Display Lights to decorate your Gridwall Booth?
The reason why we develop this new product!
Gridwall Display Lighting