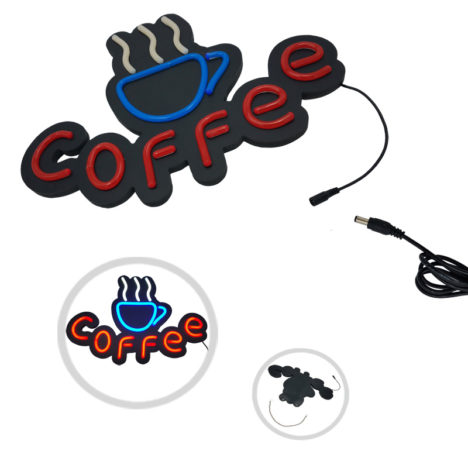 Custom LED Neon Signs
Product Type: LED sign & Signage

Product Model: LED-Neon-Signs

Lighting Source: LED Neon

Input Voltage: 12 V

Application: business, office, shops, decoration…
Contact by Email
Feature:
Led neon signs custom signage is made up of led neon strip and PVC board, PVC board is cut into the customer want to design, and then use soft light belt into the corresponding patterns of daily commercial advertisement decoration products of energy saving and fashion.
Custom led neon signs is composed of the LED cold light source, compared with the traditional glass neon belt, its energy consumption is only 1/10 of the latter, and it does not stimulate the downy light, gradient colors of light, which can lead to better effect.
Custom led neon signage is twice as bright as the traditional glass xx. It is not like the glass products containing heavy metal lead. Because of its lightweight, it is easy to transport.
Led neon signs custom signage process is exquisite, the modeling kind is much, its neon lamp belt can be bent at will, and shape different fashion pattern.The soft light belt makes it easier to deform, and the customer needs to provide the design and text to make the customer satisfied.
Custom led neon sign's span life up to 30,000 hours, compared with the traditional glasses xx, it's 10 times longer.The lighting effect is even and the light is soft, the encryption arrangement ensures high light, not piercing eyes, no visual dark area.
The customer provides the necessary parameter content, font format and pattern style (AI, CDR, JPG/PDF, PSD).
Application:
Led neon signs custom signage can be used in-store decoration, bar decoration, architectural decoration and so on, which is the best substitute for traditional glass neon.We can make various types and shapes according to different requirements of customers.
Brief Description
Custom led neon signs & signage for business, wholesale
Item Name:
Led neon signs custom signage
Electrical and optical parameter
Power consumption:
12 V
Material
PVC and led neon strip
Lighting source:
super bright LED neon pipe
Color:
RGB colors changing
Shape:
Custom
Plug:
US/UK/AU/EU plug
Average lifespan:
More than 30,000 Hours
Anti-wind Capability:
Strong
Warranty:
2 years
Application:
Indoor
Packing dimension
Size:
2″ X 1 3/4″ X 1″  ( 53 cm X 47 cm X 2.5 cm )
Packing details
10 pcs / CTN,colorful box
How to place custom order for LED Neon sign & signage ?
How to place custom order for customize signs and customized signage ?
Kindly click here .