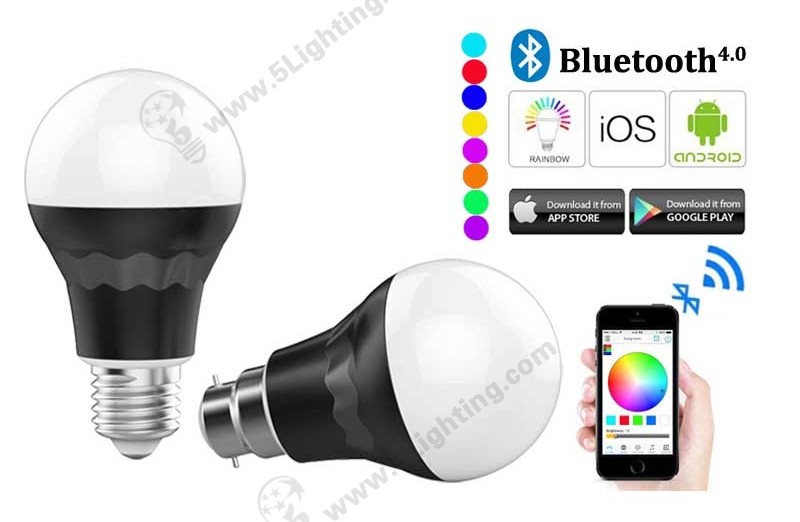 7W RGBW Bluetooth Smart Light Bulbs
Product Type: Smart LED Light Bulbs
Product Model: Bluetooth Smart Light Bulbs – RGBW – 7W – B
Base type: E27 / E26 / B22
AC input voltage: AC85V-240V, 50 / 60 Hz
Power: 7W
Beam angle: 120°
Application: Suitable for different kinds of entertainment events, likes: party, club, pub and bar etc.

Contact by Email
Features:
a): Wholesale Bluetooth Smart Light Bulbs-RGBW-7W- B is bluetooth controlled, customers can download our free App 'magic light' from App store or Google play store, it supports bluetooth version must more higher than 4.0 and IOS & Android system version must higher than 4.3, and connect phone to this IP and run App to control it;
b): New item 7W Bluetooth Smart RGBW Light Bulbs adapts superior quality aluminum and PMMA Material, with clear appearance, emitting pure and uniform lighting color, and effects a excellent heat dissipation;
c): That bluetooth smart RGBW light bulbs with several kinds of lighting changing modes for options, through adjusting changing speed or lighting color number , such as: disco mode which is perfect for disco, bar, KTV or party decoration lighting etc.
d): MUSIC SYNC function- play music from the app and have the bulb change colors automatically, choose from normal, Jazz, Rock or Classical settings to control the transitions. this is great if you want to relax and unwind after a long day, make your kids bedtime an enjoyable experience, or help kick start that party;
e): This RGBW bluetooth smart light bulbs with various of changeable colors, people can personalize your lighting with a color palette of over 16 million colors, plus different tones of white light, also can change lighting color according to lighting requirements or real condition;
f): Our 7W Bluetooth Smart RGBW Light Bulbs can control multiple bulbs simultaneously or separately from your mobile device, remote control function let you can control this bulb from anywhere;
g): It has schedule timers to turn your bulb on or off, and will wake you up in the morning with your favorite colors, or while you coming back home, a bright and well lit home waiting for you, the possibilities are endless;
h): 'Magic Light' allows you to save 5 favourite colors, humanized design let you can manage favourite lighting color easily;
i): This bluetooth smart light bulb has different kinds of base type's avaliable for customized: E26 / E27 / B22, convenient enough to meet lamp holder's requirements;
j): With two methods of download our free APP, from APP store/Google play store or download directly by scanning QR code, we offer customized packing box and customized APP with your logo.
Applications:
Factory direct sale 7W RGBW Bluetooth Smart Light Bulbs is bluetooth controlled, very easy and flexible to operation, customers can control this bulb through download free App 'magic light, , it also has various of changeable colors and different kinds of lighting color changing modes for options, suitable for indoor entertainment, and holiday or party decoration lighting etc.
[1]: General indoor decoration lighting: Living room lighting, Bedroom lighting, Child' room lighting, Study room lighting etc;
[2]: Special indoor decoration lighting: Party decoration lighting, Holiday decoration lighting, Stage lighting, Pub lighting, Club lighting,KTV lighting, Hotel lighting and other entertainment place or operating atmosphere scenes.
Good quality 7W RGBW wifi smart light bulbs from 5 star lighting factory.
Brief Discription
7W, RGBW, AC85V-240V Input Voltage, Bluetooth Control for Android & IOS System, Bluetooth Smart Light Bulbs
Item type:
Smart LED Light Bulbs
Electrical and optical parameter
Model number:
Bluetooth Smart Light Bulbs-RGBW-7W-B
Materials:
Aluminum+PMMA Material
Item color:
Black & White
Lighting source:
Chips RGB: 5050-1.5W*5, Warm white: 2835*15
Base type:
E27 / E26 / B22
Power consumption:
7W
AC input voltage:
AC85V-240V Input voltage, 50/60Hz
Channels:
4 chanels (emitting RGBW 16 million colors)
Luminous flux:
Red: 45-75LM;
Green: 100-150 LM;
Blue: 20-50LM;
Warm White:550-600LM.
Wavelength(nm):
Red: 620-630nm;
Green: 520-525nm;
Blue: 450-460nm.
Color Temperature:
3000K-3200K
Beam angle(°):
120°
Power Factor:
0.6
Waterproof IP:
IP25
Control Range:
No barrier: 40m;
Indoor: 20m.
WiFi control APP­:
'Magic Light'
Bluetooth controlled App download for android & IOS system
Working Temperature(°C):
-25°C -55°C
Packing dimension
Unit Net Weight(lb)/[g]:
0.28(lb) / 127[g]
Unit Light size(Inch):
Φ2 1/4 Inch x 4 1/4 Inch (H)­
Unit Gross Weight(lb)/[g]
0.36(lb) / 163[g]
Interior box dimension (Inch):
2 3/4 Inch (L) x 2 3/4 Inch(W ) x5 1/4 Inch(H)
Do you need a wireless controlled light bulb? and enjoys colorful vision!