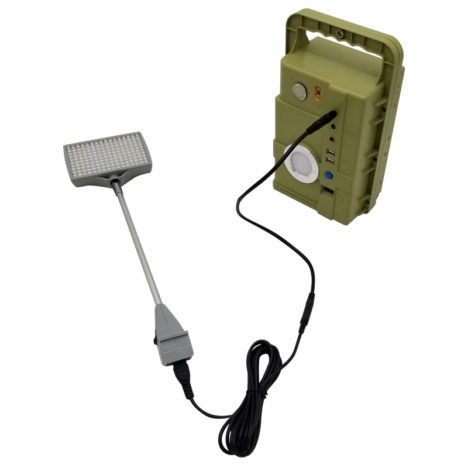 150W Halogen Display Lights Replacement

Equals: 150 Watts Halogen SpotLights

Product Type: LED Display Lighting Kits

Product Model: Battery-Powered-Operated-LED-Display-Lights

Lighting Source: Super Flux LED (160 pcs)

Intput Voltage: 12 V DC

Power: 12 W

Application: AD, Trade Show, Exhibition, Event …
Contact by Email
Product Description :
Battery powered LED display lights are portable and rechargeable which can be used for exhibition without electric outlet .
Our battery bank is a fantastic solution for limited power supply applications with 12V LED display lamp operating .
Energy saving but super brightness LED lights make it come true for our batteries support 12-18 hours power for whole event day .
12W / 1200 lumens super flux display lighting model equivalent 150W halogen lamp but 80% up energy consume saving .
With our battery operated lighting kits can bring you great illuminated display effects for trade show, events, pop up stands …
Features:
– Turnkey LED arm lights & 380WH kit for exhibit industry ;
– Good in appearance / light in weight / easy for transferring ;
– 12 Watts high power LED display lights with compact Lithium Polymer Batteries;
– 3 years warranty;
– Widely used for exhibition , art gallery, trade fairs, museum … No power supply required .
Our super power Lithium battery bank with powerful 12V / 28Ah , safe and easy for shipping, enough to light up exhibition booth
more than 10 hours .
Our portable display light kit can save money , no need to rental power costs .
Brief Description
12 Watts LED Display Lights with battery powered system, Replaces 150 W Halogen spot lights
Item Type:
LED Display lighting fixture
Model Number:
Battery-Powered-Operated-LED-Display-Lights
Electrical and optical parameter
Replacement :
Halogen display lighting
Power consumption:
12 W
Bright:
1,200 lumens
Lighting source:
super flux LED
Input voltage:
12 V
Base Type:
DC 5.5 X 2.1
Beam angle:
120 °
Color temperature:
6000-6500K (Cool White);  4000-4500K( neutral white) ; 2500-3000K (Warm White)
Materials:
Aluminum, metal, PC
Size:
Head Dimensions: 5 Inch (L) x 3.4 Inch (W) x 1.6 Inch (H)

Arm Dimensions: 11.8 Inch (L) x 0.43 Inch (OD)

Battery Dimentsions: 10 Inch (L) x 7 Inch (W) x 12 Inch (H)

Application Area:
Indoor
Dimming:
NO
Working Temperature(℃):
-20 – 60℃
Warranty:
3 years
Life span (based on 4 hrs/day)
20 years